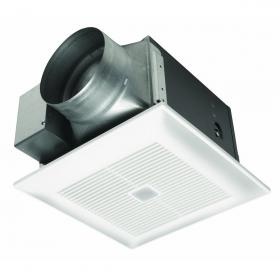 The only thing worse than the guest who neglects to turn the bathroom fan ON when he should is the one who forgets to turn the fan OFF…all day. An efficient, powerful fan that kicks off when you no longer need it, Panasonic's WhisperGreen is able to provide continuous, efficient ventilation. And it can do so using fewer than 12 or 17.5 watts, at a rate significantly more efficient than the Energy Star standard. As quiet as all Panasonic fans, this one is also equipped with a Smart Action motion sensor that turns the fan on, off or down according to guidelines that you set, ensuring that it provides the best possible exhaust and ventilation with the greatest efficiency possible. The WhisperGreen fan will provide low-speed continuous ventilation as well as high-speed exhaust.
Quality Control
The WhisperGreen SmartAction Fan uses SmartFlow Optimum CFM to compensate for static pressure. When the fan senses static pressure the speed is automatically increased to ensure that the desired 80 CFM rate of exhaust is achieved. The CustomVent Variable Speed Control provide continuous ventilation, by allowing the fan to run continuously at a pre-set lower level of 30-80 (or50-130) CFMs. When the motion sensor no longer detects someone in the room, the integrated delay timer adjusts the fan from high speed (80 or 130 CFM) to the pre-set lower CFM level (from 30 seconds to 60 minutes). Users set both the preferred low CFM setting and the period of delay. The WhisperGreen SmartAction fan has a built-in backdraft damper, enclosed condensor motor rated for continuous operation, and rust proof paint on a galvanized steel housing. Because the fan now compensates for static, installation is made easier–-no need to worry about the impact of elbows or other duct peculiarities on performance.
The FV-VKML3 models include a 32-watt compact CFL and a 4-watt nightlight. Light control will require a switch. 
We Thought You'd Like To Know
We've found that a high efficiency fan can provide a refreshing alternative to air conditioning.
Nitty Gritty
Voltage/Power

: 120VAC 60Hz

Motor:

 Enclosed condenser motor, thermal fuseprotection

Housing:

 Rust proof, galvanized steel body, 4-6" diameter duct, built in backdraft damper

Approvals:

 UL Listed for use in a tub/shower with GFCI branch circuit wiring

Dimensions:

 7 7/8' x 10 7/8" x 10 7/8"

Warranty:

 3 Year Facrtory Warranty

Grill Size:

 13" x 13"

Model # Specs (FV-08VKM5):

 80 cfm, <0.3  sone, 11.3 watts, 6.4-7.9 cfm/w,  fan 4" duct

Model # Specs (FV-13VKM5):

 130 cfm, <0.5 sone, 17.5watts, 6.4-15.2 cfm/w, fan 6" duct

Model # Specs (FV-08VKML3):

 80 cfm, <0.3  sone, 11.3 watts, 6.4-7.9 cfm/w, fan 4" duct

Model # Specs (FV-13VKML3):

 130 cfm, <0.5 sone, 17.5 watts, 6.4-15.2 cfm/w, fan 6" duct
Contact Energy Circle to learn more about this and other high-efficiency products!