2018 Local Search Ranking Factors Survey: What it Means for HVAC, Solar and Home Performance
Since 2008, Moz has conducted an annual Local Search Ranking Factors Survey. For the survey, hundreds of Local SEO experts are asked to rank the importance of various local search factors, and then their rankings are analyzed. This survey, in the words of Whitespark's Darren Shaw, has become the "go-to resource for helping businesses and digital marketers understand what drives local search results and what they should focus on to increase their rankings."
On November 20, Moz published the results of their 2018 Local Search Ranking Factors Survey.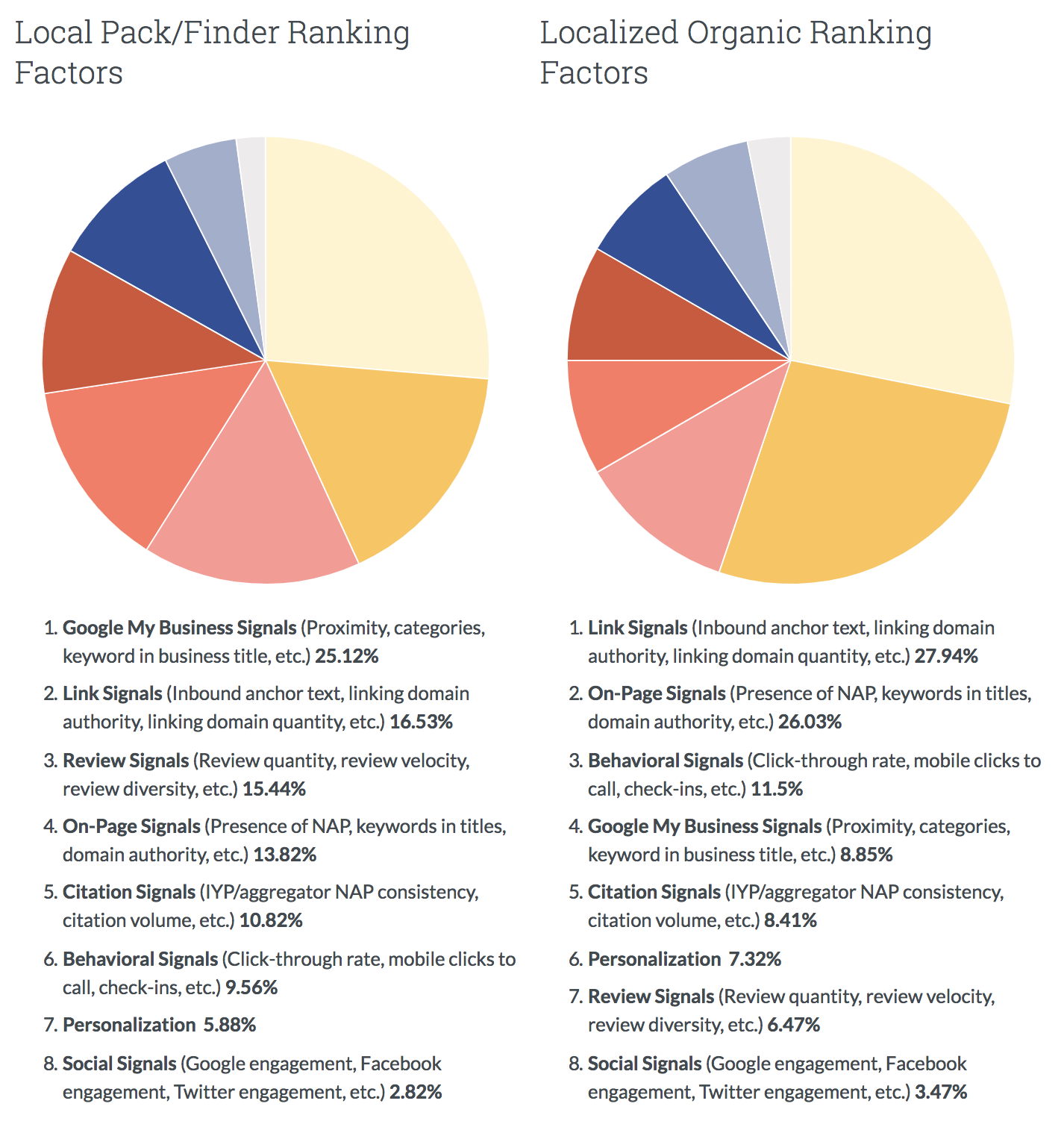 According to the latest Moz survey, top local search ranking factors include GMB signals, link signals, review signals and on-page signals.
It's important to understand that this isn't Google telling us what's important. That doesn't happen. This study is made up of the opinions of a broad array of local search experts. We know many of them, and they're smart, data-driven folks, so we pay attention.
As 2018 draws to a close and we look to the future of local search in 2019, here are our thoughts.
What Are the Big Changes This Year?
The Most Important Ranking Factor: GMB Features
According to the Moz survey, Google My Business "signals" (proximity, categories, keyword in business title, etc.) make up 25.12% of the "Local Pack/Finder" ranking factors chart. That's a 32% increase since the 2017 survey. Clearly, GMB has become the most important ranking factor for local SEO in 2018.
Granted, most of this should come as no surprise. Of course Mother Google is going to emphasize the importance of its own business profile over those on sites like Yelp, the BBB and Home Advisor. Even still, it's important to consider how important your GMB profile is if you are a business that provides home services.
There has been enormous growth in GMB features in the past year or so. Most important to the HVAC, home performance and solar industries are:
Google Posts
Google Posts allows you to display custom content in your Knowledge Panel. Try using Google Posts to highlight a positive review, upcoming event, promotion, etc.



Questions & Answers
With the rise of voice search, more and more people are performing online searches in the form of a full question. Always answer questions users ask, and yes — you can answer your own questions.



Service Categories
Keeping your service categories up to date, especially as the seasons change and as Google adds new categories, is vital for reaching the right customers. Solar got some new categories last year, for example.



Video
Now that GMB allows you to upload video to your profile, take advantage of the opportunity to catch users' attention with an educational video.
Most Steadily Gaining Ground: Reviews
The importance of reviews — including the number of reviews, diversity of reviews, and speed at which you receive reviews — has been steadily on the rise. Reviews are up 17% from last year and have risen 42% over the last three years.
Considering what we know about the emphasis placed on GMB and the fact that Google Reviews in particular are displayed in the Local Pack, the importance of GMB and reviews (especially Google Reviews) seem to go hand in hand. Organic search results also seem to be dominated by review sites like Yelp and Angie's List. This makes review management more important than ever.
Surprisingly Losing Ground: Citations
While experts agree that citations remain an important ranking factor, their importance has been diluted due to so many other factors entering the playing field.
Still, citations are especially important for companies in the home services industries. Business directories are still trusted by consumers and signify to Google that your business is credible. This is good news if you're looking for "low hanging fruit" in your overall SEO strategy; citations still carry local SEO weight and are relatively easy to obtain.
Remember that citations also overlap with Link Signals (inbound anchor text, linking domain authority, linking domain quantity, etc), as a citation may offer a link back to your website. Link Signals are the second most important factor for local pack/finder rankings and the top ranking factor for localized organic search.
Common Denominators: Relevance & Comprehensiveness
Regardless of the ranking factor, experts agree that using "semantically relevant" keywords and phrases throughout your online content (including metadata, page and profile titles, and reviews) is better for SEO. By using semantically relevant keywords in your online content, you'll touch on related concepts, offer something more comprehensive in Google's eyes, and most importantly, give the user a more relevant piece of content.
This means that in your keyword research, you shouldn't just be asking, "How do I rank for (X)?" You should also be asking, "What are other companies that are ranking for (X) talking about in their content?" Ranking factors may evolve over time, but there truly is no substitute for creating relevant and comprehensive content.
To Conclude
Moz outlines dozens of local search ranking factors in their latest survey — many of which we consider just as important to local SEO performance as other factors we've discussed. Link building, for example, still ranks #2 for local pack/finder rankings and #1 for localized organic search. On-page signals, meanwhile, rank #4 and #3 for local pack/finder rankings and localized organic search, respectively.
If you want your local business to stay ahead of the game, it's important to take a comprehensive approach to your local SEO strategy and constantly ask yourself which new tactics you could be implementing for better rankings.
Staying up to date with local search ranking factors is crucial if you want customers in your area to find you. Call 1 (207) 847-3644 or contact us to learn more.
SERVING THE ENERGY AND BETTER BUILDING SECTOR
We are selective in who we partner with—and we know you are too. Find out with a no-commitment analysis how we can make an impact on your business.