3 Small (and Quirky) Better Buildings Conferences You Should Consider Attending
At Energy Circle, we're major fans of the better buildings conference circuit, where an amazing group of people connect as a community for mind bending learning opportunities and also enriching personal experiences (aka drinking with friends.) You're probably familiar with many of the "big" events that are held each year — Home Performance Coalition (formerly ACI), Solar Power Int'l, PHIUS and the new Contractor Leadership Live, just to name a few. Maybe, however, you have an appetite for something smaller and less formal, something that's not in a hotel ballroom where the HVAC inevitably doesn't perform.
Enter: these small and quirky better buildings conferences. Here are three smaller, more offbeat events you may want to consider attending in the next year.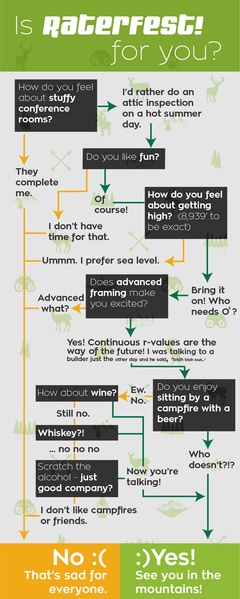 RaterFest!
September 15–17, 2017 | Estes Park, Colorado
RaterFest! is a two and a half day training conference for home energy professionals held in the Colorado mountains every September. Its mission is to celebrate the ways that energy professionals are saving the world, one efficient home at a time. Complete with Colorado craft brews and a gorgeous setting, RaterFest! offers a fresh take on the traditional home performance conference. (You may even call it an "unconference.") Attendees can look forward to thought provoking sessions, unbeatable training, friendly competition, music jams and casual evenings around the bonfire, all hosted by EnergyLogic and the pied piper of fun — CEO Steve Byers. RaterFest! is capped at 100 participants, so this is one you'll want to pencil in before it's too late.
You can find more information about RaterFest! on the EnergyLogic Academy website.
Dry Climate Forum
February 5–7, 2018 | Yosemite Valley, CA
Forum on Dry Climate HP, also known as Dry Climate Forum, is an annual forum led by measured home performance leaders of California, including Judy Rachel, Mike MacFarland, Gavin Healy, Dan Perunko, Keith O'Hara and Gary Klein. As California nears its ambitious goal of all new houses being net-zero by 2020, this forum is where the cutting edge thinking and demonstrated proof is happening. Specifically absent from discussion here is anything to do with programs, marketing or imaginary modeling, with data-rich presentations on building science and measured performance from fixing existing homes in California. Though it's oriented towards the dry climate of California, it's spot on for everywhere west of the Rockies, and interlopers from wet places are welcome and always come away inspired. You can trust this forum to be data driven, always geeky, and always fun. The event is invitation only, but if you're committed, you should be able to secure a spot by groveling. Oh, and did we mention that it's held in Yosemite in winter? I'll have my skis.
For more details, head over to the Dry Climate Forum website.
Data Not Dogma
July/August 2018 | Goldendale, WA
Data Not Dogma is an annual conference in Goldendale, Washington, with a goal to share real-world data about energy efficiency in houses and buildings. Yep, this one is all about the data. It's hosted by recovering HVAC contractor and Northwest energy efficiency guru Bruce Manclark and covers a wide variety of topics such as pre-post retrofit testing and results, detailed metering study results, and lab and field data for new technologies. Attendees can look forward to an outdoor nighttime presentation on the lawn under the stars, incredible food, Northwest beers and wine, and a PechaKucha warm-up the night before the conference. Held in Washington state's Brooks Memorial State Park, this conference offers the perfect opportunity to look at hard statistics away from all of the noise you might find at a bigger conference.
SERVING THE ENERGY AND BETTER BUILDING SECTOR
We are selective in who we partner with—and we know you are too. Find out with a no-commitment analysis how we can make an impact on your business.