5 Marketing Moves Top Healthy Home Contractors Will be Making in 2022
You've likely been preparing for the arrival of 2022 for weeks already, but is marketing the healthy home side of your business on your list? Interest in home IAQ has risen significantly as a result of Covid-19, so now's a smart time to capitalize on this new awareness about the impact homes have on our health. Remember—contractors and companies doing home performance work all contribute to healthier homes, whether that was your design, or not.
Don't get left behind next year! Lean in to earn your piece of the IAQ pie. Follow these steps that other healthy home contractors across the country are taking to break into the healthy home category in 2022.
1. Identify Your Healthy Home Business Model
There are several ways to position yourself in the healthy home space. Examples include: 
Integrated Assessment & Contracting

Standalone Assessment

HVAC & IAQ (traditional HVAC model, plus)

Specific Individual Services

Clean Air as a Service
Even if your business already falls neatly into one of the above approaches, it's still smart to ensure that your website explains your healthy home services clearly and independently. If not, this is your reason to get started! Everything from your general layout and your content to your CTAs should be clearly aligned in promoting your company's overall healthy home expertise.
2. Give Consumers What They're Searching For: Diagnostics!
When you have a problem, you want answers. It's a normal human reaction, and a reasonable one, at that. According to our paid search data set in the air quality category, 14 of the 25 top search terms indicate an interest in air quality testing: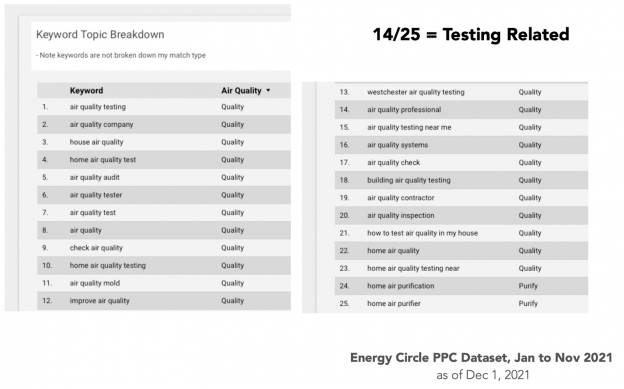 Before they look for solutions, homeowners are trying to find out whether they have an indoor air quality problem to begin with. Be the hero by offering diagnostic processes!
Diagnostic process steps could include anywhere from one to all of the following:
Onsite visual assessment

Occupant interview

Pressure test

CAZ 

IAQ logging

Ventilation assessment
Each of the above should have a corresponding solution with business value:
Whole house ventilation

Envelope control (air leakage)

Crawlspace encapsulation

Duct cleaning and sealing

Moisture control

Equipment replacement
By beginning with a comprehensive diagnostic process to assess whole home health, you can show customers which of your services will help solve their problems.
3. Cross-Sell with Crawl Space Services
It's commonly understood among homeowners that crawl spaces can be gnarly, but they may not realize the connection to their indoor air quality. When you get called in to address these spaces, help homeowners understand just how much their crawl space can affect their home's indoor air with specific stats (crawl space air can account for as much as 40% of the air you breathe according to Home Energy Magazine). 
Crawl spaces can be a powerful point of entry for education about how a home can cause real health issues. Leverage your whole-house healthy home services to help improve performance in addition to the crawl space services you're already on site to manage.
4. Publish Healthy IAQ Content in Response to Regional Events
Events that trigger poor indoor air quality aren't uncommon, but they can be difficult to predict. Still, you know your region as well as anyone! If you live in the west, you know when wildfire season will fall. In the northeast, we know that homeowners spend more time indoors in the winter months than they do in the summer, and breathe more indoor air as a result. With this in mind, we can plan ahead to address IAQ in a timely manner.
Prepping keyword-relevant content during slower periods and publishing it at the beginning of your local poor IAQ season can help you garner more attention at relevant times, and take the pressure off during times when you should be top of mind as an IAQ solutions expert—and consequently, busier than ever.
5. Prove Your Value with a Reputable Healthcare Provider
Some healthy home contractors are getting new customers as a result of informal referrals from local Pulmonologists or other physicians, and we couldn't be more in support of the idea. Doctors are trained experts who've dedicated their lives to keeping their communities healthy, so homeowners are more likely to trust their advice about the connection between personal health and healthy home improvements.
Consider bringing awareness to your services by offering free healthy home assessments or another relevant service to a local healthcare provider and their employees. Their good opinion can add credibility to your work and could generate new qualified leads.
Get the help you need to successfully market your business as a top healthy home contractor. Call 1 (207) 847-3644 or contact us online to talk to the Energy Circle experts.
SERVING THE ENERGY AND BETTER BUILDING SECTOR
We are selective in who we partner with—and we know you are too. Find out with a no-commitment analysis how we can make an impact on your business.