9 of 2019's Best Building Science & Energy Efficiency Blogs
The world wide web is a wonderful thing, but there's a lot of swill out there. It helps to have a few go-to sources of good, reliable, accurate, and useful information and insights. By our estimation, for professionals in the home performance, solar, or HVAC industry, the following blogs are some of the very best we read this year. In no particular order:

Martin Holladay's blog at Green Building Advisor is just what it claims to be: a series of high-level ruminations on the technical aspects of building science, from a true expert. To get a sense of the level of discourse on Martin's blog, contemplate this random but exemplary quotation: "Builders have worried about wintertime vapor diffusion ever since 1938, when Tyler Stewart Rogers published an influential article on condensation in the Architectural Record..." Gripping stuff. 

The efficiency and demand response section of Utility Dive's blog covers the latest energy news from all 50 states. Utility Dive closely follows updates in efficiency standards and emissions regulations, showcasing states and politicians at the forefront of carbon reduction. This is the place to learn about things like new rebate programs and incentives. 

Blake Reid has taken his experience building "stovens" (a more efficient and environmentally friendly wood cooking stove) in Zimbabwe and turned it into a home performance business on The Big Island of Hawai'i. The TerraWatt blog is like a curated collection of in-depth case studies, op-eds on the solar and home performance industries, reviews and recommendations of the latest in home performance technology, and Blake's award-winning Feijoada recipe. The TerraWatt blog is brimming with useful information as well as Blake's endearing personality!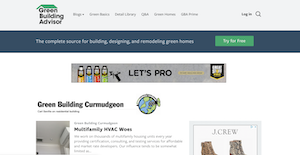 Carl Seville's blog is everything it claims to be and more. As a bludgeoner of common myths and an informed critic of products and methodologies, his blog at Green Building Advisor consistently provides clear and reasoned analysis of everything from New Urbanism to lamb's wool insulation. With 25 years of experience in remodeling, he knows the industry and is dedicated to fixing it.

Allison Bailes lives in Georgia, provides HERS Rater certification, and pumps out sophisticated but accessible content covering everything from HVAC filters to the history of residential home construction in the U.S. to the intricacies of window condensation and energy conservation, all with a healthy dose of humanity and humor. I, personally, enjoy every post.

Ever wondered if there was a social network just for building science nerds like us? That's the goal of the Home Energy Pros Forum. Their blog feed is a curated list of topical articles, featuring some of the best around. Authors like Ed Voytovich, Michael Anschel, and Matt Worthy are historically frequent contributors, as well as educational organizations like BPI and the Building Performance Association. This is a great resource for inspiring your own website content, and you may even see a familiar logo of a house with solar panels on it next to some of the blogs you read (Energy Circle blogs are also featured on this forum). 

Though not exclusively dedicated to residential energy efficiency, the Grist blog is one of the best on the web for insightful and entertaining coverage of energy, climate and energy, and climate politics, which, despite all the industry insider talk about comfort and kilowatts, are issues that have a tremendous bearing on the industry.
*Make sure to check out the video series Ask Umbra for topics like "Vegetarian recipes for a climate-conscious holiday dinner" and other environmentally friendly gems!

Green Tech Media is focused on the global electricity sector. Titles cover everything from renewable energy research to technology, and the smart home section also includes the latest in utility and grid demand news. This is a high level, slick-looking blog for the energy nerd.
Nate The House Whisperer

If you aren't familiar with Nate Adams yet, you should be. We've been devouring Nate's book, The Home Comfort Book, since last year, but The House Whisperer blog is real insight into the process. According to the site, Nate is "determined to get feedback on every project to learn more about what works and what doesn't. This blog shows that learning process."
If there are other blogs that you follow regularly or think belong on this list, we'd love to hear about them. Feel free to chime in in the comments section.
Looking to increase your incoming leads with a digital marketing strategy customized to the better building industry? That's what we do!
Get in touch
to learn more.
1-ON-1 MARKETING BENCHMARK ANALYSIS
Admit it...keeping up with digital marketing can be challenging. Let us help.
Having worked with over 400 companies across the US in the better building industry, Energy Circle has developed key benchmarks that every company should be meeting. Gain from our perspective with a 1-on-1 marketing benchmark analysis to see how your digital presence compares and learn about solutions to take your digital marketing to the next level. Your evaluation will include key areas such as website health/performance, SEO, reviews, content, conversion optimization and paid search engine marketing.