Adios and Fare-thee-well to Mike Rogers
The cause of better homes and better contracting businesses lost its biggest champion yesterday. Our colleague and friend Mike Rogers succumbed to a horrible and rare form of cancer that appeared suddenly and acted swiftly. There is a hole in the universe today larger than the Grand Canyon that he loved so much.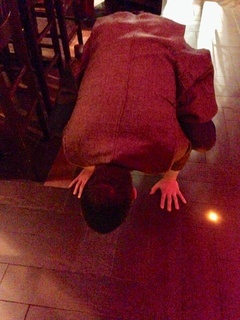 An outsider looking in would say Mike was an enigma—a policy/industry visionary, incredibly exact person in business, and utter goofball. He didn't care much what people thought, or perhaps he knew that no amount of 2AM barroom floor yoga would ever confuse his stature or life's accomplishments.
He coined HTFU—harden the fuck up—which I hadn't heard about until he was sick, and certainly became a rallying cry for his battle. But he lived that even before, and most impactful for me were the high standards, precision and fervor with which he approached business life. It was not always easy working with him, but he was typically right and the standards he held all of us to were high.
It would be hard to identify another person who contributed more to the idea of home performance. Others know better his history at EPA and DOE where he conceived the Home Performance with Energy Star program, and I'm certain they will tell that story.
My interaction with Mike was during the time in his career when he devoted most of his effort to showing and teaching contractors a better business model—at Green Homes America and subsequently at Omstout Consulting (named, fittingly, after his favorite type of beer.) He traveled the country training contractors, gave generously of his knowledge at conferences and on behalf of nonprofits, but always had a singular message—that approaching a home from a whole house perspective was a better business.
A few of my favorites that I got to see repeatedly because we often presented together:
Mike would put up a slide with $80,000 in big type, and ask the audience: "How much of this revenue do you want?" He'd say pick whatever number you want, but homeowners have lots of problems (needs) and if your business model is structured to take care of those needs, you can break out of the low margin $4,500 box swapping world.
He taught that the fundamental challenge of home performance is that the "lead" is almost always for a single measure fix like a broken furnace—and that successful contracting companies were those that could shift the homeowner mindset to the larger perspective.
He was excellent at showing contractors, especially the geeky types steeped in building science, how to speak to homeowners in ways they'd understand. His tactic for this was role playing where people had to talk to him like he was Mike's Mom. It was remarkable how well it worked.
Among his passions was canyoneering, and many times each year he'd let us know he was going off grid to explore the slots of the Grand Canyon. I so regret that I never got to go with him. Prior to every trip, if we were on a project together, he'd leave instructions about what to do if he didn't come back. There was a certain fatalism to it, and they were always delivered in a very matter-of-fact Mike way, never morbid. It was clear that his love of rappelling down ropes anchored by sketchy bits of hardware, and being in the desert, outweighed any fear of death. It is tragic that cancer took him rather than some dislodged piece of sandstone.
On March 17 of this year, under the simple title, "Don't forget to live," he put this picture/caption on his Energy Matters blog: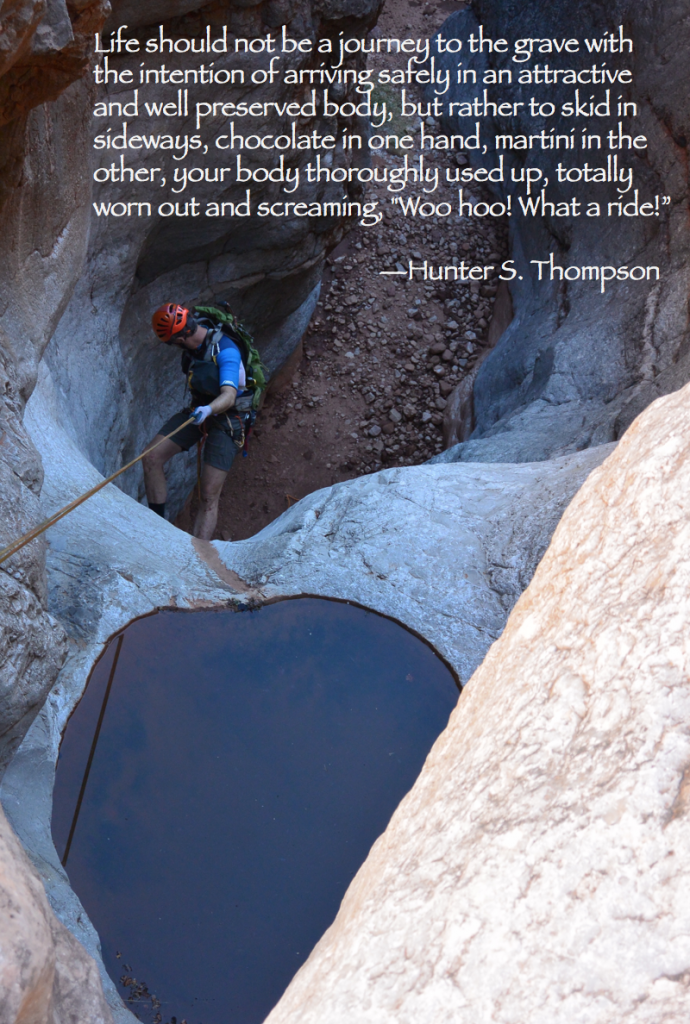 Thanks for everything, Mike.