Answers to Our Top 3 Support Circle FAQs
Providing support in the digital world, we've heard all kinds of questions and issues, ranging from lost passwords, to problems with page formatting. Which common issues with easy fixes are you running into? Here are three common questions and answers to help stock your Energy Circle platform troubleshooting arsenal:
1. How do I change out or update the hero images on my homepage?
This is always a good question, and it's one we receive quite often. If you already know the answer, you're ahead of the game! For those who may still be wondering, it's luckily a pretty easy fix.
Go up to your admin menu and click "Content." Once in the back-end of the Content menu, filter content-type by "Slide" and click the orange "Apply" button.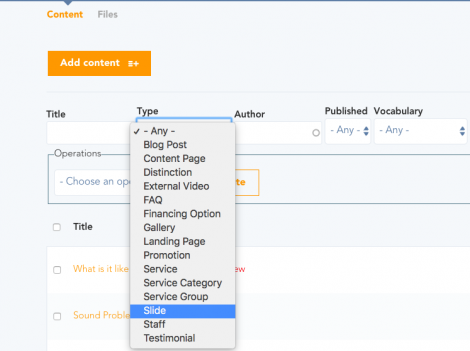 From there, you should be able to edit the content for your hero slides, including swapping out the image itself. Just be sure to click "edit" in the operations column.

2. I need to update my staff page, but when I click "edit" I'm not seeing any of the content. How can I make updates?
This is another tricky question if you don't know where to look, but thankfully this also has a relatively easy solution.
Update or Remove a Staff Member Bio
Select Content from your admin menu and when you get to the Content menu in the back-end, filter content-type by "Staff."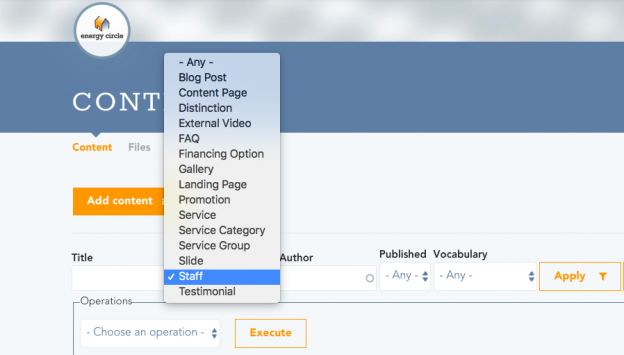 Once you have the Staff content list showing, you can select each staff bio and update or remove as needed.
Add a New Staff Member Bio
If you're looking to add a new staff member to your page, hover over "Content" on your admin menu and wait for the dropdown menu to appear. Then hover over "Add Content" and then wait for the next dropdown menu to appear (which will slide out on the side of the Content dropdown menu). From there, select "Staff."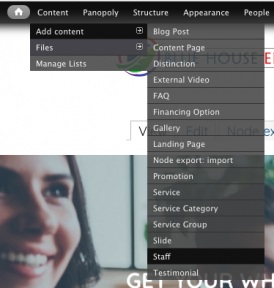 This will take you to a new staff content-type, that you can create from scratch. Once the staff bio is filled out and published, the new member of your team should automatically appear on your team page!
3. I've recently added or updated some content, but I'm not seeing my published changes. How do I fix this?
This is by far the most asked question we receive through Support Circle and as luck would have it, it also has the simplest solution. Something that needs to be done frequently when making extensive website updates is flushing your site's caches.
"Excuse me?"
Yes, "flushing your site's caches" isn't just developer gobbledygook. It is a vital function for updating content visibility for any living, breathing website such as the one you're working on.
To flush your website's caches in order to see your most recent updates, simply hover over the home icon on the far left corner of your admin menu and click "Flush all caches."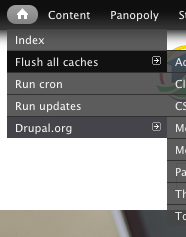 Your website will clear all previous versions of itself that have been saved to your browser and when finished loading (which can take a minute), will present you with the newest version of itself.
While these three questions are often the most asked, Support Circle receives many support tickets every week and we understand that site issues can often be unique and challenging. In the event you run into a question or problem which you're unsure how to resolve on your own, please contact support@energycircle.com and our dedicated support team will work diligently to make sure your issue is resolved the right way.
With that being said, we hope these solutions can provide you that extra edge when managing your website. Happy posting!
Have more questions? Contact the experts at Energy Circle and let us know how we can help!
SERVING THE ENERGY AND BETTER BUILDING SECTOR
We are selective in who we partner with—and we know you are too. Find out with a no-commitment analysis how we can make an impact on your business.