A Closer Look at Ventilation: Part 1 - How COVID-19 Is Making the Case for Fresh Air Systems
If you tuned in to our webinar last month, an update on "Marketing in the Era of COVID", you may have caught one of the more important takeaways: homeowners are becoming increasingly aware of how they might be able to keep their homes safe from the Coronavirus, and they are doing so by searching online for the right technologies. For those working in the home performance or HVAC industry, you already know what these searchers are looking for (or at least, should be looking for) — ventilation and fresh air systems. 
At Energy Circle, we think this is a unique, opportune moment for the better building sector. But in order to leverage this opportunity, we want to arm contractors around the country with a better understanding of the "why and where" there is a rise in indoor air quality interest, as well as "how" you might be able to leverage your digital marketing toolbox to capture some of this increased search volume for lead generation. 
The Next Wave of Consumer Demand for Healthy Home Services: Ventilation
Energy Circle manages digital marketing campaigns promoting home performance and healthy home services for companies across the country. We have been monitoring trends in user search behavior and consumer demand related to indoor air quality solutions for years, and even more closely in the past 5 months or so, since the pandemic began.
Over the course of the last few weeks, there has been widespread attention to airborne transmission in indoor environments. After a letter from hundreds of scientists, the WHO acknowledged in early July the possibility that this was more important than surface transmission. Some have come to call our collective obsession "hygiene theater" — implying that we're not focusing on the right thing. The Atlantic magazine covered this in an exceptional article, We Need to Talk About Ventilation, that is a must read. 
If the scientific community and mainstream media is coming around to ventilation as the more effective approach, the Energy Circle team has decided to go deeper, and try to determine whether this is sinking in amongst the general population. 
A Little History in Consumer Search Trends for Healthy Home Services 
For a long time leading up to and even in the beginning months of COVID-19, our data suggested that consumer interest and awareness around "healthy home services" (in the context of home performance) was low, with the one small exception of "Indoor Air Quality." While there has historically been at least some level of search volume and awareness around IAQ, it usually tended to center around a test or an evaluation first. Because of this, we often found that campaigns which emphasized and promoted indoor air quality tests and testing services were our best bet for capturing search volume, clicks, and eventually leads for healthy home campaigns. 
Strategically, we came to view "IAQ testing" as a gateway keyword which served to introduce audiences to the "healthy home" concept, as it relates to building science. It attracted consumers who still required some education around home performance and healthy home services, but were already on the right track. Maybe they hadn't necessarily made the connection between home performance and their health just yet, but they likely had made the connection between the air quality inside their home and their health, and were interested in finding a test to "prove" it. Once a homeowner makes that connection, it's much easier to further inform them about the home performance issues which contribute to poor IAQ, and the whole home solutions and healthy home services available to address those issues. 
How Have Consumer Search Trends Changed During the Pandemic?
The past 5 months of the Coronavirus pandemic in the US have seen a lot of volatility in the way consumers search and behave online, especially when it comes to home performance and healthy home related services. In the early days (March and April 2020) it was apparent that homeowners didn't know where to turn to ensure their homes were as safe and healthy as possible. Most of the official guidance from government and health authorities centered around surface contact and direct transmission via touch. As more research became available about the virus and how it spreads, we saw trends shift from IAQ tests to UV light purifiers and disinfectant solutions. 
Now, as we begin to reopen the economy, think about returning to work and school, and learn more about how the virus spreads through the air, we're seeing search trends shift again to air purifiers and filtration solutions.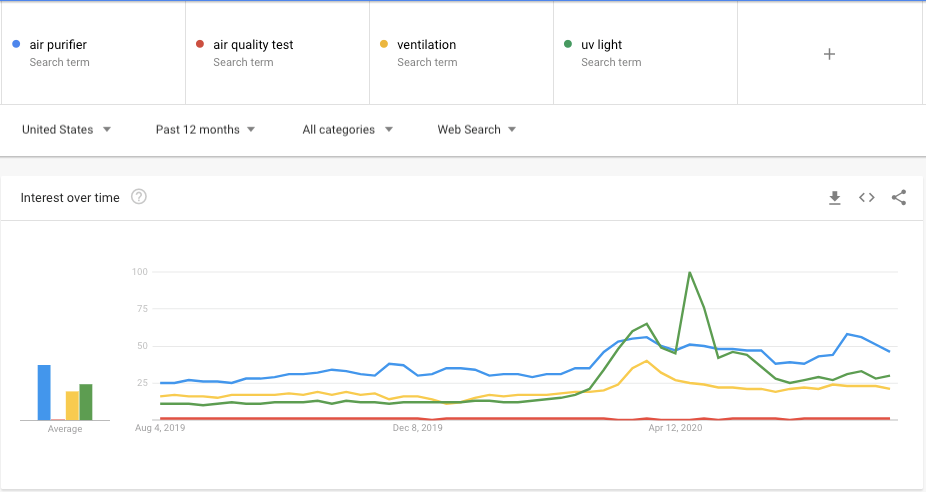 While organic search interest for things like "air purifier", "ventilation", and "uv light" rose together in the early days of the pandemic, as reported by Google Trends, volume fell again for all three terms shortly after the spike around mid April and dipped further in late May. Since the beginning of June, search volume for "uv light" and "ventilation" has not shown much of a recovery, while search volume for "air purifiers" is rebounding. 
We're seeing similar trends on the paid search side as well. In the last month (July 1 - 31), searches related to "air purifiers" have taken over 8 of the top 20 most searched keywords among the EC paid search dataset. 5 of those 8 terms are among the top 10 most searched, and occupy the top 3 slots with volumes exceeding 7,500 impressions a month.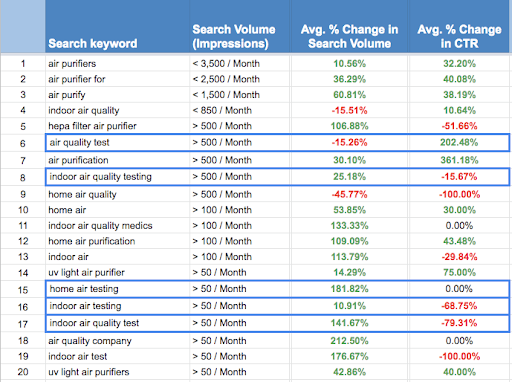 All of this to say, demand is shifting away from an air quality test and our data suggests that people are no longer looking for evidence that they have an issue with their air quality, they just want a solution now: air purification. 
Our Predictions: What Does This Mean for Ventilation?
If you're familiar with the fundamentals of building science and best practices in home performance, you already know the critical role that proper ventilation plays in indoor air quality and the health of a home or building. As digital marketers for these industries, however, we at Energy Circle also know that many consumers still need some amount of education in order to fully make that connection. 
Consumer demand is strongly driven by the easiest, fastest, and most familiar path to a solution. As consumers become more informed about the most effective solution however, that demand tends to shift. Because of the Coronavirus pandemic, there is currently an unprecedented explosion in scientific research around the safety of the air we breath, coupled with a soaring number of people spending more time in their homes (concerned about their health) than ever before.
With this increased availability of credible information, consumers have an opportunity to become more informed about the connection between indoor air quality and how ventilation is a key component to effectively improving the health and safety of the air inside a building, as the Atlantic article and many others show. The urgency of returning to work and school, and the attention on the indoor air quality in those buildings, is focusing a spotlight on ventilation. So, while the consumer data via Google Trends hasn't yet caught up with the scientists and media, we believe it's coming. We predict that this will lead to continued upward trends in interest, and eventually demand for efficient, effective, and comprehensive ventilation solutions.
How Should the Healthy Home Industry Leverage These Trends?
Jump on the education bandwagon and establish yourself, now, as a credible authority and resource for effective IAQ solutions, like fresh air ventilation systems. There is typically an advantage to being among the first to move on imminent trends like this, especially when the science supports it.
Right now, the strongest interest and awareness among consumers is still centered around the fast, familiar solution: air purifiers and filters. But just as we saw searches for air purifiers exceed those for UV light surface disinfectant as consumers became more informed about the airborne nature of the virus, we anticipate the same will be true of ventilation. As consumers become more informed about how ventilation is a more effective solution than stand-alone air purifiers at preventing the spread of COVID-19 in indoor environments, search volume and behavior will follow suit.
Consumers will be looking for trusted, experienced home performance professionals who understand the science behind ventilation and indoor air quality. Start getting the message out now that your company fits that bill. Join the conversation on social media with boosted Facebook posts, and contribute your own knowledge to the discussion by publishing and amplifying blog and case study content from your website. Home performance and healthy home businesses are in a unique position to steer the conversation in the right direction, joining forces with scientific and medical communities in a way that has not been possible before. Now is the time to set the tone for the coming months, and help people understand how to prepare our indoor spaces for a safe, and healthy return to "normal" life.
Coming Soon: A Energy Circle Case Study in Office Ventilation
At Energy Circle, we find ourselves a little ahead of the curve when it comes to ventilation systems. When we moved into our new offices on Congress Street in downtown Portland back in the second half of 2017, the building we were moving into would need to first be gutted and renovated. All new HVAC would have to be installed, and we took the opportunity to go above and beyond a traditional commercial heating and cooling system. While it was a significant expense, we felt it was important to take the opportunity to a) electrify, and b) put an emphasis on the often neglected V in HVAC: ventilation. 
What we ended up with at the Energy offices is a Fujitsu heat pump rooftop unit connected to a Heat Recovery Ventilator (HRV) installed by Ventacity. Fresh ventilated air is delivered between two floors (we share our HVAC system with our design partners at Puelle Design) via separate ductwork and out into our office spaces through a number of ceiling cassette and in-duct air handlers. Even for a company well-versed in the HVAC industry, this is a complex, occasionally confusing system, and while we're happy to have been benefiting from it, we've admittedly spent little time actually examining how it works.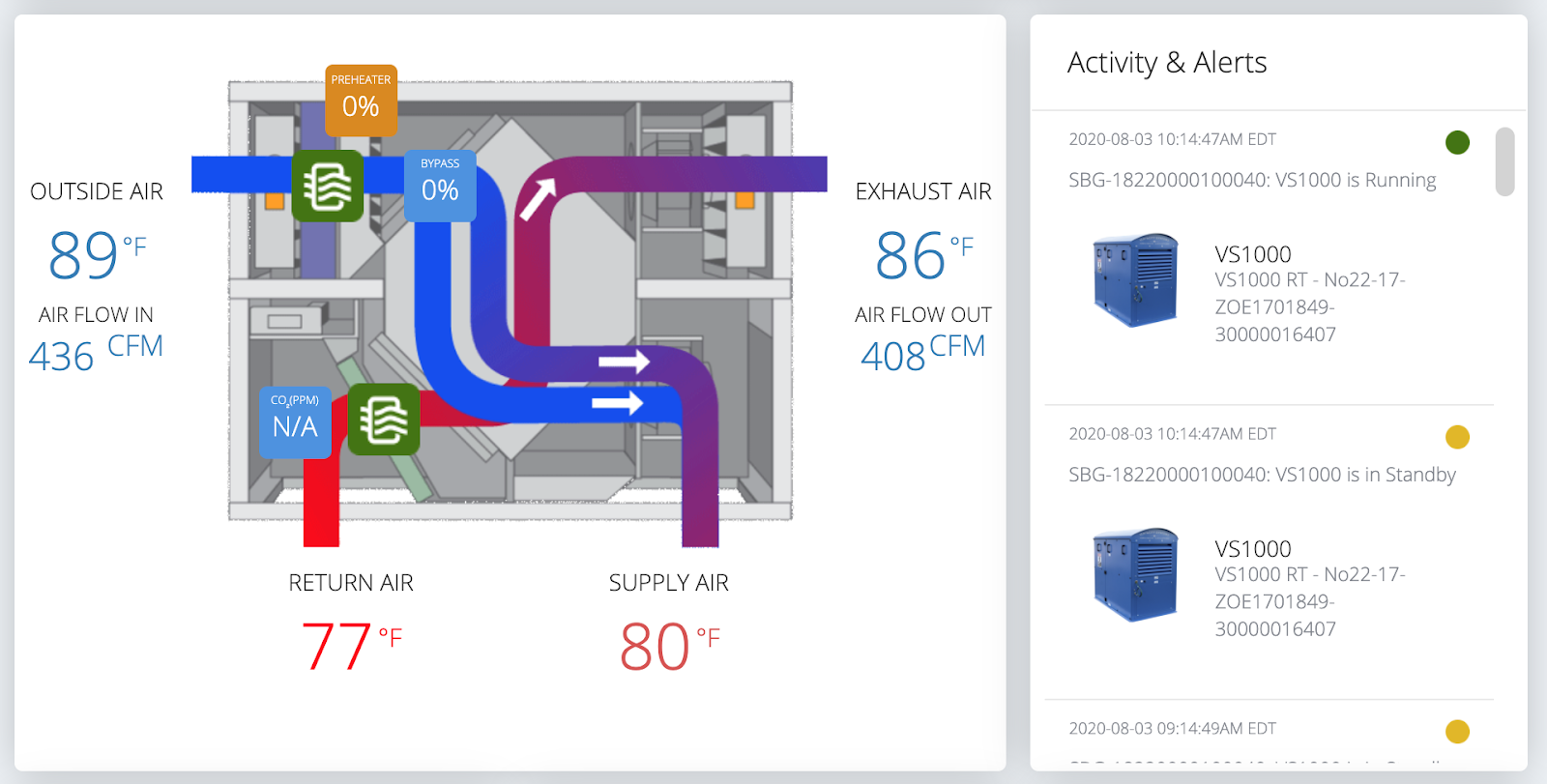 But now, the safety of indoor air is top of mind, and like many businesses around the country, we're wondering if and when it will be safe to return to our office building. So we're taking a deep dive into our office's HVAC system, particularly our ventilation. Are we properly ventilating our office? Are there new COVID-related ventilation or filtration requirements or suggestions for commercial buildings? What impact does our ventilation system have on our indoor air quality? 
Coming up, we'll be doing a in-depth case study of the air in our office, sharing the details of our original installation and system design, as well as getting into the data we've been able to collect so far on rates of air flow, how often we're replacing our office air every hour, indoor air quality data, and our thoughts about what we've learned and where we need to go moving forward.
Put your HVAC company at the forefront of conversations about residential and commercial ventilation. Contact Energy Circle today and find out how we can help.
SERVING THE ENERGY AND BETTER BUILDING SECTOR
We are selective in who we partner with—and we know you are too. Find out with a no-commitment analysis how we can make an impact on your business.