Getting the Right Customer Reviews & Harnessing Goodwill During COVID-19
You don't need us to tell you: The economic impact of the COVID-19 pandemic is affecting small businesses. However, despite the negatives, there are a few positives. One is that many Americans are looking to help "support local" in any way they can, according to one study done last month by Groupon and OnePoll.
75% of those surveyed plan to support small businesses as much as possible.
So, how does your solar, HVAC, or home performance business fit into the current business atmosphere? As Energy Circle CEO Peter Troast discussed in last week's webinar, getting the right volume and content when it comes to online reviews is perhaps the most helpful way your customers can help get your company ready for when things get back to business as usual. 
Online Reviews: Increasingly Important to Online Visibility
Reviews are everywhere, especially on a Google search result: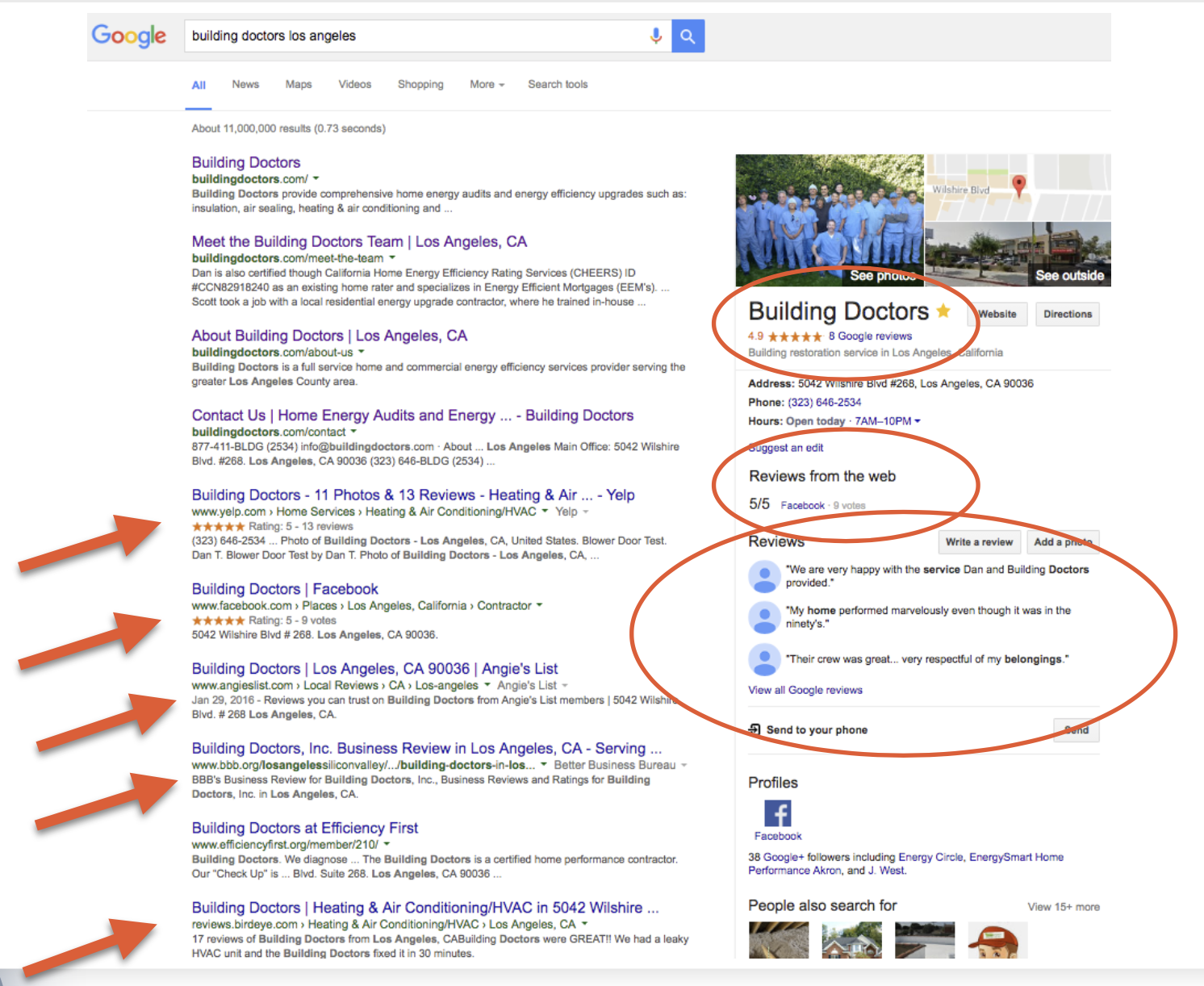 Google has even expanded to include reviews from outside the Google product line, which underscores how important it is to how searchers are making decisions online. Google My Business listings are including Google review quantities and averages, as well as reviews from the web, and even review snippets so that searchers can see what others are saying about your company, at a glance.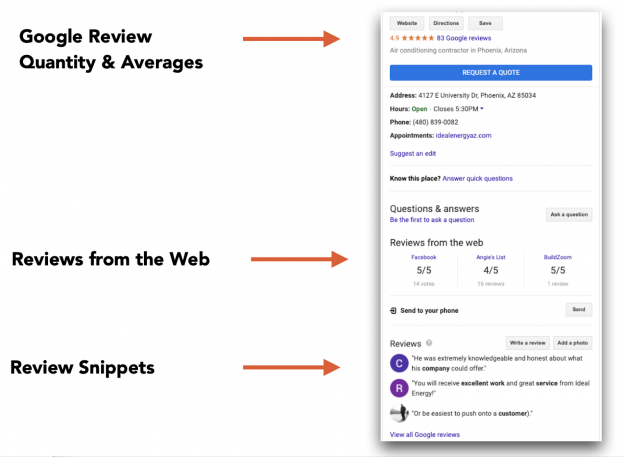 Google utilizes multiple sources when it comes to providing review information.
The data also supports the importance of reviews, as per a Bright Local study that found:
89% of 35-54 year olds surveyed trust online reviews as much as recommendations from family and friends.
Reviews Only Second to Proximity, in Ranking Factor
We have spent a lot of time talking about the proximity bias in Google, and why? Because it is perhaps the most important factor when it comes to your search rankings. But reviews are becoming a close second, and is the factor you have much more control over. 
The Impact of Reviews for Local Services Ads
If you are familiar with Local Services Ads and are already using them, reviews are the only factor in increasing your LSA ranking.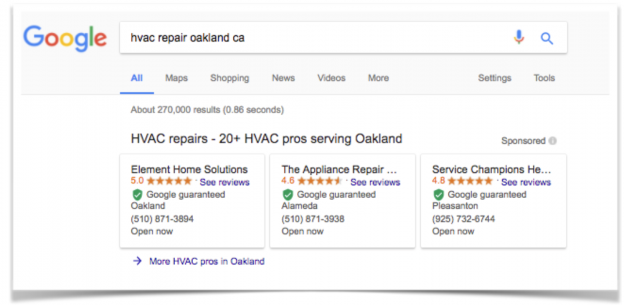 Local Services Ads lean heavily on review ratings and quantity.
As you may have guessed, Google reviews are the most important platform. But they are not the only review platform to pay attention to. Depending on your business model and location, other review sites and services can help or hinder your review status. We see the review hierarchy as follows:
Google My Business Reviews — Provides clout, ranking factors, presence in search.

Reviews On Your Website — Great content that can be localized

Facebook & Yelp — Strength in organic listings, growing fast in the service business categories, but more critical in tone (you are more likely to get negative reviews on Yelp)

Other localized review sites you may find in your own research
Guidance on Review Quantity
Over a year ago, we laid out our recommendations for how many reviews to aim for, per industry. Since the release of those recommendations, the numbers have doubled:
Solar: 100
HVAC: 75
Home Performance: 40
Insulation: 30
Builder: 30
Remodeler: 50
However, always keep in mind that your review rating is also extremely important! You don't just want reviews for the sake of volume — keeping a 4+ star ranking is going to keep you in close competition for the top.
The Rising Importance of Review Content
We've now covered quantity, and to some extent the quality (or rating) of online reviews. However, the content within those reviews is more important than ever as well. Google is viewing your business like it is a person, and now highlights specific keywords to bring attention to attributes that may be useful to the searcher—words like "workmanship", "energy efficiency", "people" and "price":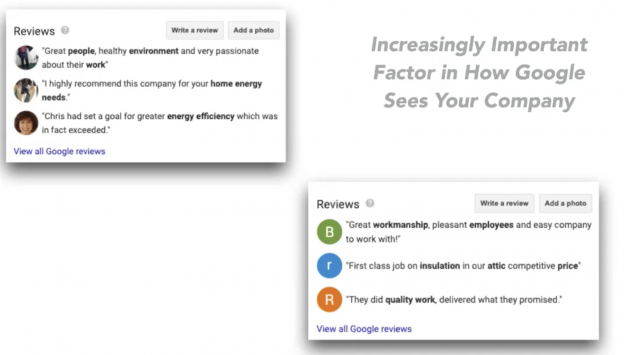 Reviews are now showing highlighted keywords, selected by Google, to help guide the searcher.
In fact, as a user clicks through the review process, they are now prompted to check which descriptors best apply to their experience:

When choosing a 4 or 5 star rating, the user is prompted with "good" descriptors. When choosing 1 to 2 stars, the descriptors are negative. A 3 star rating provides no prompts.
These attributes are then placed at the top of the review, and future users can filter reviews by these descriptors, making it easier to sift through both the positive and negative feedback that past customers may have had about their experience with your business.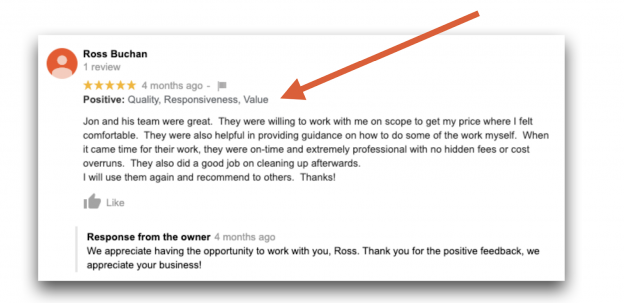 Both positive and negative prompt keywords can show up at the top of Google My Business reviews.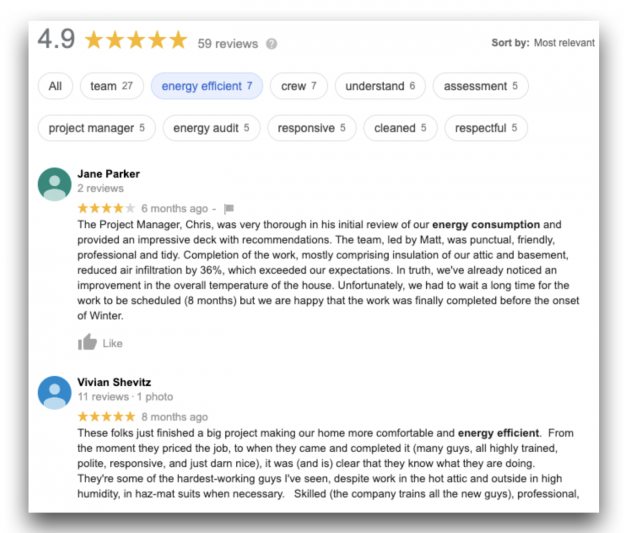 Google reviews now allow users to sort reviews by frequently-mentioned attributes, both by prompt and by user-written content.
How to Maximize Review Content
So, how can you utilize the expanded review capabilities to increase your ranking and search visibility? Make sure you are getting the right kind of reviews.
Many of the reviews we see fall into two buckets: Reviews about the experience, and reviews about the work done.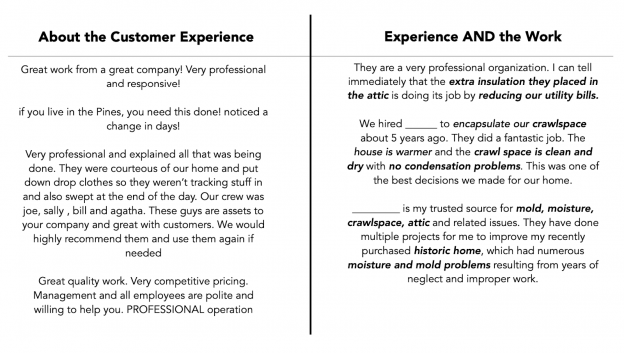 Aim for customer reviews that reference the work done, as well as the customer experience. 
If you are going to leverage the content and keywording features of today's review platforms, we recommend you aim for the latter of the two. Take a look at this recent review, that even calls out some of the safety precautions this contractor took amidst all of the COVID-19 restrictions:

This review specifically calls out COVID-19 safety protocols — particularly helpful during the pandemic outbreak. 
Asking for Reviews: The When, Where & How
So you're thinking, "This all sounds great. But how the heck am I going to get my customers to write a review exactly the way I want or need them to?" Prompting your customers to leave the right kind of review is a fine art — and you want to ensure honesty while addressing the aspects of the customer experience you are particularly interested in. Prompts can include phrases like:
Asking for specifics in your reviews will guide the customer to leave feedback on areas you are looking to showcase through our reviews.
As far as the "when" to ask for reviews, here are a few tactics we have seen work, and some that may not be the most effective but are still worth trying. 
Most Effective:
In the Home — Techs asking the customer for a review immediately after the service is complete
Leave Behind Prompts — Postcards and other small paper handouts with specific instructions or links
Texts or Emails — These can be queued to send as soon as the job is completed, triggered by a tech leaving the job site.
Internal Incentives and Goals — When companies measure their techs on how many reviews they get, there is an increase in overall reviews (But be careful with this tactic: reviews that focus too much on the particular technician are less likely to be as helpful for your overall business). 
Not as Effective (But Is Better Than Nothing):
Sending an email days after the job, up to a week after

Requiring an app download (like Podium)
The Unique Current Opportunity to Reach Out to Old Customers
Mining old customer lists to follow up and ask for reviews has traditionally been one of the least successful tactics for growing reviews for your business online, with a very low conversion rate.
However, it's been impossible to ignore the grassroots push to support local companies during the current coronavirus/COVID-19 pandemic. If there was ever a time to coordinate an email campaign that encouraged old customers to review your business, it's now. If you have an email list of old customers that for whatever reason you haven't already reached out to, we think it's worth allocating the time and resources and following up with them soon.
Your Customers Want to Help — Tell Them How!
2020 is a year of uncertainty. However, there are homeowners in your area that want to do all they can to help local businesses. Take the time to get your review acquisition procedures in place, so when things get back to "normal" you are ready to fill up the job calendar with qualified leads that are impressed by your review rating and your attention to detail. 
Looking for a hand when it comes to managing your reviews? The Energy Circle team is here to help. Call 1 (207) 847-3644 or contact us today for a free analysis of your business.
SERVING THE ENERGY AND BETTER BUILDING SECTOR
We are selective in who we partner with—and we know you are too. Find out with a no-commitment analysis how we can make an impact on your business.