Google My Business & Single Platform: A Bad Deal for Service Businesses
Google is making constant changes to the Google My Business knowledge panel – that critical rectangle of information the appears when someone searches for your business by name. Most of those recent changes have been for the good; but this one, which affects how your services are listed, is really, really bad. The problem? Your HVAC, solar or home performance business is not a restaurant with a constantly changing menu, and Google has allowed a third party to send leads further away from your website without your permission.
Google My Business & Single Platform
Without notice, Google has been inserting links to a service called Single Platform (a subsidiary of Constant Contact), in the knowledge panel of Google My Business listings for companies providing local services.
Single Platform markets primarily to restaurants, offering a central place to publish a menu or list of services for multiple channels. Think of it as one place for a restaurant to make changes to a daily menu and have those changes published consistently across all search engine and social media integrations.
So what's got us so darn baffled? Google is allowing the Spammy practice of inserting Single Platform links in the knowledge panels of HVAC, home performance and solar industries without their knowledge or consent. And Single Platform wants to charge you a fee to manage your list of services. In our view, this is harmful and completely unnecessary.
What It Looks Like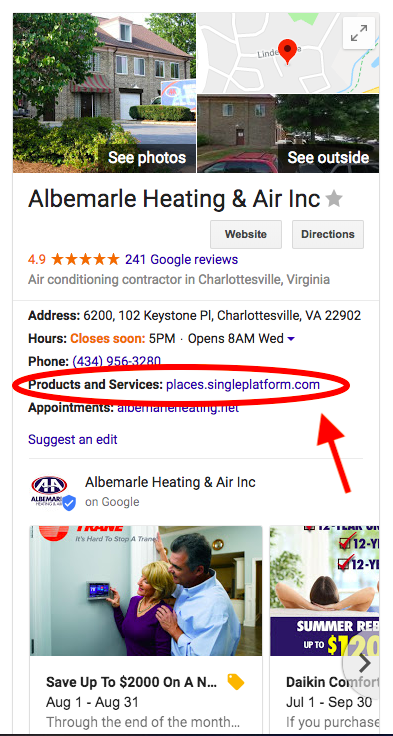 These inserted links on Google My Business listings are taking customers to a Single Platform "places" site, which is not owned or controlled by the businesses themselves (unless you create a Single Platform account). It looks like this: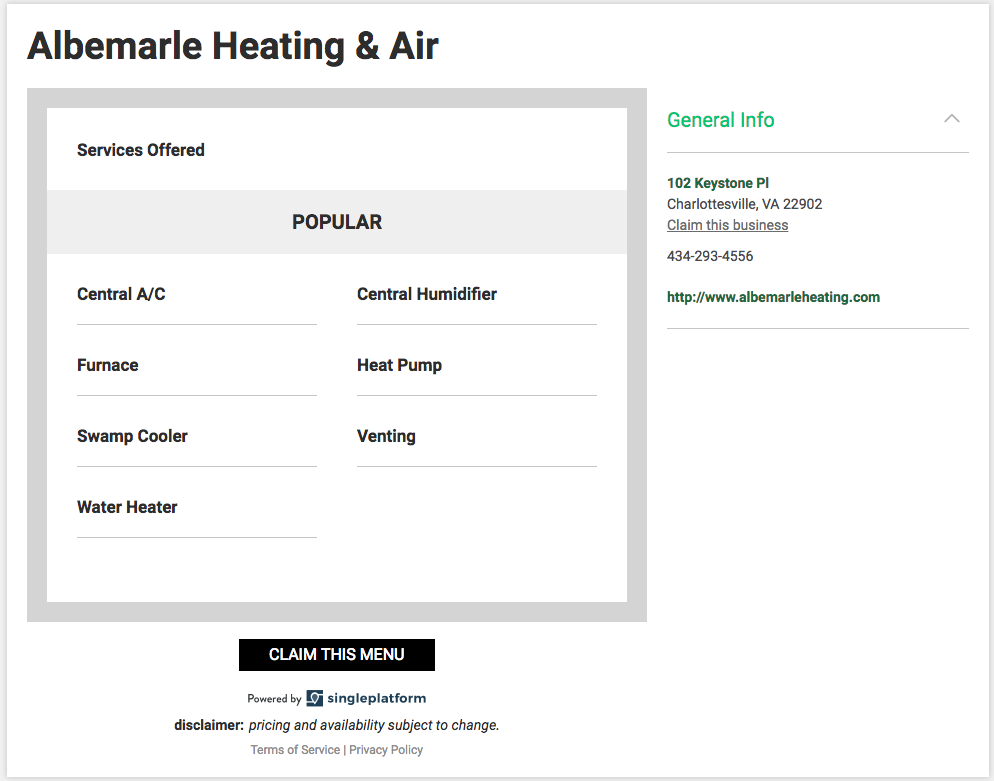 Why Is Google Doing This?
This appears to be an attempt to "conveniently" centralize your list of services (or menu) for potential customers. But you don't need us to tell you —  this doesn't work for contractors who rarely change their menu and don't provide a "daily special." This questionable move by Google is unnecessarily taking customers further away from your website.
What's more is that Google is wiping their hands of it, stating:
"These links are updated automatically via third-party providers. There's no way to add, edit, or remove these links in Google My Business . . . . If you want to remove or fix a link in your own listing, please contact the third-party provider's support team or a technical contact to request they remove your data from the information they are sending Google."
So What Can Be Done About It?
Contacting Single Platform directly has been the best course of action for us on behalf of our clients. We let them know that we have not given any permissions for a Single Platform URL to be linked to any of the GMB listings that we manage.
If you see these links showing up in your knowledge panel, we recommend contacting Single Platform and telling them the same.
*UPDATE (8/29/18)*
As we have noticed more and more of these links popping up on our client's GMB listings, we have gone through quite the journey in actually getting these links removed. After calling Single Platform to resolve the issue as Google recommends, we were told that the "menu" information could be removed within 48 hours, but the link would remain and would be the responsibility of GMB to remove. 
We were then directed to GMB support to resolve the link issue, but the Google representative we spoke with explained that we wouldn't see the changes for 7 to14 days. Frustrating, right?
When we tried one last time to get the links removed in a more timely manner, we submitted a contact us form on the GMB support page. This garnered a phone call within 60 seconds of our submission, and this time the Google representative we spoke with walked us through a bit of a clunky "hack" that got us the changes we wanted immediately (we have seen this pop up in a few forums as well). So if you are looking to remove this Single Platform link right away, try this:
Log in to your GMB account
Go to the Info tab and edit your Primary Category to "Restaurant" and apply changes
Add "Restaurant" as the category and apply
Go to Edit the Website, and change the menu link to your services link and apply
Go back to the GMB listing page and remove the Restaurant category
Add your actual category back in (HVAC, etc.) and apply
Changing your company's GMB category to "Restaurant" may feel a little bit clunky, but this is the only way we have found to effectively and immediately remove these Single Platform links.
Staying up-to-date on changes to Google My Business is key if you want to optimize your online presence. Contact us to learn more.
1-ON-1 MARKETING BENCHMARK ANALYSIS
Admit it...keeping up with digital marketing can be challenging. Let us help.
Having worked with over 400 companies across the US in the better building industry, Energy Circle has developed key benchmarks that every company should be meeting. Gain from our perspective with a 1-on-1 marketing benchmark analysis to see how your digital presence compares and learn about solutions to take your digital marketing to the next level. Your evaluation will include key areas such as website health/performance, SEO, reviews, content, conversion optimization and paid search engine marketing.