Got a Google Beacon in the Mail? Here's What You Need to Know
This week in the Energy Circle office, we received a small box in the mail from Mountain View, CA. And we've gathered from the phone calls and emails we received from a number of our HVAC, home performance and solar clients, we weren't the only ones.
So in the latest of our ongoing series of "What The Heck Is Google Doing, And Should I Be Involved", we are featuring the mysterious Google Beacon.
What Is a Google Beacon?
In short, the Google Beacon is a small device you activate through Google and inconspicuously place somewhere in your business' physical location. Your Google Beacon will then connect to smartphones and other devices that are within a short proximity using Bluetooth Low Energy (BLE) technology to share information that is specific to your location. Google is piloting this beacon program to make your venue(s) "more visible to customers with mobile devices."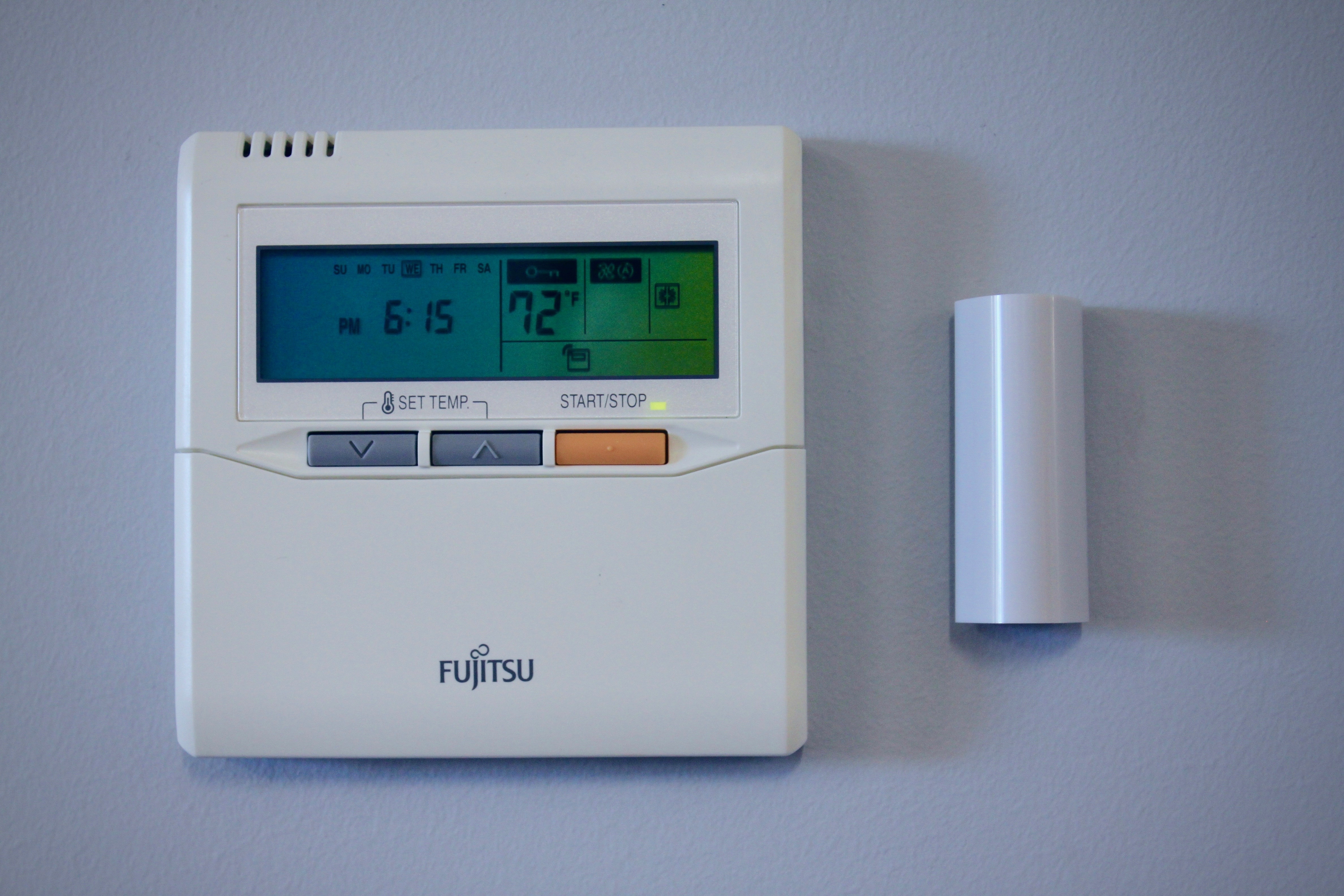 We tried out our Google Beacon near the office thermostat – a pretty central location for our space.
Third party beacons can be used (with the help of a knowledgeable developer) to share any kind of data, via a proprietary app. But these Google Beacons are solely for the purpose of pushing Google information about your business to nearby smartphone users that have their location services turned on — like popular times of day for foot traffic, the average visit time, or photos and reviews of your particular physical location or venue.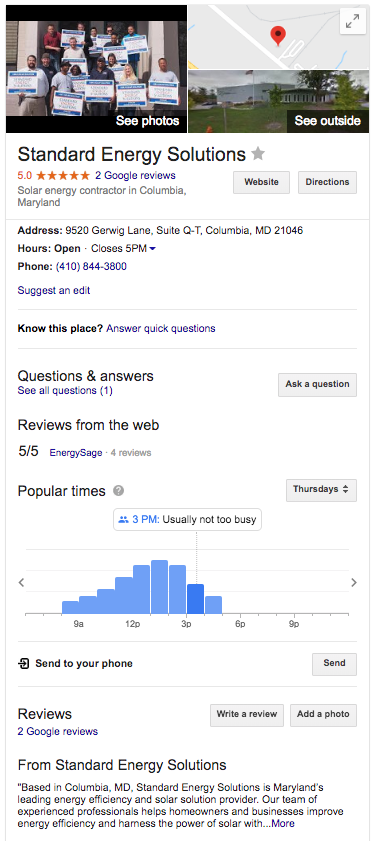 This Google Knowledge Panel from Standard Energy Solutions shows what kind of information Google is looking to push to potential customers.
Is the Google Beacon Relevant to Your Service Area Business?
Probably not.
If you run an HVAC, Home Performance or Solar company, you already know that your physical office location (or as Google is referring to it, your "venue") is not a public space that receives many customers. You are not dealing with heavy customer foot traffic, and your sales are not directly linked to those just passing by your warehouse or office space.

There may be some relevance for those that have a showroom and are looking to bring more traffic in, or who are looking to generate more reviews from customers. Google states on their About Project Beacon page, "We may ask users who've visited your venue to contribute reviews, such as star ratings, answers to quick questions, photos, and more." But again, this is really only relevant if you already have a lot of visitors to your office location.
Implications & Recommendations
Google's Project Beacon is not likely to be impactful on the HVAC, Home Performance and Solar industries; but the technology that it uses may be in the future. BLE beacons can target smaller, more specific locations than traditional GPS and were pitched initially to help with things like public transit, municipal art and assisting the blind and deaf:
If a beacon type device in one of your vehicles could transmit that you're in the neighborhood, and offering a discounted furnace cleaning, that could be interesting.
As this tech is leveraged for targeted advertisements, it is possible that buying "beacon space" through other businesses that are more location-dependent could be a thing of the future.
Until that day comes, we recommend using your beacon to keep the stack of invoices on your desk in place if you have a drafty office, or to test the strength of your new pipe cutter. But if you really want to satisfy Mother Google's demands and try your Google Beacon, we recommend placing it somewhere central in your office after you've activated it.
Looking for more Google tips and recommendations for your HVAC, home performance, or solar company?
Contact us
to learn more.
SERVING THE ENERGY AND BETTER BUILDING SECTOR
We are selective in who we partner with—and we know you are too. Find out with a no-commitment analysis how we can make an impact on your business.