How Savvy Is Your Company's Review Management?
Online review management for your business can be complicated, especially when you're trying to figure out where to start. Here are the key components of a quality review strategy, separated into different stages, ranging from the very basics to advanced, black-belt-level initiatives.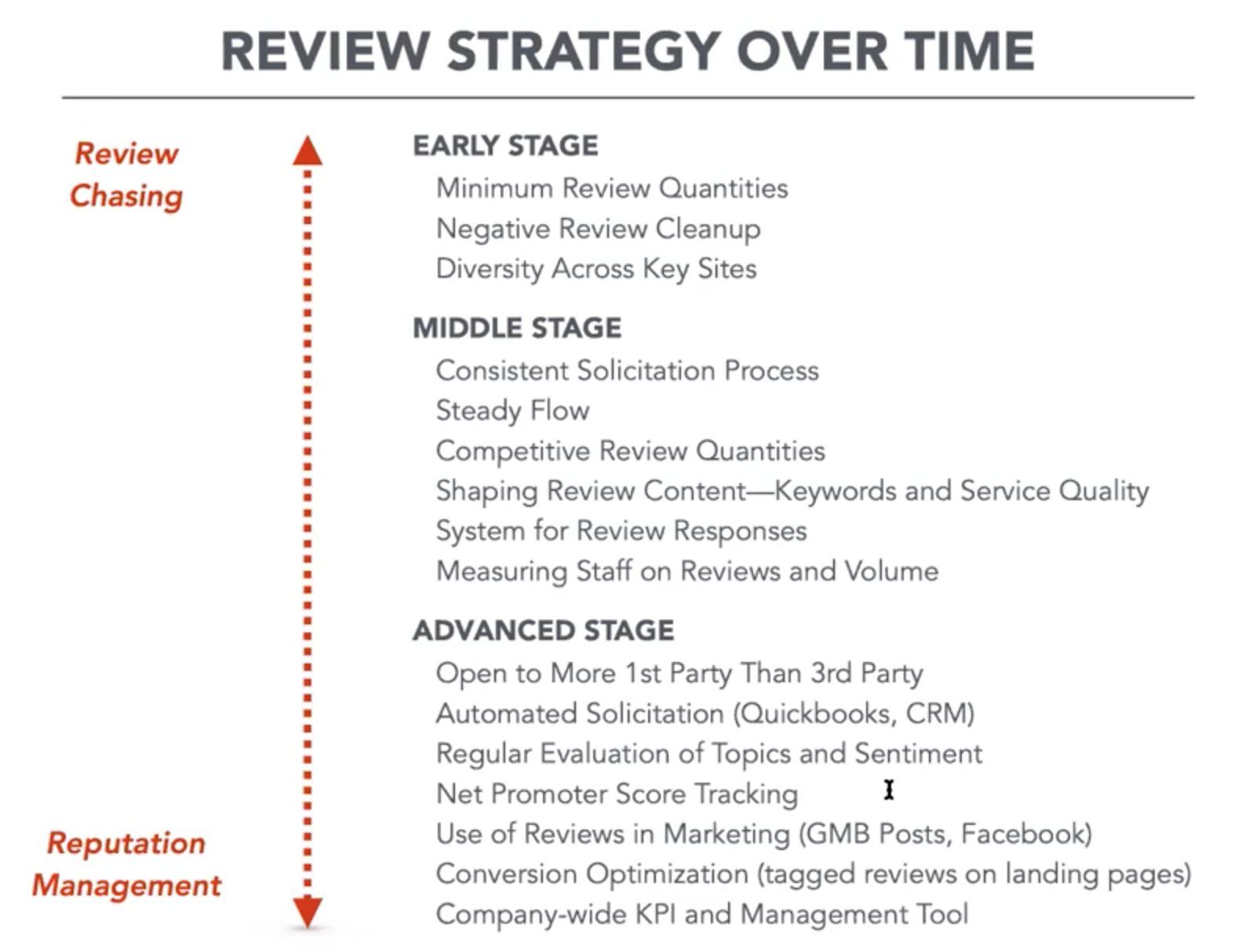 Early Stage
All businesses have to start somewhere—here's where to focus your efforts early on.
Minimum Review Quantities—As of January 2021, we recommend companies have anywhere from 50-200 Google reviews, depending on their services and location.
Negative Review Cleanup—Negative reviews are hard to remove, no matter how illegitimate they are, so the solution is usually diluting them with additional positive reviews. When your total reviews are low, you're particularly vulnerable to a rating swing, and your priority should be to avoid the danger zone of anything less than a 4-star average.
Diversity Across Key Sites—Google is very important, but you shouldn't put all your eggs in one basket; make sure your business is also reviewed on Home Advisor, Better Business Bureau, and other sites relevant to your industry and location.
Middle Stage
If you feel good about nailing all the elements of the Early Stage, you're ready for the next step.
Consistent Solicitation Process—Whatever your methods for soliciting reviews are (Do technicians ask for reviews just before leaving a job site? Do you follow up via email or text after the job is finished?), you need to have an automated process!
Steady Flow—If the process above is steady, the flow of reviews will follow. 
Competitive Review Quantities—Your business is more likely to be compared to the company down the street than any national average when it comes to reviews. Keep an eye on your competition and make sure you don't look inferior by comparison.
Shaping Review Content—Keywords and Service Quality—The real successful companies today are paying close attention not just to how many reviews they have, but to what those reviews say! From keywords to service quality, you should have a plan to improve review quality, not just quantity.
System for Review Responses—"Yeah, every once in a while I remember to glance at our Google reviews." Sorry, but that's not enough! When a review is posted (ALL reviews, not just the negative ones), it should be somebody's job to respond.
Measuring Staff on Reviews and Volume—You should also have a quantitative way to measure and assess the people on your team responsible for reviews—both the volume and the quality.
Advanced Stage
This is officially black belt territory—where companies need to be heading with review management to be truly successful.
Open to More 1st Party Than 3rd Party—1st Party reviews (those you solicit directly) can have different benefits compared to 3rd party reviews (Google, Yelp, etc.). You should have a clear strategy in place so that you can pivot your solicitation efforts to encourage different kinds of reviews.
Automated Solicitation (Quickbooks, CRM)—Programs like Quickbooks and other CRMs (customer relationship management) can automate your review solicitation process. The less information you have to pull manually, the more reviews you'll likely receive.
Regular Evaluation of Topics of Sentiments—When was the last time you sat down to evaluate exactly what reviews are saying about your business—your weaknesses as well as your strengths? This should be a regular initiative.
Net Promoter Score Tracking—The Net Promoter Score is a customer loyalty metric based on a simple question asked to customers: "How likely are you to recommend our services to a friend or colleague?" Using your review system to track your NPS can improve your business as well as your reviews.
Use of Reviews in Marketing (GMB Posts, Facebook)—Go the extra mile to get positive messaging out there—great reviews can be reused in Google My Business Posts, organic Facebook posts, and much more!
Conversion Optimization (Tagged Reviews on Landing Pages)—Your website can be automated so that service pages include reviews that mention that specific service. Similarly, reviews can also be tagged for geo, which can come in handy for city pages!
Review management isn't just about making your company look good when people find you on Google—operating at an advanced level, it can be used as a company-wide KPI (key performance indicator) and management tool as well.
Get the help your business needs with online reviews. Contact us today to speak with the digital marketing experts who know your industry at Energy Circle. 
SERVING THE ENERGY AND BETTER BUILDING SECTOR
We are selective in who we partner with—and we know you are too. Find out with a no-commitment analysis how we can make an impact on your business.