How To Track Your Google My Business Listing with CallRail
An article that caught my eye this week was from CallRail, titled CallRail for Google My Business: Get to know your local customers through call tracking. The blog announced their new integration with Google My Business (GMB). While Energy Circle is already using CallRail tracking numbers in Google My Business for many of our clients, this new integration makes it a breeze to set up.
Why Do We Love CallRail?
We use CallRail's call tracking software with all of our clients to track the success (or lack thereof) and opportunities across all digital marketing channels. In its most straightforward use, a call tracking number is used as the listed phone number on your Facebook page, in a Google Ads Call-Only campaign, or the like. Calls made to these numbers are redirected to one of your company's actual phone numbers.
With CallRail, we are able to record and monitor these calls and gather data that includes the number of calls, length of calls, whether they are a first-time caller, and the quality of the lead. In most cases, the caller's name and city are identified as well. In the more advanced application of CallRail, website code is injected into the client's website allowing for what is called "number swapping."
With number swapping, all new website visitors are assigned a phone number—one of usually eight—and this website code tracks a number of useful digital marketing metrics, like source (organic, paid search, Facebook Ads, et al.), landing page, and keywords/search query. If the website visitor calls, CallRail then associates these metrics with the previous information like name, city, and whether it is a first-time caller, and sends those both to its own system—and also Google Analytics and Google Ads. This gives us fantastic insight into the effectiveness of our digital marketing campaigns and, often, how best to optimize them, based on what landing pages and keyword queries are best converting to new phone calls.

Why Do Our Clients Love CallRail?
It allows us here at Energy Circle to best optimize their digital marketing campaigns and dollars.

It allows us to track off-line campaigns, like lawn signs and direct mailings, by using a call tracking number.

The call recordings allow for great training opportunities!
Why We Love CallRail for GMB Listings 
A company's Google My Business listing (as well as its derivatives like Google Maps and 3-pack listings) usually appears when there's a brand search for the company, or in a localized search query—if your Local SEO efforts are working, of course.
But without a call tracking number in the GMB listing, we are at the whim of GMB Insights, which offers scant metrics data. For example, Insights is only able to track the number of times a company's phone number is clicked, not if the person actually followed through with the call. 
Worse yet, only phone number clicks on a company's mobile listings can be tracked; any instances where a potential new customer has looked you up on their computer and then called you from a separate device (like their phone) go completely untracked. With a call tracking number inserted into the company's GMB, we not only track all calls made through those listings, we also are able to track if those are first-time callers to the company (as tracked by CallRail). 
This is what the difference in those tracking metrics look like for the same company over a 30 day period:
In GMB Insights, only 94 phone clicks (not completed calls) were tracked: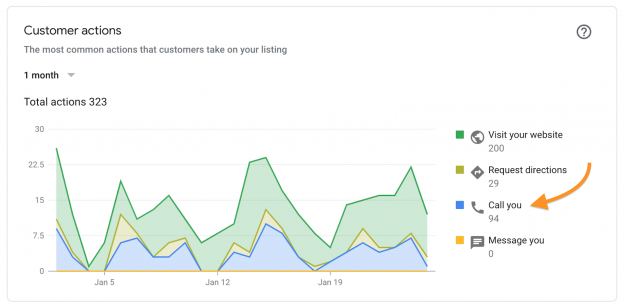 But using CallRail for the GMB tracking number (all calls), we have 222 tracked calls:

And here's CallRail for the GMB tracking number (just first-time callers):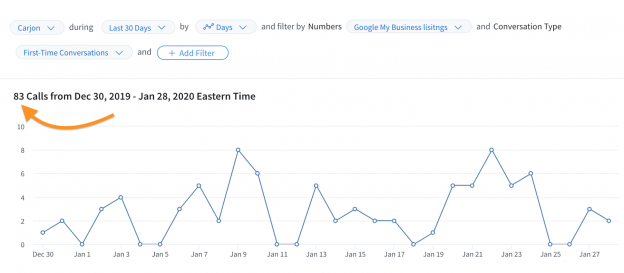 That's a big swing, from 94 phone clicks tracked by Google Insights, to 222 actual tracked phone calls in CallRail! Further, we can see that almost 40% of those 222 callers are likely calling for the first time (or at least since CallRail was set up), and potentially new leads.
Across our clients and their various home performance industries, we are seeing similar differences between GMB phone clicks metrics and actual calls tracked in CallRail, and on average we are seeing 40-60% of those calls are tracked as first-time callers. This represents a huge number of web-based leads that we weren't tracking previously! Thank you, CallRail. Thank you. 
Why I Love This New CallRail GMB Integration 
It's like pushing the easy button™. With a few clicks in the CallRail account for each location, a call tracking number is inserted into the GMB account for that same location.
Implementing CallRail number in GMB 
One click gets you here: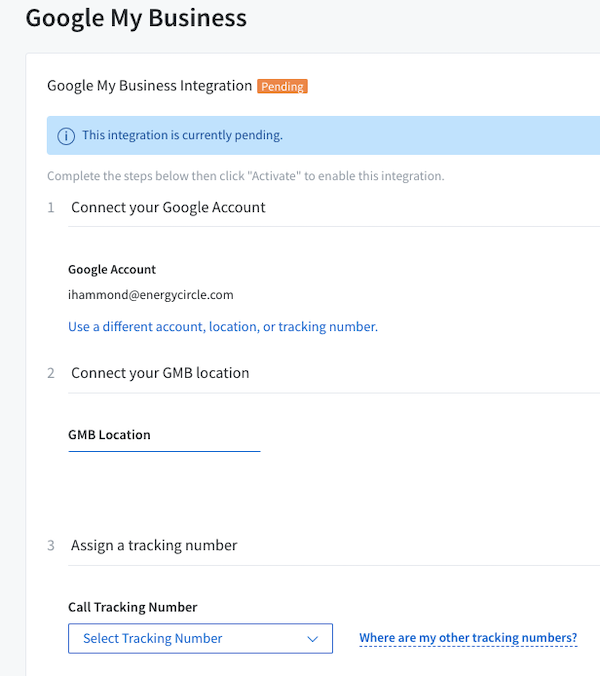 A few clicks above and we are ready to choose or create a number: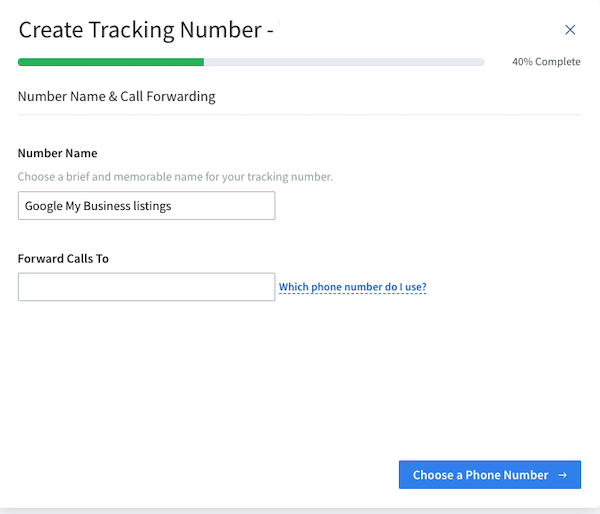 Just like that, the new number has been integrated into the company's GMB listing. Plus, the business's primary number stays with the listing. This second number won't show to the public but remains with the account, alleviating any NAP (Name Address Phone) consistency concerns.
And before we know it…

We and the client are now tracking calls to the company's Google My Business listings and getting great insight into our local SEO efforts! And the company has all of those calls recorded and tracked for monitoring and training. Two big wins.
Looking for more digital marketing tools that can help increase lead generation? Get in touch to learn more.
SERVING THE ENERGY AND BETTER BUILDING SECTOR
We are selective in who we partner with—and we know you are too. Find out with a no-commitment analysis how we can make an impact on your business.