How to Use Google Questions to Your Advantage
So you've fine-tuned the Google My Business (GMB) profile for your HVAC, Home Performance or Solar company, even selecting the best GMB categories for your industry for the current season. But there may be one valuable feature of your GMB listing that you haven't yet tapped into — Google Questions and Answers.
Google first introduced Questions and Answers in August 2017, and many businesses, large and small, have yet to use it to their advantage. By getting ahead of the game with this newer GMB feature, you can set yourself apart from the competition right on the Google search results page (SERP) and drive more leads for your business.
What Is Google Questions and Answers?
Google Questions and Answers, also called Google Q&A, is a Google My Business feature that allows users to ask and answer questions directly within a business's knowledge panel. Questions may be answered by both the business and the public.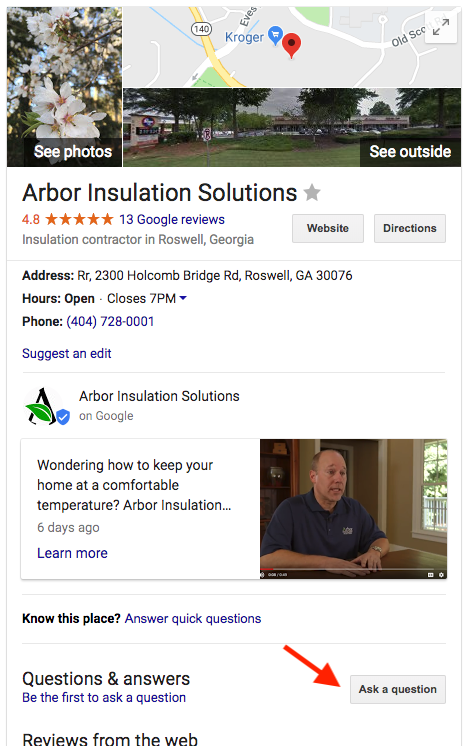 Users on mobile and desktop can ask a question about your business with the Questions and Answers feature.
As you may already by thinking, this feature opens up quite a few possibilities for your business's online presence. Right within your knowledge panel, before web users even navigate to your website, you can answer some of your most frequently asked questions. You can also show potential customers that you're responsive by diligently responding to the questions your business gets.
Make Google Q&A Work for You with These Key Tips
As with any Google My Business feature, Google Q&A can either help or harm you depending on how you use it. Here are some tips we recommend to make your Google Q&A section something that generates leads for your business.
Never leave a question unanswered.
It's woefully common for Google questions to go unanswered. Take this friendly question, for example:

This HVAC contractor has an unanswered question.
How you respond to this type of question is up to you. You might have a flat fee for your air conditioning tune-ups, for example, or the price might depend on the system type, current promotions, etc. Just be sure that you do respond with an appropriate answer that highlights a competitive advantage of your company. In addition, be sure to answer your questions while logged into your Google My Business dashboard. That way, users will see the response coming from you, the owner.
Regarding the question about tune-ups, you might say something like, "The price of an HVAC tune-up can vary depending on the system, but we are pleased to offer some of the most competitively priced HVAC tune-ups in the Portland area. Give us a call to get an estimate for your system!"
If there are unanswered questions in your business's knowledge panel, make sure to answer them before someone who isn't at your company does!
Avoid answering with a simple "yes" or "no."
Answering with a simple "yes" or "no" is a bad idea for a few reasons. First, it takes away an easy opportunity to highlight something positive about your business. If you are an insulation contractor and someone asks, "Do you offer free energy audits?" for example, you could respond with, "Yes, we offer free energy audits. Our energy audits are comprehensive and come with a detailed report about which energy efficiency upgrades are best for your home."
Answering with a "yes" or "no" is also a bad idea because it is possible for someone to edit a question after they've asked it. Let's say, for example, that you responded with simply "yes" to the above question about energy audits. Now, how would it look if the question asker went back and changed the question to, "Are your prices higher than those of other contractors in the area?"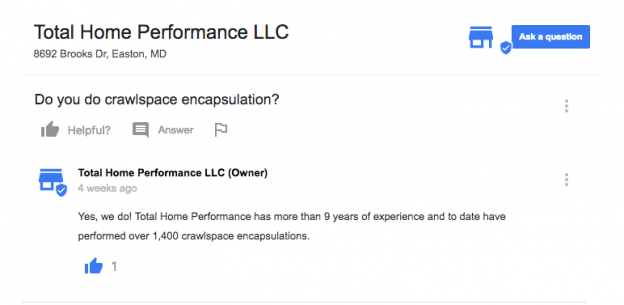 This is a good answer to a simple yes-or-no question.
'Like' good questions to give them real estate in the knowledge panel.
Have questions that you'd love to highlight to potential customers? 'Like' them. This will elevate the question and answer to the space where it says "See all questions."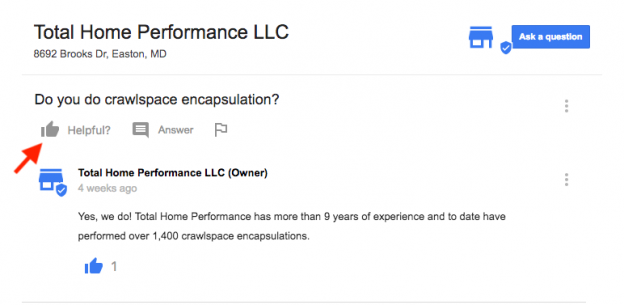 'Liking' this question could make it stand out more in the knowledge panel.
Be sure to report any spam or irrelevant questions.
Unfortunately, not every question that shows up in a GMB listing is legitimate. If spam, a hateful comment, or an irrelevant question shows up in your Questions and Answers section, be sure to flag it. You can do this by clicking the flag icon underneath the question and then clicking on the reason for reporting it.
Set Yourself Apart with Google Q&A
Want to set your HVAC, Home Performance or Solar business apart from you competitors? Utilizing the Google Questions and Answers feature is a great way to do that. Treat your Questions and Answers how you would treat your Facebook page or any other social media account — with diligence and rapid response times. You'll strengthen your brand, showcase high quality customer service to local consumers, and give potential customers greater access to the answers they are looking for.
Utilizing the Google Questions and Answers feature is an easy way to make your Home Performance, HVAC or solar company stand out.

Contact us

to learn more about strengthening your company's online presence.
SERVING THE ENERGY AND BETTER BUILDING SECTOR
We are selective in who we partner with—and we know you are too. Find out with a no-commitment analysis how we can make an impact on your business.