Local Services Ads, Part 1: Where They Are Now (Literally)
We've referred to Google Local Services Ads (LSAs) as a "blockbuster product" for the HVAC and home performance industries. And though there have been some early hiccups—e.g., the insulation/handyman mess referenced in our downloadable white paper comprehensive guide to LSAs—there have been some promising updates and expansions. Mainly, what markets this helpful tool is now available.
Local Services Ads Explained
Google developed this ad service to catch up to and compete with services like Home Advisor. If you search on Google for a selected contractor service within a certain area, Google will provide you with a carousel list of three contactors within that area and display their review ratings, contact info, and a verified checkmark for their "Google Guarantee".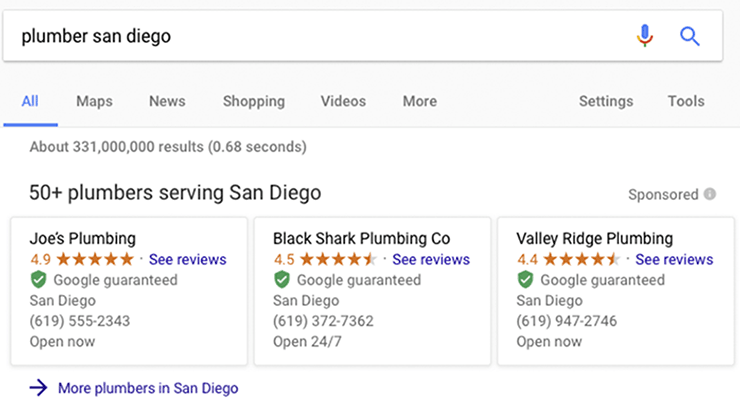 Once a potential customer clicks on your LSA listing, they are taken to a zip code verification page. This ensures that you are providing that particular service in that particular area. Then Google will send you the lead via phone, and you are charged on a per-lead basis. The current pricing for HVAC contractors is $22 to $25.
(Again, for more on pricing and lead economics of LSA's, see our white-paper on the topic.)
Updates: Expanded Availability
When we last wrote on LSAs, Google had begun a slow rollout that affected only 17 cities. As of now, the full list of 73 cities includes:
Albuquerque

Atlanta

Austin

Baltimore

Birmingham, AL

Boston

Charleston, SC

Charlotte

Chattanooga

Chicago

Cincinnati

Cleveland-Akron

Columbia, SC

Columbus

Dallas

Dayton

Denver

Des Moines

Detroit

Fresno

Ft. Myers-Naples

Grand Rapids / Kalamazoo

Greensboro

Greenville-Spartanburg

Harrisburg

Hartford-New Haven

Houston

Indianapolis

Jacksonville

Kansas City

Knoxville

Las Vegas

Los Angeles

Louisville

Madison

Memphis

Miami

Milwaukee

Minneapolis-St. Paul

Nashville

New York

New York City Area / NJ

Norfolk, VA

Oklahoma City

Omaha

Orlando

Palm Springs

Philadelphia

Philadelphia Area / NJ

Phoenix

Pittsburgh

Portland

Raleigh-Durham

Richmond

Rochester

Sacramento

Salt Lake City

San Antonio

San Bernardino

San Diego

San Francisco Bay Area

Savannah

Seattle

Spokane

Springfield, MO

St. Louis

Syracuse

Tampa

Toledo

Tucson

Tulsa

Washington, DC

Wichita
How To Sign Up For Local Services Ads
Is your city LSA ready? Registering your HVAC or home performance business for LSAs in your area can be done here. Even if this feature isn't available in your city yet, sign up anyway. Google will notify you when it does become available.
Looking for more tips on how to take advantage of Local Services Ads for your business? Contact us for more info.
SERVING THE ENERGY AND BETTER BUILDING SECTOR
We are selective in who we partner with—and we know you are too. Find out with a no-commitment analysis how we can make an impact on your business.