Our End-of-Year Marketing Checklist for Contractors
Getting ready for the holidays? Here's a useful to-do list you can download to help you end the year on a high note… and carry that success into 2023!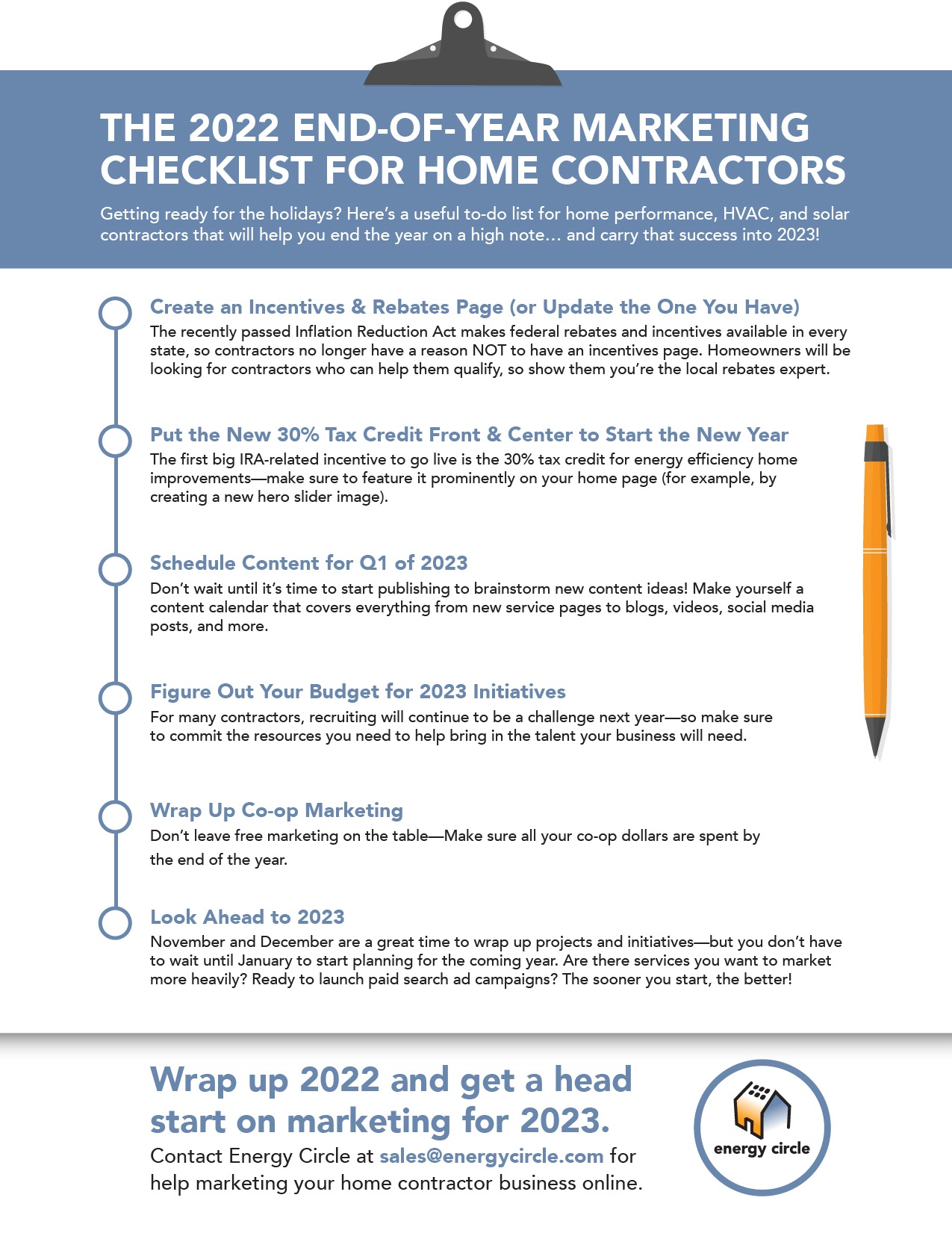 1. Create an Incentives & Rebates Page (or Update the One You Have)
The recently passed Inflation Reduction Act makes federal rebates and incentives available in every state, so contractors no longer have a reason NOT to have an incentives page. Homeowners will be looking for contractors who can help them qualify, so show them you're the local rebates expert.
2. Put the New 30% Tax Credit Front & Center to Start the New Year
The first big IRA-related incentive to go live is the 30% tax credit for energy efficiency home improvements—make sure to feature it prominently on your home page (for example, by creating a new hero slider image).
3. Schedule Content for Q1 of 2023
Don't wait until it's time to start publishing to brainstorm new content ideas! Make yourself a content calendar that covers everything from new service pages to blogs, videos, social media posts, and more.
4. Figure Out Your Budget for 2023 Incentives
For many contractors, recruiting will continue to be a challenge next year—so make sure to commit the resources you need to help bring in the talent your business will need.
5. Wrap Up Co-op Marketing
Don't leave free marketing on the table—Make sure all your co-op dollars are spent by the end of the year.
6. Look Ahead to 2023
November and December are a great time to wrap up projects and initiatives—but you don't have to wait until January to start planning for the coming year. Are there services you want to market more heavily? Ready to launch paid search ad campaigns? The sooner you start, the better!
Wrap up 2022 and get a head start on marketing for 2023?—Call 1 (207) 847-3644 or contact Energy Circle online today to learn more.
SERVING THE ENERGY AND BETTER BUILDING SECTOR
We are selective in who we partner with—and we know you are too. Find out with a no-commitment analysis how we can make an impact on your business.