Use This Checklist to Capture Search for Solar Battery Storage and EV Charging
During our last webinar, Senior Solar Strategist Abby Yolda joined Energy Circle Founder and CEO Peter Troast to discuss search volume growth in solar battery storage and electric vehicle charging. From their discussion, we learned that as consumer awareness of solar battery storage and EV charging grows, we're seeing a steady rise in search volume for these terms.
As you can see from the graph below, search volume for the term "solar battery storage" has been increasing steadily since early 2010. The spikes in the graph correspond to trends in the solar industry. For example, in 2015 we see a huge increase in search volume happening at the same time as an ITC extension that took place that year. You can read more about the ITC plan on our blog on the topic from earlier this year.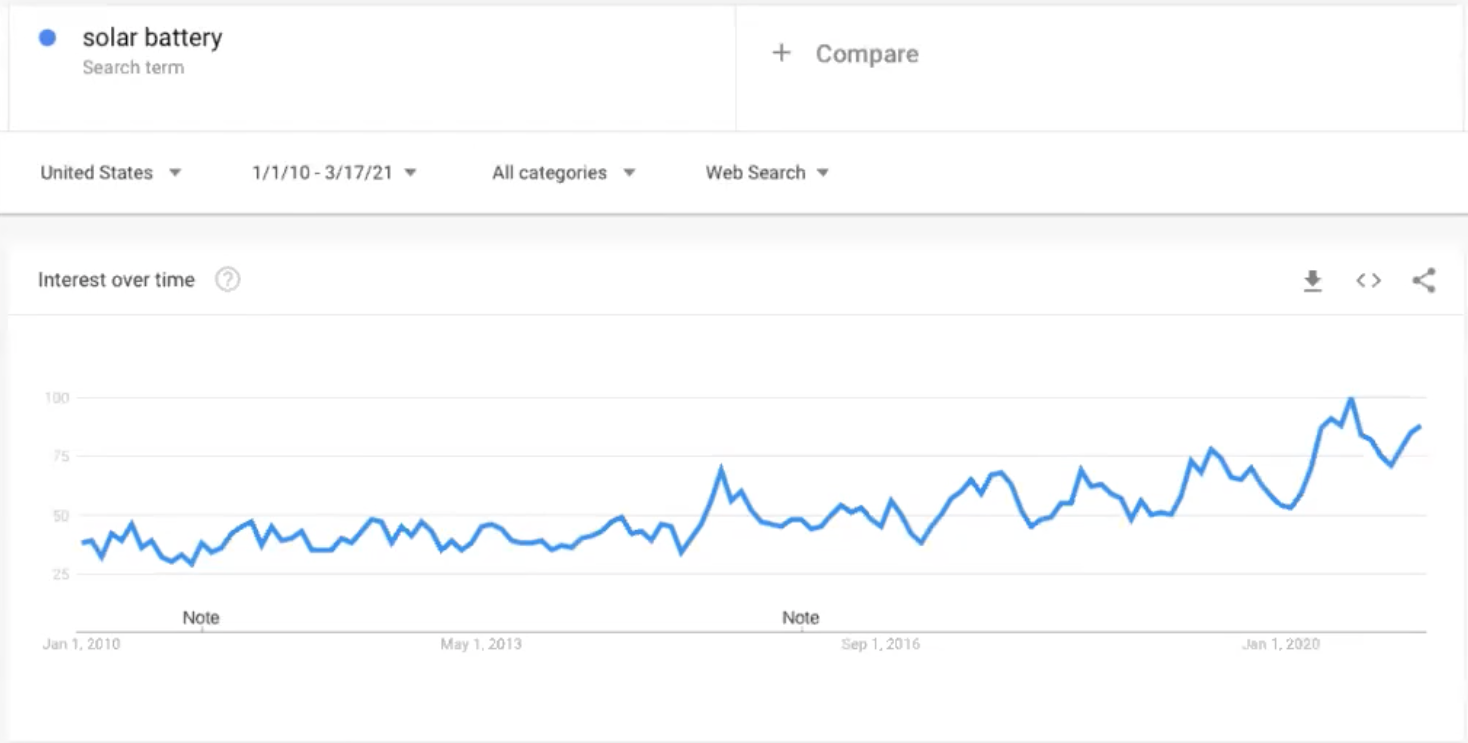 So, how can you, as a solar installer, make sure you're taking advantage of this growth? Here are five things you should be thinking about as you create content about solar battery storage and electric vehicle (which we'll refer to as EV throughout) charging: 
✔ Be Mindful of the Consumer Education Path 
We know from the search data that awareness of solar battery storage is growing, and more and more homeowners and businesses are thinking about installing a solar-plus-battery system or adding a solar battery as a retrofit for an existing solar energy system. 
But as we create content around solar battery storage, we need to think about the consumer education path. For us in the industry, terms like energy storage and solar + battery are commonplace. But for the average consumer, industry-specific jargon is confusing. 
To illustrate this, let's take a look at the search volume for three different solar battery terms: battery storage, solar battery, and energy storage.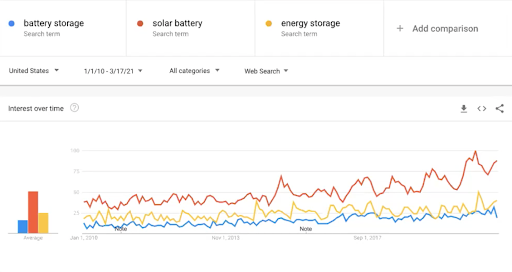 At the start of this graph, in 2010, search volume was about the same for these three terms. And while the upward trend has continued for all of them, solar battery has pulled far into the lead. This shows us that most consumers are thinking about solar battery storage at a pretty low level, and are looking for answers to big-picture questions. You can help these consumers move further along on their buying journey by providing easy-to-understand resources that answer those big-picture questions. 
Though there is less search volume around more complex terms, we can see that there are people asking more complex questions, which indicates that, as consumers get farther along their education path, they start looking for answers to more involved questions. To capture that search, you want to include those complex search terms in your content, but beware of industry speak and avoid getting too caught up in the jargon. Otherwise, readers are going to bypass your content for something that's more digestible. 
✔  Use Tesla Powerwall Keywords Strategically 
When looking at monthly keyword search volume for branded products, one thing is absolutely certain: Tesla rules all.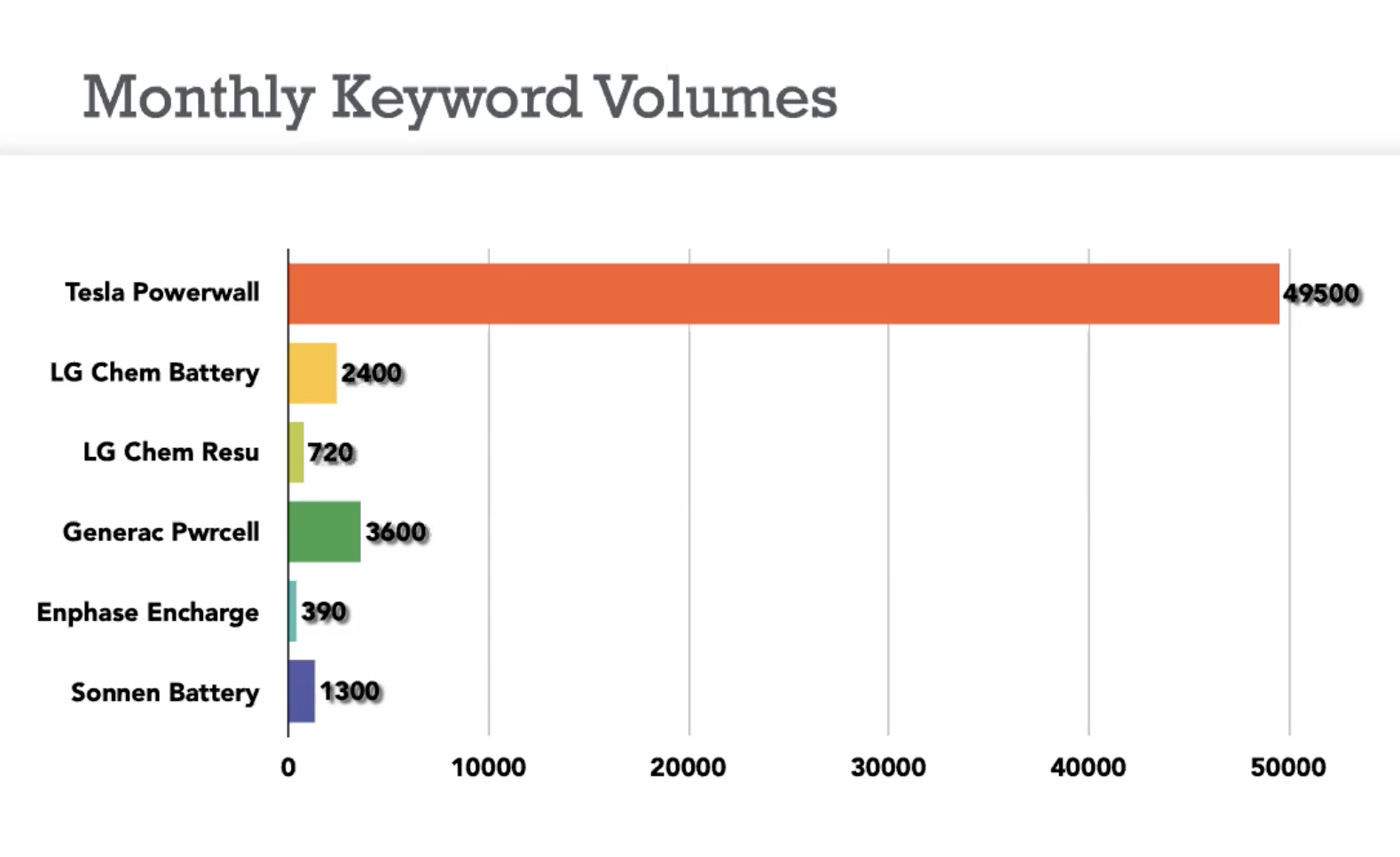 Some of this is because Tesla Powerwall has been around for a while, while other branded products like Generac Powercell are just entering the market. But most of it can be attributed to the incredible brand power that Tesla holds. People know the name, they trust the name, and they want the prestige that it comes with. 
If you are a Tesla Powerwall installer, this is great news for you. If you're not, it still provides an opportunity. 
Comparison guides are an excellent tool for consumers who are thinking about the different options they have when it comes to solar batteries, and by creating them, you can compare your product to the Tesla Powerwall and potentially pull in some of that traffic. Because so much of the search volume around solar batteries is related to the Tesla Powerwall, having a comparison guide is almost a necessity for solar installers that don't offer Powerwall.
✔  People Ask Google Questions—Answer Them   
Think about how you use Google for a second. Most of the time, you're typing a direct question into the search bar. Consumers are doing the same thing when they're researching solar batteries, and you need to be answering those questions on your site. 
You can get great content ideas from your sales team by asking them what questions they get asked most frequently. But you can also look at the data to see what people are searching for and start writing content to answer those questions. 
Cost and price-related questions have the highest search volume across all of the solar battery brands, and you want to be speaking to that on your site. This doesn't mean you need to publish your prices, but you should be creating content around cost. Talking about the cost benefits and savings that solar battery users can expect is a great way to touch on price without getting into specific installation costs. You can also provide a range or a starting price, and then encourage consumers to reach out for a custom solar quote. 
Cost isn't the only question people have about solar batteries, though. As consumers educate themselves, they're asking "what is a solar battery?" and "is a solar battery worth it?" In the image below, we've pulled search queries for Tesla Powerwall as an example, but you can easily remove the branding and answer these questions generally, or insert your own branded product.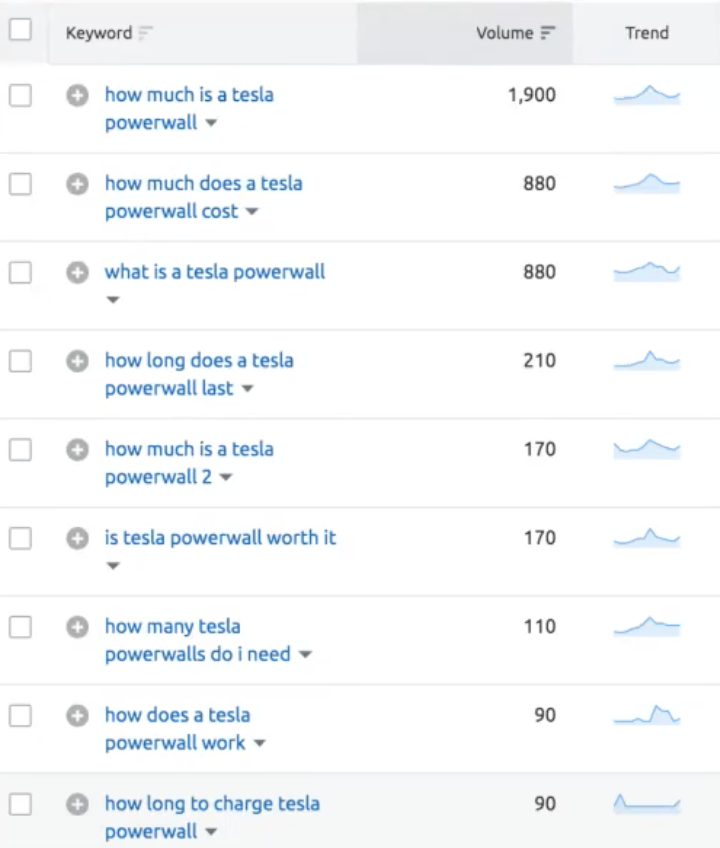 In the graph below, you can see the traffic for a post we wrote for one of our solar clients answering some big-picture questions about Tesla Powerwall. While the initial bump is due to promotional Facebook and email campaigns, the rest is organic. You can see that traffic falls around the end of solar installation season and then picks right back up again around springtime when solar installs begin. This demonstrates the power of good content that's aligned with what people are searching for.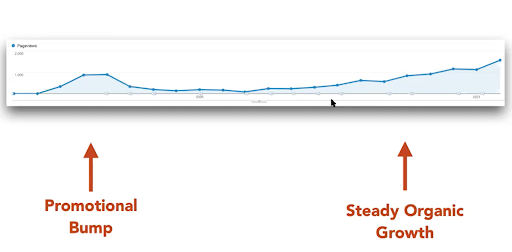 ✔ Plan for Spikes  
External triggers affect search volume and should impact the content that you're writing. The recent Texas power outage, for example, led to a huge spike in search volume for solar batteries and became a demand driver for solar installers across the country. 
Other external triggers that affect solar battery search volume include fire season, hurricane season, the first PSPS event in California, and major natural disasters. When these external triggers occur, we see huge spikes in search volume because consumers are worried about outages and are looking for ways to power their homes when the grid is down. 
You want to be ready to produce content around external triggers like these in real time so that you can capture the increase in search volume.
✔ Get Ahead of the Curve on EV Charging 
Electric vehicle charging is still a fairly new concept, and search volume around EV charging and EV charger installation is pretty low. As electric vehicles become more common, however, we expect to see this volume grow. 
This presents an excellent opportunity to get ahead of the curve by putting out content about EV charging now before the competition gets intense. 
You can use the same tactics that we talked about for creating content about solar battery storage to create content about EV charging—answer questions, create comparison guides, and make sure you're using consumer-friendly terms rather than confusing, industry-specific jargon. 
Get Help Capturing Solar Battery Storage and EV Charging Searches
Want to capitalize on the solar battery storage and EV charging search volume growth but aren't sure where to start? Get in touch with the Energy Circle team today! We'd love to hear from you and show you how we can help you capture solar battery and EV charging searches and turn them into leads. 
Looking for digital marketing help for your solar installation company? Contact the Energy Circle team today!
SERVING THE ENERGY AND BETTER BUILDING SECTOR
We are selective in who we partner with—and we know you are too. Find out with a no-commitment analysis how we can make an impact on your business.