Utilizing Case Studies to Set Your Business Apart
We hear it consistently here at Energy Circle — one of the most rewarding aspects of working in the business of energy efficiency is improving the lives of real life homeowners and business owners within a given community. In the HVAC, home performance, and solar industries, we can get caught up in the technical. But at the end of the day, the goal is to serve the needs of real human beings — each with their own unique story. 
A case study on your website should be telling the story of your customer, along with the story of how you helped them on their journey. But there is more value in case studies than just storytelling! Case studies are a valuable part of a digital marketing strategy, and are a big part of growing your website as a lead generating tool. In last week's webinar, Energy Circle CEO Peter Troast covered the importance of utilizing case studies for your HVAC, home performance, or solar website. Here's what we've learned.
Why Case Studies
At the heart of it, case studies offer a unique opportunity for you to talk about your business and the services you provide, in the context of a real life example. You can show visitors to your website "Hey, this could be YOU!", while explaining some of the more granular details of how you solved a real world problem. But more than just story, case studies provide an opportunity for fresh content. 
Freshly Picked Website Content
When it comes to search engine visibility, websites that are regularly updating and providing new content are viewed more favorably. Fresh content shows search engines that you are curating up to date information, and that your website isn't just a window into the past. Your website should reflect your past work, but also your most recent work! 
Common Names for Case Studies
A rose by any other name, right? Case studies can be referred to by many names. Our recommendation: Call them what works best for you, and call it what it is. 
Common nomenclature we have seen:
Project Stories

Projects

Work Examples 

Our Work

Houses We've Fixed 

Problems We've Solved

Installations

Solutions
Set yourself up for digital lead generation success. Make sure you are able to give your case studies titles that will match the search terms you want to rank for. If you can fit the search term and the specific location within the title, you have reached case study nirvana. For example: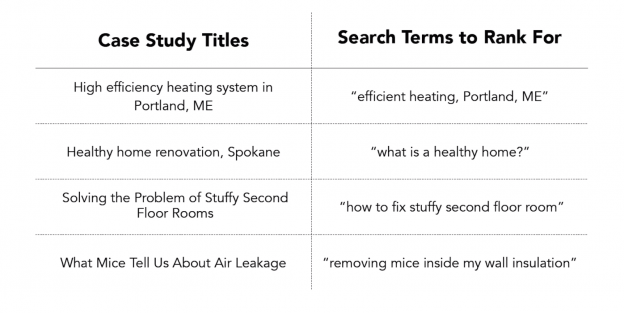 What Is The Right Format? Whatever is Easiest!
Those of us with full schedules can get hung up on the "how" of case studies. How to get started. How to collect the data. How to write the story. So, what is the right format for your case studies? Whatever is easiest! When we zoom out on what has made for effective case studies, there are three main elements.
Effective Case Studies Include: The Problem —> The Solution —> The Voice of the Customer
From complex to bare bones, this is the basic structure we follow to ensure the message gets through — you (the contractor) have solved this unique problem for a real person, using the services you provide.  
The Complex
The Bare Bones
How To Create Case Study Content
There are unlimited possibilities when it comes to curating your case study content, and we have seen a lot of them. If you have the time and resources to include robust imagery, this can take some of the load off of your written content to "paint the picture". But not every contractor has the time to get drone footage of a solar install, or to take high quality before-and-after photos up in an attic. Even if all you have is some raw data — like services provided, job location, the style of the home, and maybe a few details that made that project unique, you can simplify the process using a Google form:
Again, when it comes to getting your case study content out the door, go with whatever process is going to work for you!
Case Study Best Practices
As with any digital marketing strategy, getting your content out the door is just the beginning of putting it to use for lead generation on your website. After you have developed a plan for creating your case studies, make sure you have these best practices in place:
Link any relevant service pages on your website in the copy of your case study 

Embed maps showing the rough location of your case study, for geo-tagging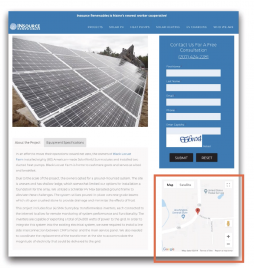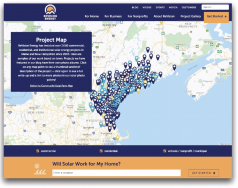 Index all of your case studies for easy browsing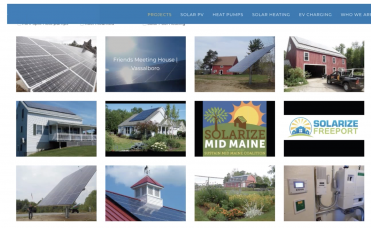 Share your case studies on Facebook and GMB posts, to maximize reach.
The use of case studies on your HVAC, home performance or solar website is an opportunity for you to speak about the intricacies of what sets your business apart, while showcasing how you have helped the friends and neighbors of those visiting your website. All of this, while showing Google that your content is increasingly relevant to searchers looking for the services you provide! If you don't have a process for posting case studies to your website but are looking for a little help getting there, get in touch with the Energy Circle team.
Ready to add case studies to your digital marketing strategy? Find out how Energy Circle can help. Call 1 (207) 847-3644 or contact us.
SERVING THE ENERGY AND BETTER BUILDING SECTOR
We are selective in who we partner with—and we know you are too. Find out with a no-commitment analysis how we can make an impact on your business.