The Value of Contractor Peer Groups for the Better Building Industry
When we last visited the topic of peer groups for HVAC, home performance, and solar contractors, it was in the middle of 2020, when no one seemed to know how long the seemingly pandemic would last.
Now, a vaccine and multiple variants later, Energy Circle CEO and founder Peter Troast has invited three contractors that participate in their own peer group to join Webinar Wednesday to discuss the benefits of peer groups, as well as how they were able to navigate the lean, mid-pandemic years thanks to the business advice they received.
An Overview of Contractor Peer Groups
Keith O'Hara of EcoPerformance Builders gave an overview of how his peer group started, what they used as a model, and just how important these peer groups have proven to be for other contractors that have been participating in them for decades:
Starting A Contractor Peer Group
Peer groups can form in a number of ways, whether it is a group of similar home performance companies that all met at a national conference over drinks, or through a group like ACCA. Members of the same peer group should be from non-competing locales, and of the same general size and services. 
This provides contractors of similar sizes and business models the opportunity to go over financials, talk about processes or materials, and hold each other accountable, all without the burden of competition. 
The On-Site Visit: The Crux of a Peer Group
The frequency of conference calls and virtual meetings, emails, and check-ins vary from group to group, but an on-site visit to one of the operations once or twice a year has proven to be extremely helpful for Keith, Jeff, Kevin, and Matt's peer group. Each member gets a chance to see the operation from sun up to sun down, including financial breakdowns and employee interviews over the course of two to three days. Then at the end of the visit, the group provides recommendations moving forward as well as applause for what is working for the site owner. In the end, all members of the peer group benefit from each site visit.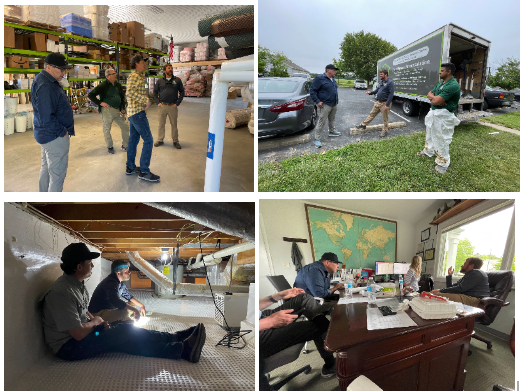 As Keith put it, "You could hire consultants… but to get someone who is actually doing what you're doing, that we're all contractors, it's nice to have other crazy people that have had all these struggles, figured a lot of things out, not figured out other things that you have, and to all come together to build better, stronger, more profitable businesses."
The Expense of Joining a Peer Group
So, what would joining a peer group actually cost you? Outside of the time spent on calls and quarterly check-ins, each member is generally held responsible for paying their own way to each site visit. But in the end, it's your peer group, and your rules!
Contractors Helping Contractors
While joining a peer group might not fall under Energy Circle's usual specialty of digital marketing, it does accomplish our goal of helping contractors succeed in growing their HVAC, home performance, or solar businesses—it's just sound business advice! If you're looking for more advice and insider tips on growing your contracting business, subscribe to the Energy Circle newsletter to stay in the know about future webinars, videos, blogs, and more.
SERVING THE ENERGY AND BETTER BUILDING SECTOR
We are selective in who we partner with—and we know you are too. Find out with a no-commitment analysis how we can make an impact on your business.