What Can Heat Pump Search Trends Teach Contractors About Their Customers?
With heat pumps moving closer to the national spotlight after their inclusion in the incentives of the Inflation Reduction Act (IRA), there is no doubt the business of installing heat pumps will continue to grow as the IRA is implemented. So where do heat pumps stand when it comes to online searches, and how can you leverage online interest in heat pumps to capture more qualified leads using the digital marketing tools available?
Energy Circle CEO Peter Troast gave an update on search trends for heat pumps in a recent Wednesday Webinar. Here are some of the high-level takeaways that you can use to help improve your heat pump installation business. 
Search Volume Showdown: Heat Pump vs Mini Split vs Ductless
Heat pumps go by many names, and while we know how whole-house heat pumps are different from mini splits, most homeowners don't. So the big question is, which horse do you bet on? Looking at the general search volume for "heat pumps", "ductless", and "mini split", there was a clear winner: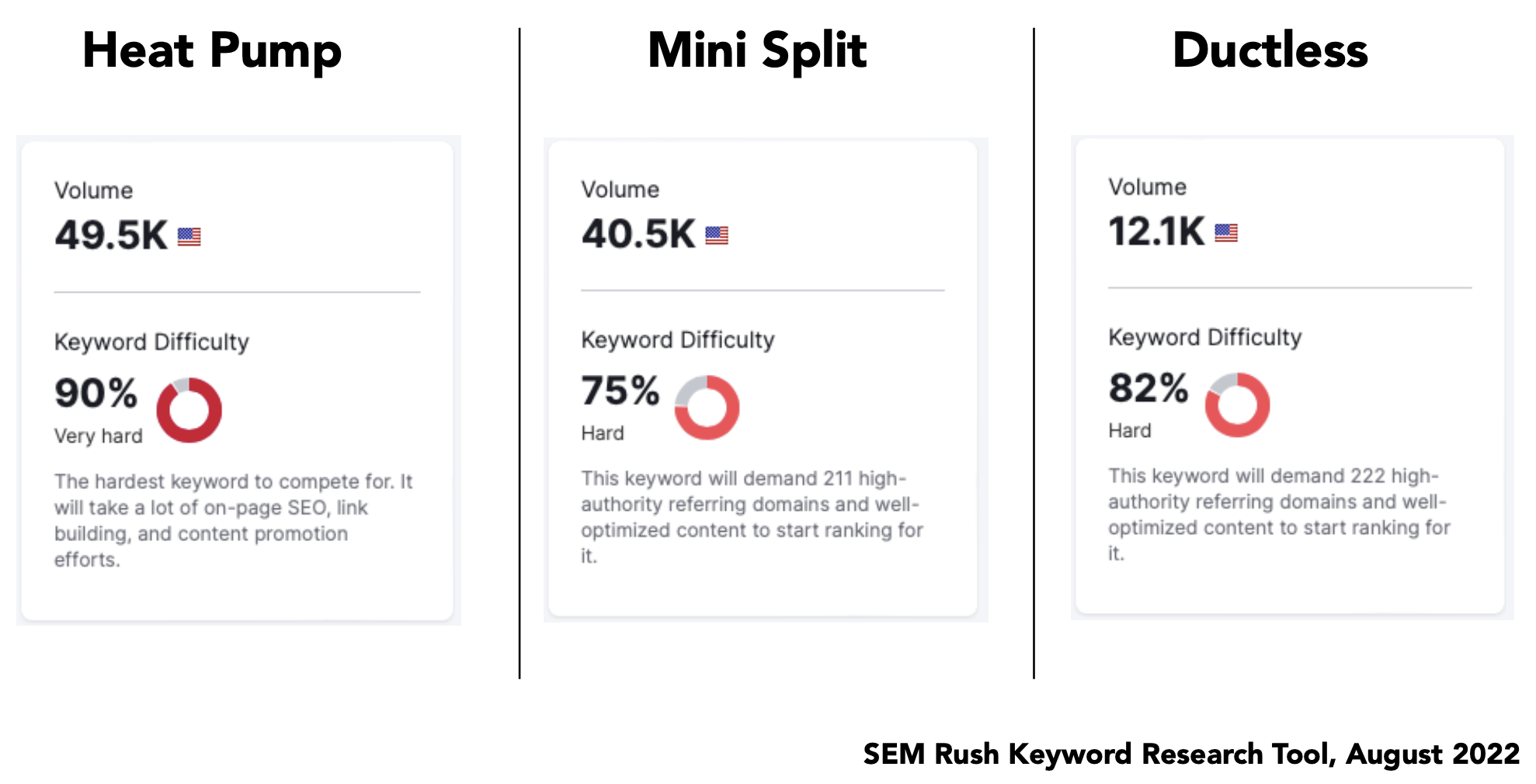 "Heat pump" receives the most search volume with "mini split" not too far behind, while "ductless" is clearly a much lesser-known term. One could even speculate (and when it comes to assessing the meaning behind search volume numbers, that's all anyone can really do) that searches for ductless are primarily coming from inside our industry. 
But the big change to notice here is the increase in keyword difficulty. 
What is keyword difficulty? SEM Rush describes it as "a metric that measures the effort it would take for your content to rank on the first page of Google for a certain keyword." This increase is an indication that the online space is getting a little more crowded when it comes to heat pumps—more businesses are using digital marketing to capture heat pump installation leads. 
Additional research into the search term "heat pump" has unearthed a large number of variants—nearly three times the amount of variants as "mini split". We take this as further evidence that heat pump is the ubiquitous term for those searching online.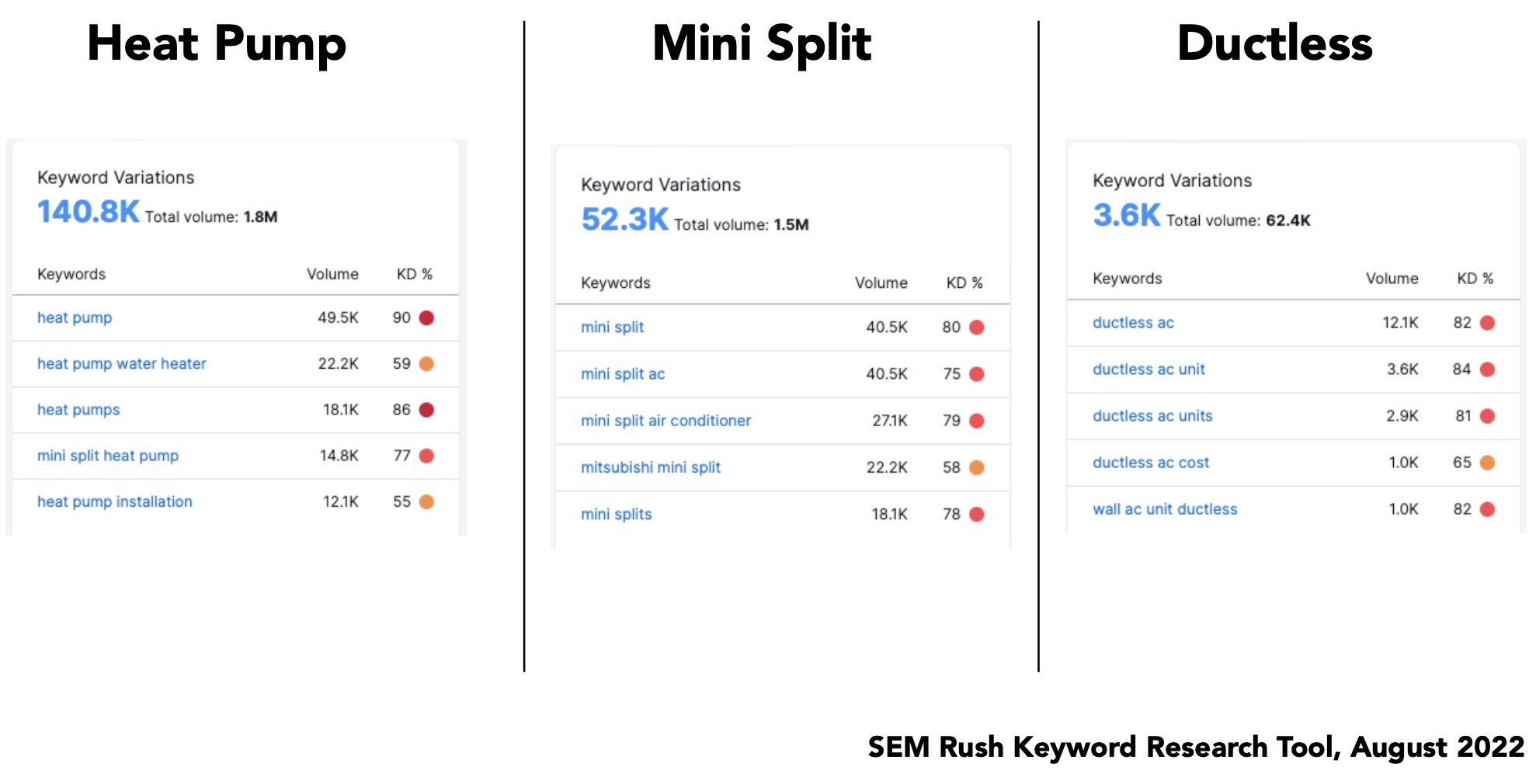 Questions are Still Queen
Knowing the right term is only the beginning of the battle when it comes to online written content and ad campaigns. How you use those terms is equally important, and the internet is a question-rich sandbox. 

A quick glance at the top queries involving heat pumps indicates that online searchers are primarily interested in how heat pumps work, meaning educational content could be a helpful place to start. Consider some blog titles like:
How Does a Heat Pump Work in Winter?

How Does a Heat Pump Work in Cold Climates?

How Does a Heat Pump Provide Heating and Cooling?
Other Considerations: Seasonality and Regionality
These search volume insights show heat pump interest across the entire US, but heat pump installation businesses generally serve a well-defined local service area. Your regionality and related seasonality are important considerations as you move forward with your own keyword research. Here are some things to consider:
New England states are leading the pack when it comes to overall interest

The seasonal lows in search volume are now as big as the seasonal peaks of years past

The term "heat pump" is showing signs of evening out seasonally. Interest remains high year-round.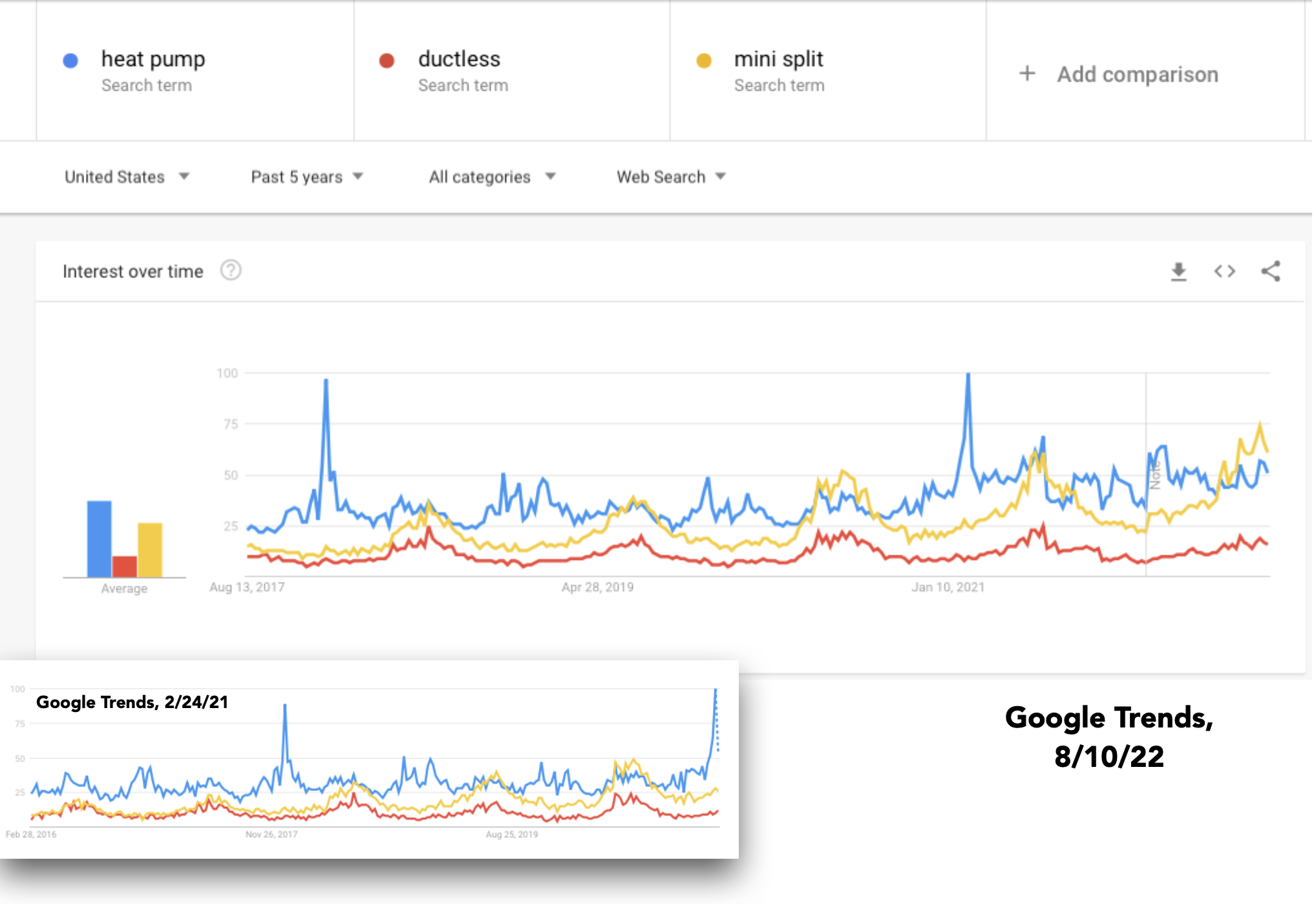 Digging Deeper: What Is Driving Actual Business?
It's always worth reiterating that Google keyword research can only show us what online users are searching for, not what they are actually spending their money on. In order to determine what keywords are translating to actual business, we will rely on our own data set from Energy Circle client campaigns:

According to 2021 aggregate paid search data from campaigns that the Energy Circle PPC team managed on behalf of our clients, campaigns that included "heat pump" in their copy carried the largest amount of impressions (views), the highest conversion rate (and number of conversions), and the most clicks, all while coming in at the lowest cost per click. 
Rising Interest in "Installation"
Getting back to Google Trends, some of the biggest jumps in search interest come with long-tail keywords that include terms like "installation", "replacement", and "repair":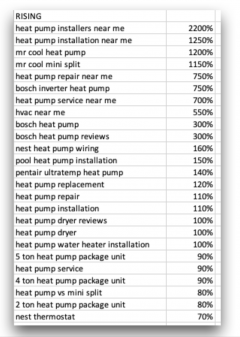 Conclusions? "Heat Pump" Is Dominant, "Mini Split" Is Rising
At present, it is abundantly clear that the term "heat pump" dominates online searches when compared to other terms like "mini split" and "ductless", and going after queries related to installation and replacement are more likely to translate to converting leads online. However, the term "mini split" is showing signs of adoption in certain areas, and the Energy Circle team is keeping a close eye on it. At the end of the day, best practices remain the same when it comes to your online keyword strategy: pay attention to your regional nuances and differences, develop a comprehensive strategy for all of your online content, and keep a close eye on the results so that you can make adjustments as necessary. 
Need a hand marketing your heat pump installation business using digital marketing? Call 1 (207) 747-3135 or contact Energy Circle for a free consultation.
SERVING THE ENERGY AND BETTER BUILDING SECTOR
We are selective in who we partner with—and we know you are too. Find out with a no-commitment analysis how we can make an impact on your business.