What to Do About Fake Negative Online Reviews
A few weeks back, we talked about the importance of responding to bad online reviews — and how to do so when your HVAC, Home Performance or Solar business gets one. Responding quickly and thoughtfully to a negative review not only helps you resolve the issue with the customer but also shows other potential customers that you are dedicated to providing outstanding service.
But there's one catch: not every negative review you see online is legitimate. In today's digital world, it's only too easy to create a new account on Google, Facebook or Yelp and start leaving bad reviews for companies you've never even done business with.
You may be wondering why anyone might do this to your company, but remember — some competitors will try to outdo you at any cost. Plus, there are spammers out there who simply enjoy making life harder for well-meaning businesses.
As digital marketers who do review management for many of our clients, we want to help you better understand what fake reviews look like — and how to deal with them if they show up on your own Google, Facebook, and Yelp profiles.
How to Spot a Fake Online Review
This review looks a little questionable, especially due to the name of the reviewer.
Identifying a fake online review isn't always easy. When you spot a seemingly fishy negative review on Google, Facebook, or Yelp, be sure to do some assessing:
1. Look for multiple reviews posted at the same time.
Sometimes spammers leave multiple negative reviews in a row. You might, for example, see three one-star reviews all posted within the last week, with two of those reviews being star ratings without any text.
2. Get some background info on the reviewer.
Sometimes it helps to do a little reconnaissance work on the reviewer in question. If the name of the reviewer looks clearly made up (e.g., Master Spammer or Indiana Jones), if there is no profile information about the reviewer, or if the reviewer has left only a few reviews recently, you could have a fibber on your hands.
3. See if the reviewer is a past customer.
If there is a legitimate name attached to the reviewer — as opposed to a generic name like "A Google User" — see if you can locate that name in your list of past customers. If you can't, there is a chance that it's a fake review. Keep in mind, however, that sometimes people leave reviews after only a brief encounter with a company, such as calling the company for an estimate or visiting their showroom.
4. Look for a lack of detail.
Fake reviews are more likely to lack detail — or mention irrelevant details like how the reviewer's brother just got back in town after a trip to Italy.
5. Check the review for outrageous claims.
Sometimes companies fall short in delivering high quality customer service, and it's important to take ownership if you're ever one of those companies. But if the reviewer is claiming something that your business could not have possibly done, the review could very well be a fake.
Caught a Fake One? Respond to It
"Why should I respond to a review if I know it's fake?" you ask. Well, even if the review does eventually get taken down, it's important to show people researching your company in the meantime that you're committed to providing quality customer service and rectifying issues as they arise. So, before you go reporting the review as fraudulent, be sure to respond to it much like you would any other negative review.
In particular:
1. Take responsibility and apologize for the inconvenience.
2. Refer to and address the specific complaint.
3. Express that you want to work with them to resolve the issue.
4. Leave your contact information for them to contact you privately.
Here's an example of a good negative review response: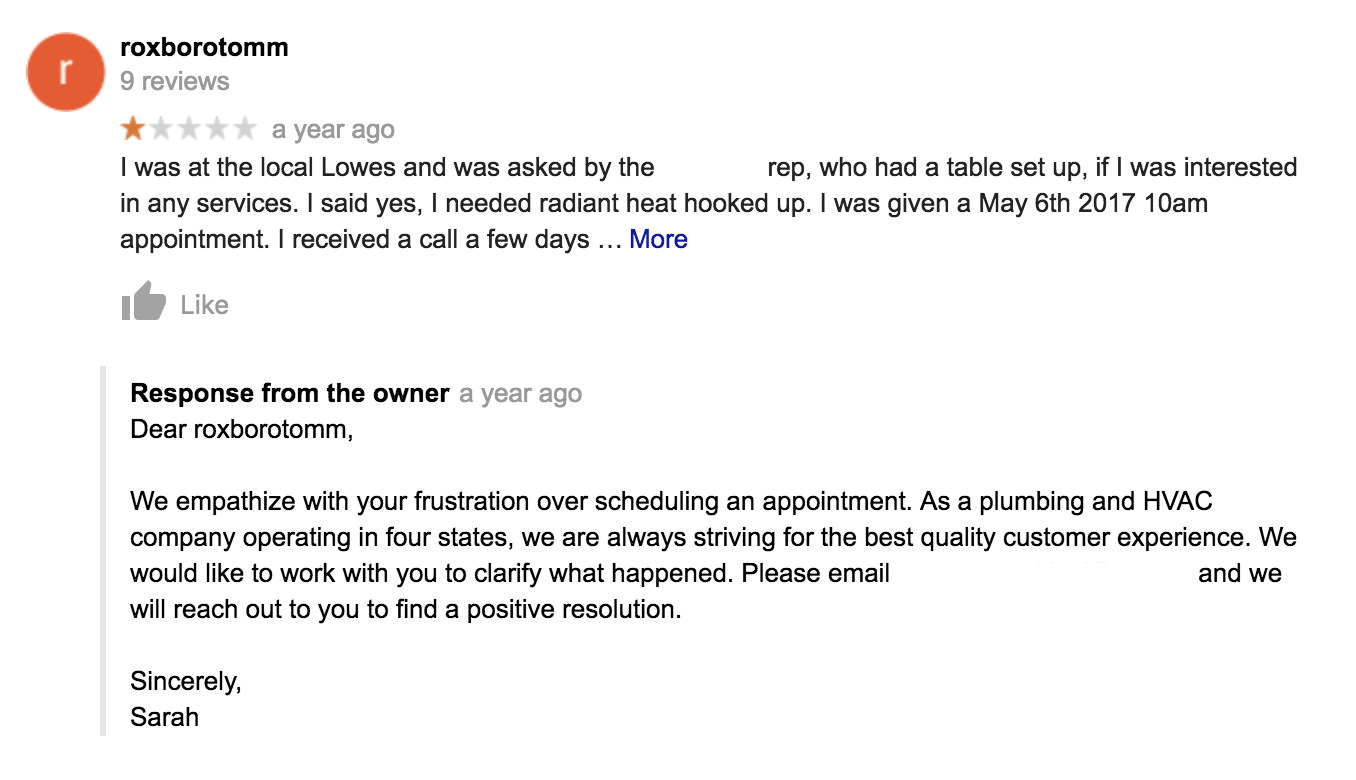 And here's what not to do:

Now, Report the Review
Reporting a fake review can be challenging. After all, platforms like Google, Facebook, and Yelp have no idea who your customers are — so you can't simply flag the review and say, "This wasn't one of my past customers." But with enough research and evidence to back you up, having a fake review taken down is possible.
Here's how to report a fake review on Google, Facebook, and Yelp:
Google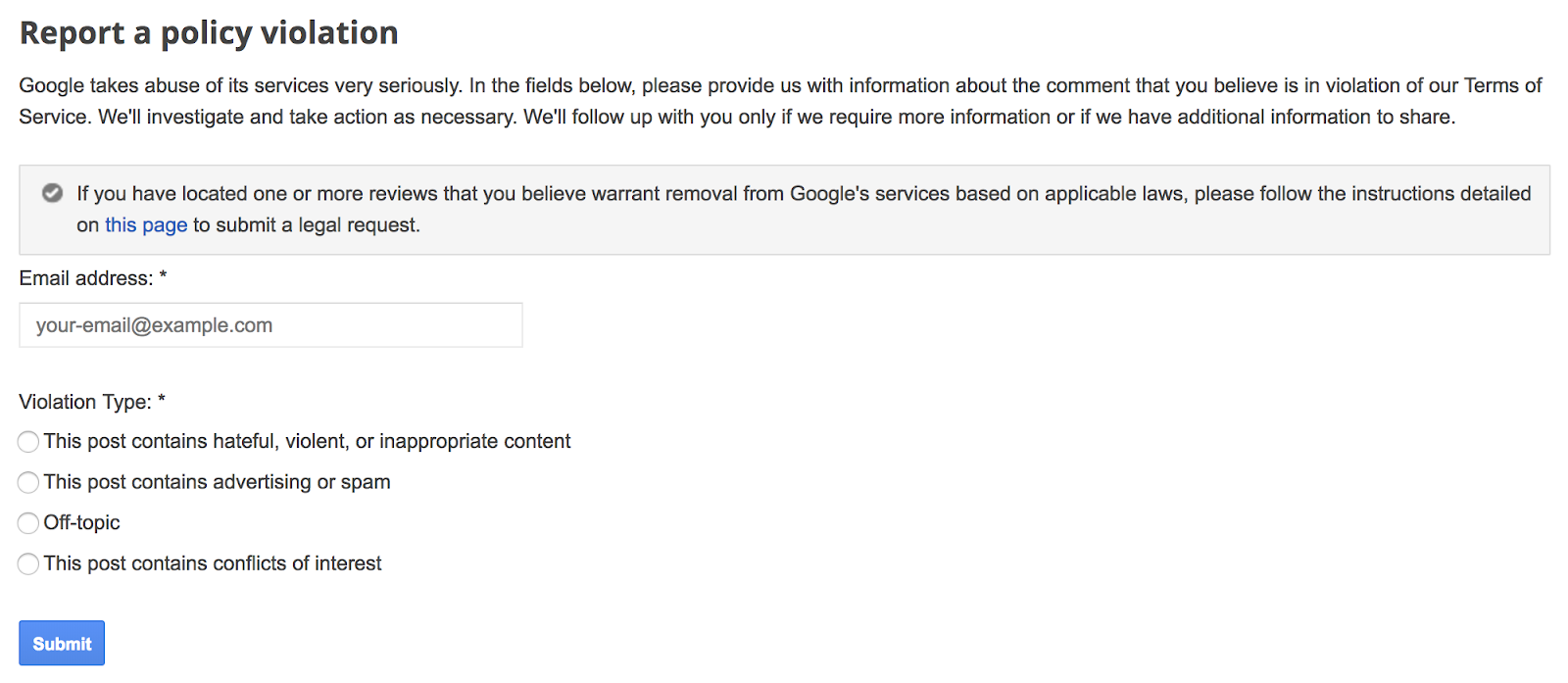 After you flag a Google review as inappropriate, Google will ask you to fill out this "Report a policy violation" form.
Hover your cursor over the review and click on the flag icon next to the rating. This will take you to the "Report a policy violation" page. Enter your email address and select the Violation Type. At this point, you're done; however, a team member may contact you in the near future if they require additional details from you.
You can also report a fake review through GMB chat support. (There's a link to chat support right in your GMB dashboard.) Taking this route may increase your chances of having the review taken down because it will give you the opportunity to explain exactly how the review violates Google's guidelines.
Facebook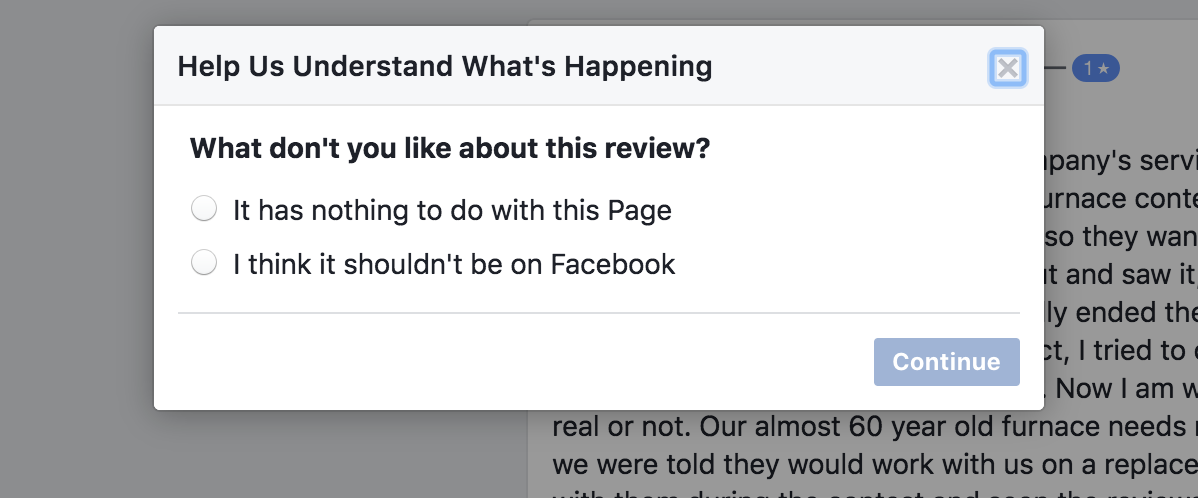 When reporting a fake review on Facebook, follow the prompts to explain how the review violates Facebook's guidelines.
Go to your business' Facebook page and navigate to the reviews section. Go to the individual review you want to report and hit the three-dot icon in the top-right corner of that review box. Then click on "Report post" and follow the prompts requesting more information about the review you are reporting.
Yelp

After you hit "Report Review" on a Yelp review, Yelp will ask you why you want to report the review.
From your Yelp for Business Owners account, go to the Reviews section and navigate to the review you want to report. Click on the three-dot icon for the review you wish to report and hit "Report Review." From there, follow the prompts to let Yelp know why the review should be taken down. Depending on why you are reporting the review, Yelp may or may not let you report it.
With any luck, and if the review clearly enough violates user guidelines, your negative review will soon be a thing of the past. But remember — having that fake negative review taken down isn't the end of the battle. In order to protect your online reputation and best showcase your local business to potential customers, it's important to continue following review management best practices. That's why we provide review management as a continuing service with many of our clients.
Proper review management is essential for driving leads and protecting your business against spammers and mean-spirited competitors. Call 207-808-2343 or contact us to learn more.
SERVING THE ENERGY AND BETTER BUILDING SECTOR
We are selective in who we partner with—and we know you are too. Find out with a no-commitment analysis how we can make an impact on your business.