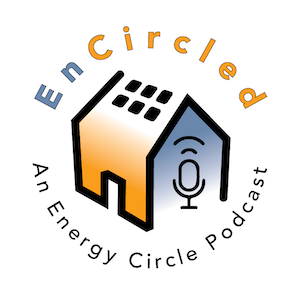 Here at Energy Circle, we love a good podcast. So we decided we want to make one ourselves. Focused on all things marketing and specific to the better buildings sector we serve, the EnCircled podcast brings our hosts, resident audio-visual whiz Jake Van Paepeghem (whom you may recognize as our weekly webinar Host with the Troast) and Director of Marketing Operations Josh Kennon together each episode to discuss marketing trends and industry intel with our team of experts. Each episode, conversations will include topics like current solar industry shake-ups, IAQ in our current COVID-19 climate, and how we really feel about Tom Brady. (Hint: it's... not great.)

You can find our episodes right here—available for listening now! We'll be sure to let you know each time a new one drops. You can also find Encircled: an Energy Circle podcast everywhere else podcasts can be found, such as Apple Podcasts and Spotify.
Available Episodes
Sneak Peak — EnCircled: an Energy Circle Podcast Trailer
Episode 1 — Looking at Solar Trends with guest Abby Yolda
Episode 2 - Who is the authority on ventilation these days? With Cory Allyn
Episode 3 - PPC Insights On When To Start Your Seasonal Campaigns, with Cassandra Hutcheson
Episode 4 - Is Call Tracking Really Worth It? with Ian Hammond
Episode 5 - Where Facebook Fits Into your Marketing Mix with Rob Wilber
Episode 6 - Common Misconceptions About DIY Websites with Ranganayaki Somaskandan
Episode 7 - What Does the Future Hold for the Investment Tax Credit? with Abby Yolda
Episode 8 - Combing Through Peter Troast's 2021 Predictions for Marketing in the Better Building Industry
If you have any questions—about anything from ventilation calculations, to Facebook advertising, or what your customers are really Googling about their furnaces—drop us a line! The inbox at askEC@energycircle.com is always open, and we'll pick a few questions to answer every episode.
1-ON-1 MARKETING BENCHMARK ANALYSIS
Find out what's working, what's not, and what to do about it. It's free.