2020 Industry Trends in HVAC, Home Performance & Solar
It isn't just a new year, it's a new decade. Is your New Year's Resolution to simply "keep up the good work"? Of course not — you want to know where the better building sector is headed, so you aren't left behind as the HVAC, solar, and home performance industries continue to change and progress.
In the last webinar of 2019, Energy Circle founder and CEO Peter Troast shared his thoughts on where our industries are headed, from the rise of new services all the way to how contracting is evolving in a digital world. Here is your mega-resource for how to approach the HVAC, home performance, and solar trends of 2020, as we have seen this past year.
New Services, Technologies, and Markets
Where is there room for your business to grow this year? Are there new services you can provide, new markets to expand to, and new technologies to utilize and sell?
Heat Pumps
Heat pumps are becoming ubiquitous throughout the better building sector. We have seen search volume around heat pumps and mini-splits on the rise, and rarely do we find HVAC, home performance, or even insulation contractors that don't also install heat pumps. This has been especially true in cold climate areas, where we have even seen heat pump-exclusive contractors.
Electrification
This past year, we have extensively covered — and even helped to push — home electrification, also known as "electrify everything." We are starting to see utilities and other organizations in certain areas of the country pick up on this "movement" in order to educate homeowners about the benefits of shutting off their gas lines for good.
Why should you be paying attention? Because they can turn into big jobs for your business (we are hearing as much as $30,000 for an average ticket size with some of our clients in areas where electrification is being pushed). 
We see this electrification movement spreading further in 2020, so much so that we did a deep dive earlier this year into the marketing challenges that electrification presents.
Storage & Backup Power
One of the most effective arguments to be made for the installation of off-grid solar comes from Generac: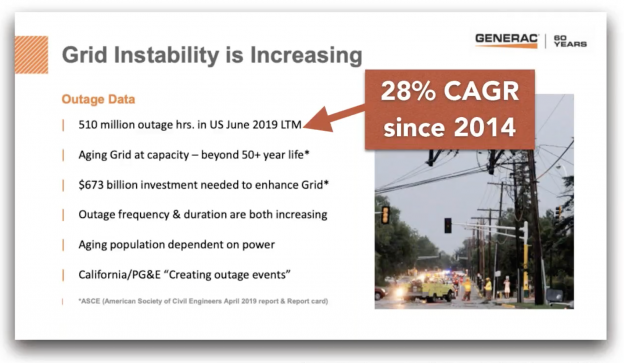 The American electrical infrastructure is aging, and poorly. Generac is using this to drive the sale of backup generators, which as we all know do not come with the same financial payoff for homeowners as solar and battery storage. 
This is especially true in California, where PG&E's planned outages are becoming unfortunately commonplace. We have seen great success on behalf of our clients who have had their content, paid search campaigns, and websites properly positioned to take advantage when these outages occur. In fact, during a Planned Safety Power Shutoff this last fall one of our clients had the highest volume lead day in the history of the company due to our preparatory marketing efforts.
Articles to check out: Challenge Accepted #5:  People Dislike Utilities — So Make Them Like You.
The Role of Policy
The big headlines about legislating the fight against climate change and carbon reduction have primarily been about solar — for example, starting this year, every new home in California will be required to include solar.
But there is hope for the future of retrofits and changing the built environment. Take Seattle, for example: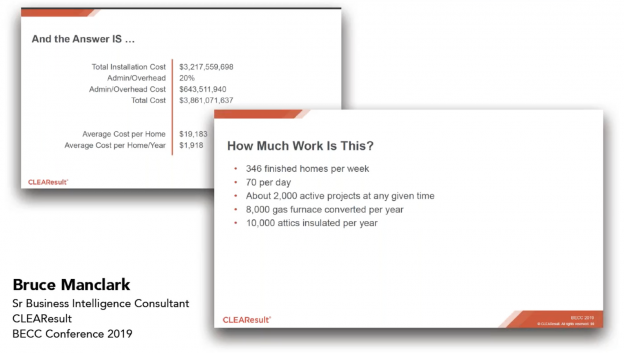 Bruce Manclark over at ClearResult got to the hard analytical data of what it would take to deal with Seattle's carbon neutrality. Can you imagine just a fraction of that $3.2 billion coming your way in the form of retrofit jobs?
The solar industry has been forced to keep one ear to the ground when it comes to legislation and policy. We recommend that the rest of the better building sector take a page from the solar book and continue to take action, get involved, and make your voice heard!
Solar Tax Credits
Our take on the federal solar tax credit stepdown in 2020? It has been a bit overstated. There is still plenty of time for homeowners to take advantage of the savings, even at a slightly reduced rate. Don't sleep on the tax credit savings messaging quite yet!
Webinar to check out: Preparing To Jump the Solar Cliff: Navigating the Solar Tax Breaks
Demand Generation
We talk weekly (if not daily) about outsourcing lead generation through means like Local Services Ads, Home Advisor, and others. But what we are finding is that there is an increased risk when buying leads. From a quality standpoint, purchased leads are the bottom of the barrel. 
We recommend taking control of your internal lead generation process in 2020, and finally leaving purchased leads behind you. 
Article to Check Out: The Dangers of Buying Leads
Google vs. Your Brand
When you boil down what Google is doing with products like Local Services Ads, Google My Business, etc., you'll realize that Google is operating less like a search engine and more like an app between your business and your customers. The rise of the no-click search is real — this is when online users don't need to ever click on your ads or your website, because they are getting all the information they need right on the search result page. 
Our recommendation? Know what sets your business apart, and make that messaging prominent in your online presence. Do you have a mission statement? What are your differentiating certifications? Are you a DOE Home Improvement Expert? Users are browsing reviews and gathering information about you before they buy, so make sure the information out there is accurate, and aligned with your integrated digital marketing strategy.
Evolving Customer Preferences
Who's buying what you're selling? In the past, buyers of high-performing homes have bent heavily towards the baby boomer demographic: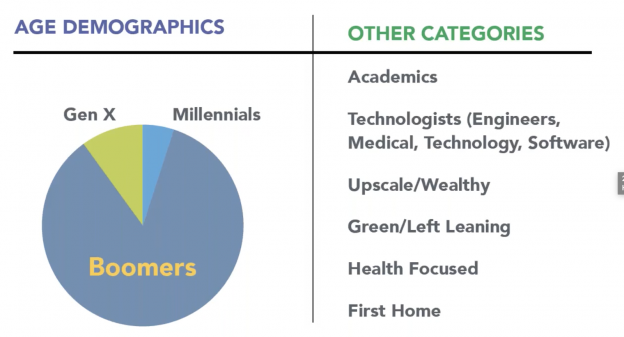 However, the rise in birth rate between Generation X and millennials is likely to have a dramatic impact on home ownership as the millennial generation ages.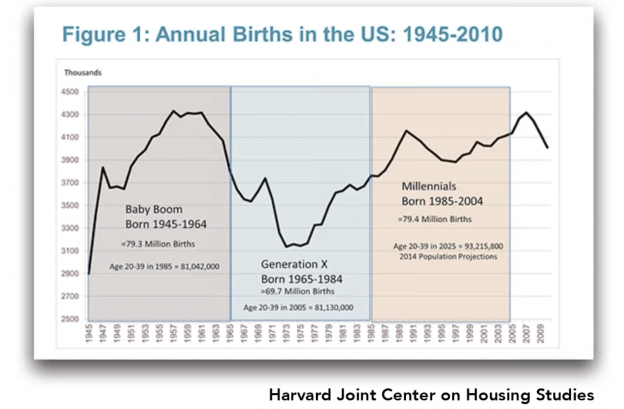 We may not be at a tipping point yet when it comes to who is building high performance homes and paying to help retrofit the built environment. But as an industry, we should be preparing for it.
Pricing Transparency 
From a search standpoint, we are seeing an increasing trend of users looking for upfront service costs. The days of simply avoiding any mention of your pricing online are over. Developing a game plan for addressing pricing transparency is going to be a must if your business is going to continue to convert leads in 2020. 
Article to Check Out: Confronting the Demand for Price Transparency
The Business of Contracting
There are a few things on the contractor level that continue to be subjects of conversation in our office, and with our clients. As far as we can tell, we are not seeing the light at the end of the tunnel when it comes to recruiting. There is a struggle across the country to find qualified candidates. We wish there was more good news here.
The Integrated Contracting Business Model
This may not be for every contractor, but for businesses that deals with a breadth and scope of work that touches every part of the home, we have seen a powerful business model in leaning on  a "Yes, we do that, too!" mentality.
This approach can reduce seasonal lulls and create lasting relationships between your business and your customers. As our good friend Mike Rogers used to say, "If there is $80,000 worth of retrofit work to be done in one home, how much of that revenue are you poised to take?" Market your company as whole-home or healthy-home experts, and foster long term relationships with the current and future needs of your customers.
What Do You See in 2020? What Did We Miss?
What a year it has been. Where do you see the future of the solar, HVAC, and home performance industries going? What do you want to see in 2020? What have been your digital marketing frustrations, and what will it take to bring in quality leads in the coming decade? Reach out to let us know what you think and how we can further help with all of your digital marketing needs next year and beyond.
Ready to get your digital marketing off the ground this year? We're here to help. Get in touch to learn more.
SERVING THE ENERGY AND BETTER BUILDING SECTOR
We are selective in who we partner with—and we know you are too. Find out with a no-commitment analysis how we can make an impact on your business.