Building Science In The Wild: A Marketing Opportunity
A couple of days ago, on a rainy Monday here in Maine, my wife and I loaded up the car with two locally-made ciabattas and a box of ice cream sandwiches and headed North from our Portland area apartment. Some longtime friends invited us over to see their brand new home and to enjoy a home-cooked meal topped off with some "Unicorn Confetti" ice cream sandwiches that were very satisfactory for their spunky four-year-old daughter.
But before we dove into some deliciously marinated, barbecued chicken and a perfectly-assembled cobb salad, we got the full tour of the newly constructed 4-bedroom New England Colonial style home, from the bottom up. As we descended into the basement, there was an expected drop in temperature. But what was unexpected was the incarnation of an entire chapter from my BPI studies — a recently insulated, unfinished basement. Fresh fiberglass batt insulation between the floor joists and the wall studs. The walls were covered with a plastic barrier, stapled to the 2x4's, and in one corner near a high window, I spotted it: condensation!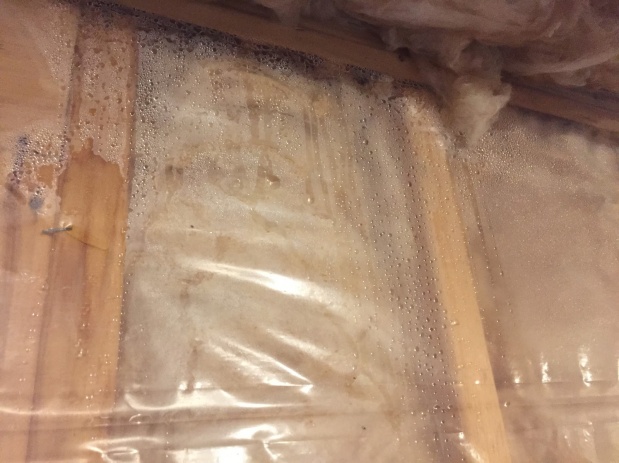 Building Science In Action
In my tenure as a content writer and video editor here at Energy Circle, I along with many of my colleagues have gained a BPI certification and written countless blogs, emails, and video scripts about things like "How to Rid Your Home of Moisture Issues" and "Five Ways You Can Benefit from Crawlspace Encapsulation." And here at Energy Circle, we crunch the numbers, we hear the before and after stories, and we pair those stories with solutions that home performance and HVAC contractors like you can implement to make the homes of your friends, family and neighbors more comfortable and energy efficient.
Now, of course this wasn't my first time in a basement. But I hadn't actually encountered an unfinished basement "in the wild" after all of my increased building science knowledge, so this time I was on the hunt for something recognizable because I knew what to look for. So what can I do, now that I am actually IN a basement that is suffering from some potential moisture issues, and what is the takeaway for someone (like you) who spends nearly every day in this environment?
"Have You Seen This In Your House?"
If you are no stranger to Energy Circle, you probably understand that things move fast in the digital marketing world. But despite the constant changes in Google SERP's, social media privacy, and just about everything else digital, content is still king. And making good, relatable, educational content should be sustainable for you and your HVAC, home performance or solar business. So show what you know! I knew to look for any signs of moisture in the brand new basement of my friends home because I deal with building science every day, just like everyone else here at Energy Circle.
Here are a few tips on how you can turn your everyday experiences and everyday stories into compelling content, that will help drive your customers that much closer to a conversion, and booking a job.  And if you think you're too busy to show off your building science expertise to your customers, that's exactly what we're here for!
Capturing (and Captioning) Images
You can't send Ansel Adams to every crawlspace encapsulation job. But you probably already have a camera that is much more capable than any camera Mr. Adams used in your pocket, and likely in the pocket of each one of your employees. Take photos on the job using your smartphone, and compile them in one place. The best way we have found to do this is through a feature-packed app called Company Cam. (You can read all about how Company Cam works on our recent blog.)
Once you have a place to put your images, you've got to give them some context! The above image I took from my friend's basement isn't going to tell much of a story if the caption is "Check out this basement — whaddaya think?" Sure, you might get some of your building science nerd friends to comment "looks like there is some moisture buildup there, partner," but that doesn't resonate with Jenny-Homeowner. If you were to provide context, like "Keep an eye out for water droplets like these in your basement! This can indicate an underlying moisture issue that will eventually render your insulation useless," this tells the viewer, as well as Google that there is something to be learned from a simple image, and that you are the contractor who can come to the rescue.
The Importance of Seasonality
The condensation in this particular example was very apropos, considering it has been a rainy April here in Maine. Snapping a quick photo on a job and having it readily available for posting on your blog or on social media channels with relevant and descriptive captions allows your business to maintain agility and take advantage of the seasonality as it happens. We know that shoulder seasons can be slower times, so take advantage of the weather in real time and educate your future customers on what to look out for. This increases your chances of catching someone right as they may be in need of your service.
"Jack Be Nimble, Jack Snap-a-Pic"
In closing, you know what kind of jobs you want, and you see them every day. Snap some well-framed photos while you are on the job, and show your customers what it is they should be looking out for. A picture is worth a thousand words, and in some cases a thousand leads (ok maybe not that many, but it sure can help.) Use your everyday experiences to create visual aids, and educate your customers by showing them exactly what problems your business can solve for them, and what they should be looking out for.
Looking for some help showcasing your HVAC, home performance or solar knowledge using your everyday experience? We can help. Contact us to learn more.
SERVING THE ENERGY AND BETTER BUILDING SECTOR
We are selective in who we partner with—and we know you are too. Find out with a no-commitment analysis how we can make an impact on your business.