A Closer Look at Ventilation: Part 2 - COVID-19 and Your Office HVAC System
[In the first part of our series on ventilation, Energy Circle took a look at Google Trends and paid search data to better understand how public perception around indoor air quality terms and services has changed during the coronavirus pandemic.]
Growing scientific consensus and media coverage indicate both that the coronavirus is transmitted much more easily via airborne particles than previously believed, and that meeting new health and safety protocols for schools, supermarkets, and office spaces will not only require continuing to follow safety measures like wearing masks and practicing social distancing, but taking a closer look at additional precautions that include building ventilation and air purification methods.
But what kind of commercial equipment is necessary to meet increased HVAC operating standards? To answer that question, Energy Circle is looking inward—to our own office space—as we join businesses and schools around the country who are wondering if it's safe to transition away from remote work and education.
What's Being Said About Airborne Coronavirus Transmission?
In the early days of the coronavirus, most health and safety precautions regarding the spread of COVID-19 centered around larger droplets and surface transmission. It was only in early July that the WHO, responding in part to concern from a growing portion of the science community, acknowledged that airborne transmission of much smaller particles of the coronavirus, often called aerosols, was a possibility.
Since then, there has been increasing scientific consensus and mainstream media coverage examining the implications of airborne transmission. One particular article in The Atlantic, We Need to Talk About Ventilation, called the world's obsession with surface cleaning "hygiene theater" and suggested we were failing to focus enough on the real source of COVID transmission—indoor exposure in poorly ventilated spaces. More followed in NPR and Vox, among others, voicing similar worries.
There is particular concern that we aren't paying enough attention to how air flow moves inside buildings and whether we are creating indoor environments conducive to virus and disease transmission. A study suggested that the HVAC system in a restaurant in Guangzhou, China was directly responsible for people becoming infected from exposure driven by air conditioning. A choir practice in the state of Washington, early in March of 2020, led to 53 of the 61 people in attendance catching the coronavirus. A whitepaper from CHPS (the Collaborative for High Performance Schools) on ventilation and COVID-19 in schools compiled a number of recent studies outlining poor ventilation and indoor air quality levels in school buildings around the country, which leads to an obvious question: are the majority of our office buildings any better?
An Overview of Energy Circle's Ventilation System
What does proper ventilation and filtration in office buildings look like in real life? Energy Circle is in a somewhat unique position to answer this question, as we have a fairly advanced HVAC system in our Portland offices, far more powerful and better at ventilating our working spaces than most of the HVAC systems installed in schools and offices around the country.
What Are the Components of Our HVAC System?
When Energy Circle and its sister company Puelle Design moved to commercial office space on Congress Street in downtown Portland, Maine, we wanted to do it right. Our chosen location required a gut rehab and full replacement of the HVAC system.
It was our goal to a) move to an all electric system, b) maximize energy efficiency and c) achieve high performance indoor air quality standards.
As part of our lease, our landlord was prepared to install the typical commercial HVAC solution—a gas rooftop unit (RTU) combining the H, the V, and the AC in a single system. Working with friends in the industry, we pushed for a better system and ultimately arrived at a solution that was 40% more expensive, and that we would bear the cost of. With enormous help and support from people across the industry, the winners were Fujitsu and Ventacity.
The heating and cooling system we ended up with is a Fujitsu AirStage V-II VRF (variable refrigerant flow) rooftop heat pump, which services the two floors of our building with a combination of ducted zones and air handler cassettes installed in specific rooms.
The ventilation component is a DOAS (dedicated outdoor air system) with separate ductwork, driven by a Ventacity VS1000 HRV (heat recovery ventilator). Unlike in typical commercial ventilation, which are positive pressure (not balanced) systems that use simple dampers to bring in outdoor air, an HRV allows us to circulate a regular supply of "fresh" outdoor air into the office while using state of the art heat recovery to maximize energy efficiency. It's a great system, and we owe huge gratitude to the team at Ventacity—Sal, Barry, Aubrey, and others—for making it possible.
How It All Works
Ventacity's HRV is best in class in the commercial category. But we also were fortunate to become the beta location for their Smarter Building Platform, a cloud based building management system (BMS) that enables us to monitor and adjust air flow rates and temperatures as well as set schedules for our systems to run on remotely.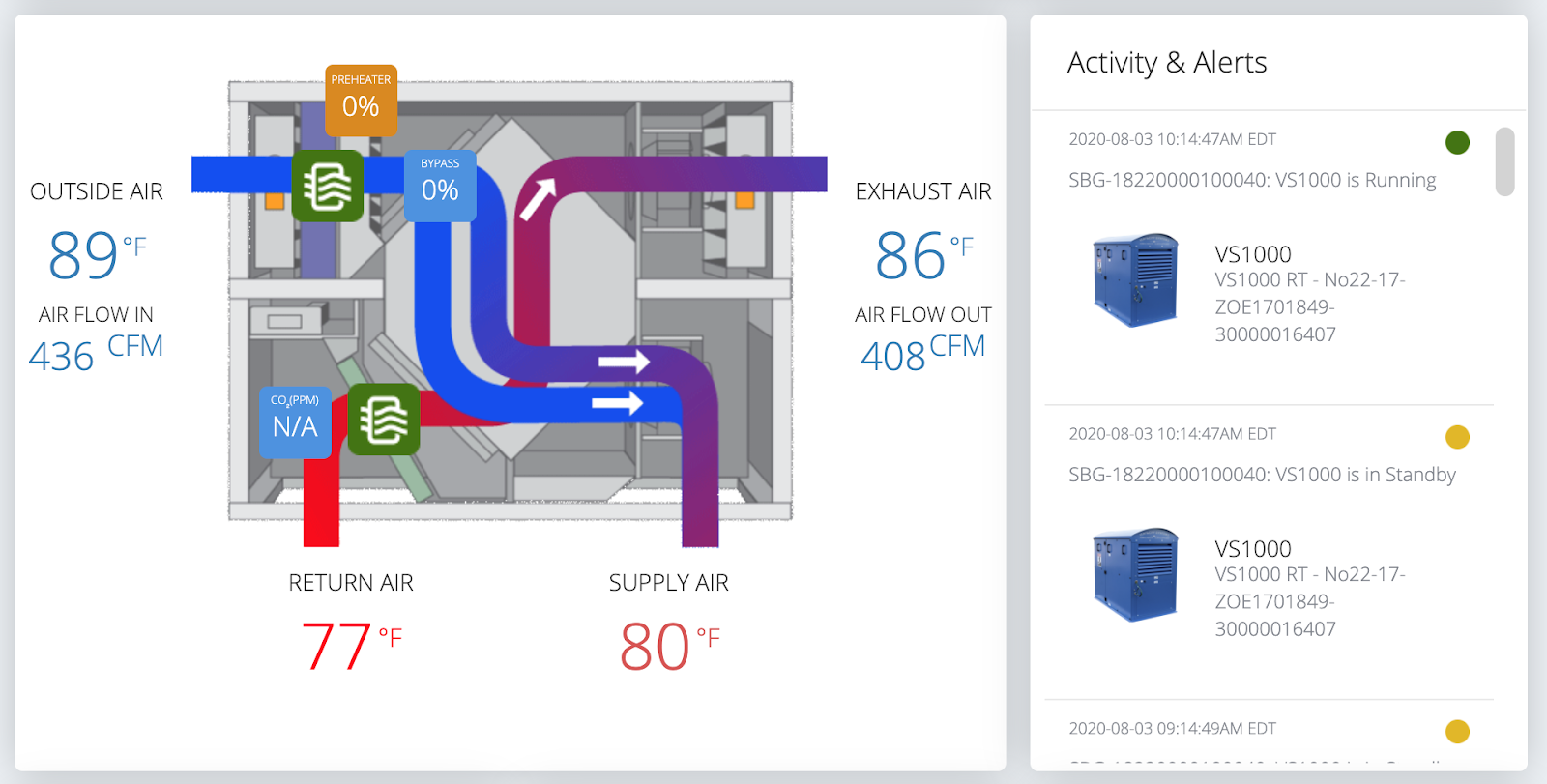 Along Comes COVID-19
When the coronavirus hit, the Energy Circle team transitioned instantly to remote work. It wasn't hard—we were already using Slack to communicate, even when we were elbow to elbow in the office. For the better part of the last 4 months, the only office visitor was PT (Peter Troast) stopping by to pick up the mail. But as coronalife has evolved, a small group of ECers have asked to return to the office under controlled and distanced protocols.
As a few of us have begun returning to the office a day or two a week, we've been going deep on whether our indoor environment is as safe as it can possibly be, in light of the potential for aerosol transmission. There were four main questions we wanted to answer:
#1: In light of COVID-19, are there new recommended rates of air exchange and ventilation in a commercial building like ours, and is the Energy Circle office currently meeting those levels?
#2: Are there new guidelines about office filtration and air purification that we can use to strengthen the fight against airborne COVID-19 transmission?
#3:  How can we keep closer track of indoor air quality levels in our office, so we know our HVAC system is delivering the results we're looking for?
#4: Is there an energy penalty for our ventilation efforts and if so, what? 
What we learned is that some of these questions aren't so easy to answer. Find out more next week when Energy Circle gets into the technical side of HVAC and indoor air quality.
Need help marketing your commercial ventilation services and educating businesses on the importance of high quality HVAC operation? Contact the team at Energy Circle today to get started.
SERVING THE ENERGY AND BETTER BUILDING SECTOR
We are selective in who we partner with—and we know you are too. Find out with a no-commitment analysis how we can make an impact on your business.