Creating an Effective Email Campaign
When it comes to digital channels, good ol' email sometimes feels like a Model T driving down a highway filled with Teslas. It can be easy to forget about email as a marketing tool, but 58% of the 2.6 billion email users check their email before any other channel. While social media is a powerful way to reach your audience — and even broaden it with organic engagement — you don't own your audience in the same way that you do with email.
So how can you get the most out of your HVAC, solar and home performance email campaigns?
The Forgotten Stats of Email
The roots of email go all the way back to MIT in 1965. Email has a long history of being very slow to accept technological changes, but that hasn't stopped it from being an effective marketing tool. In case you were on the fence as to whether or not email is worth it:
69.4% of surveyed users believe email will be around in 10 years, above Facebook, cable TV and Twitter.*

Email has 2.8 billion registered users (compared to Facebook's 1.7 billion)**

91% of those 2.8 billion users check email every day**

Organic reach (OR) and click through rates (CTR) are much higher than those on social media sites (18% OR / 3.7% CTR)**

The cost of creating an email campaign is significantly lower than that of social media ads
Another big advantage to using email to direct leads to your site is that you "own the real estate." Directing leads from their email inboxes to your site bypasses social media third parties, which are always subject to change. Email has become one of the most dependable channels available.
Composing the Perfect HVAC, Solar or Home Performance Email
Any successful email starts with knowing what kind of email you are trying to send, and what your goals for that email may be. Are you running a promotion? Are you looking to take advantage of the change in seasons? Knowing the goal of each email you send will help guide your subject line, copy and calls-to-action.
Subject Lines: Short and sweet
A good subject line will directly affect your open rate. This is the first thing your subscribers will see in their inbox—so make it something actionable. Keep in mind that the majority of email users are checking their inbox on their mobile devices, so keeping your subject line as short as possible can also increase your open rate.
If you've read our recent post on using humor, your email subject line is the perfect place for a well timed pun like "Don't 'leaf' these savings on the table!" (obviously a fall themed pun). Emojis are also now available for use in subject lines and can enhance the lighthearted nature of your email. But be careful not to overdo it.
A/B Testing Your Subject Lines
One way to ensure you pick the right subject line is to draft two of them—one that is pretty straightforward, and a lighthearted or funny one. Then, A/B test them! Mailchimp makes testing subject lines pretty easy. As you are setting up a new campaign, select the A/B Test option in the "Create an email" window (pictured below).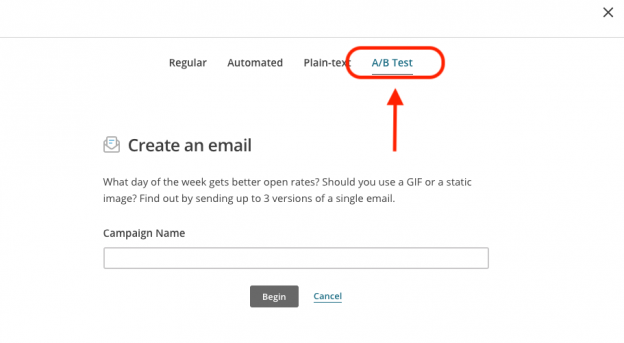 You can then set the parameters of the testing period (how long before the winning subject line is picked), and what percentage of your list will receive the test.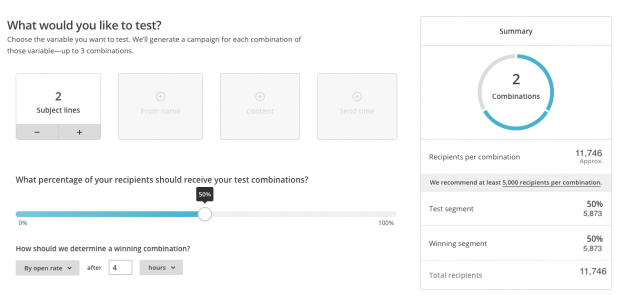 As you can see in the bottom left of this screen shot, you can also pick what metric will decide the the most effective subject line (open rate & click rate are the most relevant here).
Email Body: Get to the Meat
When it comes to the actual text in your email, get to the heart of it. What is it your customers should know about coming to you?  Provide a succinct list of benefits for the service you are providing, or let your recipient know what the risks and pitfalls are of NOT coming to you. This is also a great place for your most impactful statistics.
Use images, but sparingly. And make sure your images are properly sized so your recipients can open them easily on all devices.
Finish Strong: CTAs
Finally, end your email with a strong call to action. Prompt the reader to call for a quote, or to start an application process. Send them to a form page so they can get a hold of you. This is also a great place for a button!
Test & Optimize
After you have sent your perfectly crafted email to your list, pay attention to the analytics provided by your email marketing service. What images worked well? What day of the week and time of day is best to send your email? These will all help optimize your email open and click through rates, which means more leads for your business.
Bonus Email Tips
How Are you Sending Your Emails?
Which marketing automation platform are you using? Mailchimp, Constant Contact, Activecampaign, and Drip have been the top contenders for many reasons. Features to look for are ease of use and design, as well as the ability to segment your email list and create drip campaigns.  
Keep a Healthy Email List
What does your list look like? Have you recently cleaned your list to remove inactive accounts? Periodically removing consistently inactive email addresses will trim the fat and give you a more realistic view in your analytics. And have you been paying attention to your GDPR compliance? Make sure you are following best practices when it comes to building your email list.
Looking to up your email marketing game? Our team of experienced digital marketers can help. Contact us to learn more.
 *Source: https://litmus.com/blog/surprise-millennials-love-email-just-as-much-as-everybody-else
**Source: https://optinmonster.com/email-marketing-vs-social-media-performance-2016-2019-statistics/
SERVING THE ENERGY AND BETTER BUILDING SECTOR
We are selective in who we partner with—and we know you are too. Find out with a no-commitment analysis how we can make an impact on your business.