Digital Marketing Predictions for 2022
The world of digital marketing seems to evolve and change at a pace much faster than that of the home performance, solar, and HVAC industries. This makes predicting the marketing challenges and opportunities of the year ahead feel like threading a needle with mittens on your hands and binoculars stuck to your eyes. 
But, all of us here at Energy Circle, including our CEO and Webinar Wednesday presenter Peter Troast, couldn't resist the challenge. Though, these predictions for next year should be treated more like areas of emphasis, opportunity, and change, so you can better see where the ball is going to be when it comes to your digital marketing efforts for 2022. 
Google My Business    
Google Business Profile
"Google My Business" has been changed to Google Business Profile (GBP)—Google's proprietary profiles for businesses to generate leads from relevant online searches. The volume of traffic and overall leads coming from GBP continue to grow and continue to be a very, very significant slice of the pie. 
However, the reality is that if you are already following our recommendations to optimize your GBP, there isn't much else that can be done to improve your GBP ranking. Where we are seeing the real opportunity going forward is in conversion optimization. We recommend using the engagement features to improve conversions through your GBP. These include: 
Answering customer questions through the messaging feature

Utilizing the quote feature

Shifting your GBP posts towards promotions and seasonal messaging

Using a clear call to action

Uploading consistent and authentic images 

Asking and answering your own questions in the Q & A
Google Reigns Supreme When it Comes to Online Reviews
Google has won the battle for the importance of reviews, right?
There's a noticeable decline in other review sites in search results these days, and it has become clear that when consumers think about where to write a review, they go to Google. 
We have made many recommendations in the past about quantity of reviews, and quantity is still an important ranking factor, but it's less and less of a differentiated factor.
The content of the reviews matters, and is becoming a ranking factor in the sense that keywords in reviews that are relevant to your services become searchable and increasingly important. When you prompt customers for reviews, we are seeing success when customers are specifically asked for feedback related to the job completed, instead of feedback on the techs or employees, exclusively. 
The Fringes of Social Media (For Our Industries, Anyway) 
Social media has traditionally been just slightly out of the purview of our industries, but we have started seeing business owners in the HVAC, home performance, and solar industries start to turn some heads and make some waves. Will these efforts turn into actual jobs? Who knows. But Energy Circle content writer Emily Silverman broke down six of the accounts you should be looking at, here. 
A Picture Is Worth… Whatever Google Says. 
Google is getting increasingly intelligent about images and what's in them. Need proof? Check out this demo of the Google Vision AI. This technology, at present, can't quite tell the difference between a blower door and a piece of luggage, or the difference between spray foam insulation and fiberglass batts. But suffice it to say it's continuously getting smarter. 
And this technology is not just for GBP—it's for your website and Google ads too! There's a general theme at Google of the rising importance of images, and it's pretty consistent with where the world is going. If you are dominantly reliant on a bunch of stock photography, we think it's worthwhile to go ahead and get a local photographer out on some jobs and in the office to capture original imagery that you can own yourself. There is even a way to sustainably do this yourself, using on-the-job image storage and cataloging.
Privacy Changes Impact Facebook Ad Targeting Granularity 
Apple has been making privacy changes for their newest operating systems, and the end result is that there are some limitations to the kind of granular targeting that has previously existed in Facebook. These limitations still allow for impressive audience building, but ads may be shown to less-qualified users (aka more waste). But at the end of the day,  there's really nothing as targetable, effective, and low cost as Facebook. We're still in the game on Facebook in spite of all of its problems.
Topic Clusters Become Increasingly Important for Website Content 
One concept of evolved online content is what we are calling "topic clusters". This is especially successful for educationally dense topics of which there are so many in our industry. Things like:
Healthy home 

Indoor air quality

Energy audits

Heat pumps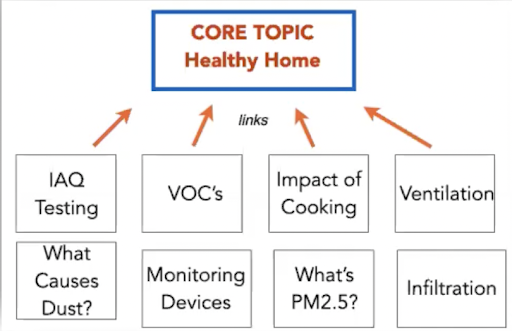 Video Isn't a Nice-to-Have…It's a Need-to-Have 
The common digital experience expects and sometimes even requires visual help. And we are absolutely finding that the engagement with video on websites and other advertising is still strong. And the demands when it comes to production value continue to be pretty reasonable! In the post-COVID world of "Zoom expectations", it is totally acceptable for some of your video content to be a shot in a video-conferencing call talking about a particular topic. 
What we are really saying here is, if you haven't gotten your feet wet creating marketing videos, the need for it is only getting greater. 
Streaming Opportunities Will Grow in 2022
The access and the ability to self-service purchase streaming ads are improving dramatically. And while it's really not quite there yet, it's all coming. It used to be that to go through all the red tape of buying a TV or radio ad wasn't worth it, and now it's much easier to have your ads shown on Pandora, Spotify, and other streaming platforms. But the production expectation of these kinds of campaigns shouldn't be taken lightly, as your ad is likely to be seen right next to a national ad for a luxury car or a cutesy ad for an online dating app.
The Recruiting Problem Remains a Problem 
The recruiting problem, we think, should be looked at as a marketing problem. As you are advertising for customers, you need to be advertising for employees and for your future staff. Things that we have seen move the needle here are bolstered career pages that feature culture videos and employee testimonials. The careers page should function as the main landing page for additional advertising channels, like Linkedin, Indeed, Ziprecruiter, Glassdoor, and anywhere else you post your job listings. 
Integrated Websites in 2022 
Here is what we consider some of the marketing basics of a website in the better building industry:
Site displays all of your services 

Site has a terrific About Us page that tells your story as a company 

Site is well set up for conversion, in the form of trackable telephone numbers, form fills, and live chat
We are noticing more functional, integrated websites that do all of that activity from a marketing standpoint are starting to result in significant improvements to overall company operations, as well as a better online user experience. We're also starting to see some traction with online scheduling, and the ability of homeowners to set their own appointments. This also relates to recruiting and candidate management, as a key part of recruiting is a quality experience in terms of how someone sees your company. The more connected, and integrated, your website is to your marketing goals and your goals as a company, the better the experience all around.
Looking to make 2022 a better year than 2021? Contact our team to learn how digital marketing can help get you there. 
SERVING THE ENERGY AND BETTER BUILDING SECTOR
We are selective in who we partner with—and we know you are too. Find out with a no-commitment analysis how we can make an impact on your business.