Getting High Quality On-the-Job Images with CompanyCam
The issue with compiling high quality, original, story-telling photos is usually more about the "how" then the "where" or the "when." When you run a solar, home performance, or HVAC business with crews out in the field all day, there are ample opportunities to capture an image that can show customers what sets your business apart. The real question is, how are you going to take those photos in an organized way, and how are you going to use them?
You may remember our Guide to Making Great Images for Your Website from last March, and how high-quality images can upgrade the search engine visibility of your website. You may also remember, we are now long-time admirers of CompanyCam. Here is where "the twain shall meet," and how you can combine a thorough digital marketing strategy with the high-quality, on-the-job images you can capture with CompanyCam.
Why
Your

Original Images are Integral to

Your

Marketing

Stock imagery has become one of the necessary evils of digital marketing. There are times where it is hard to get away with not using them, but relying heavily on stock footage can send the wrong message to your customers, on top of just being kinda… lame. 

Your average customer is getting more image savvy — they will notice if you use the same stock image of a tech in the field that another contractor in town used. In fact, we at Energy Circle think this guy (we'll call him Stock Footage Steve) has shown up on way too many display ads and websites: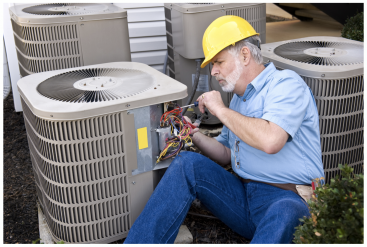 Additionally, it can be hard to nail down the look, feel, and distinct features of your geographical location while using stock footage. What if the only solar panel photos available have a desert in the background, but your business is located in Michigan? Just because the image is well shot doesn't mean it's right for your business. 
What Makes a Photo "Good Enough"?
It is easy to fall into the trap of setting your image quality standards just a bit too high. For some industries within the better building sector, highly polished and quality images are absolutely necessary, like the architectural industry. There clearly is a time and a place for hiring a professional photography agency, or bringing in a drone for some eye-catching aerial footage.
But even if the on-site images your techs are taking won't be winning any photography awards, they can still be used to the advantage of your business, because they convey a personal touch — they document real people doing work on real job sites. Those close-up shots you have of a nice compressor install can be utilized throughout your website, even if it isn't much to look at by itself. Storing, saving, and organizing those photos is made much easier when you can trust your techs on the job to snap those photos on their own using a cloud-based, high powered photography app for a smartphone!
Take this hero image for example. This photo is used in a case study to show how an energy audit helped reduce the temperature of the second floor. By itself, this photo might not tell much of a story. But when it is combined with the compelling story of a family looking to put their nursery on the second floor, it adds a feeling of authenticity and care that could be the difference between you and a contractor across town that just used ol' Stock Footage Steve.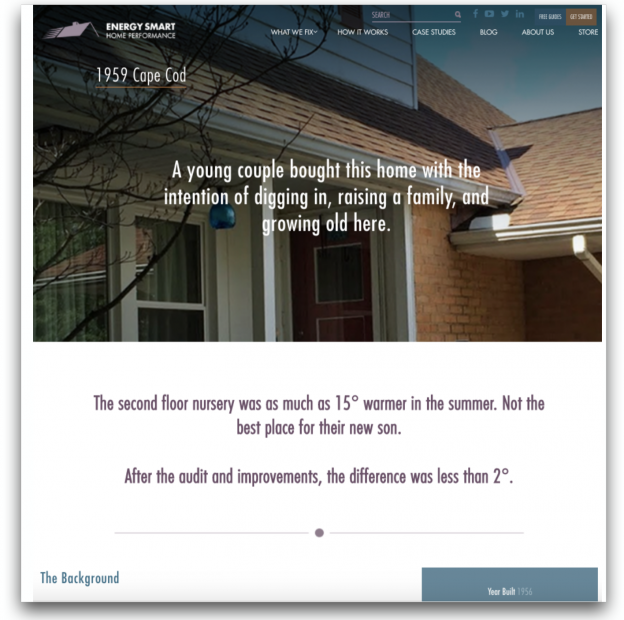 GMB Photos and Posts
We've said it before, but your GMB profile may be the most viewed real estate of your business across the entire internet. This means the first picture in your GMB profile is most likely the most viewed piece of content you have. Be intentional, and upload your best photos to your GMP profile (Don't let Google choose for you!)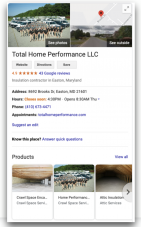 The Mosaic/Grid Effect
Some of your digital marketing channels will lend themselves to uploading entire albums of on-the-job photos. No need to put the pressure on one image to rule them all — upload multiple photos from a recent job that follows the progress from start to finish. Give each photo a short caption to provide context. Facebook albums are a great way to organize your photos: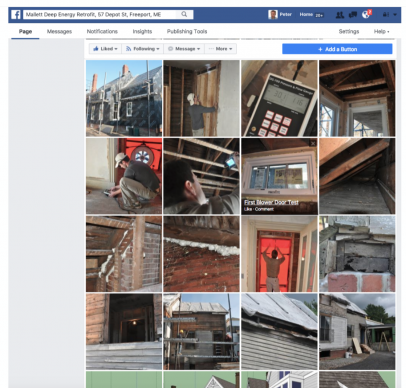 You can also use a mosaic of photos to showcase the scope of one of your services, on a service page itself. One benefit to utilizing this imaging technique is the robust alt-text that can accompany these mosaics, increasing accessibility for the visually impaired as well as signaling to search engine bots that your page is filled with a lot of relevant, visual content.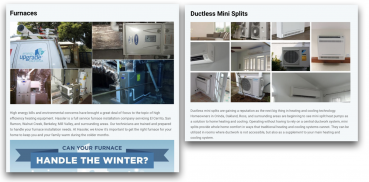 Instagram
The role of Instagram in the overall marketing strategy of many home performance, solar, and HVAC contractors can feel a bit murky sometimes. Is the goal to have the best looking photos to attract new customers? Is it a humor-based platform? What is Instagram for?
Instagram is a great place to let one picture say a thousand words, to help increase your overall brand awareness. Instagram may not be a high conversion channel, but for the amount of effort it takes to post a photo, we think Instagram is worth your time!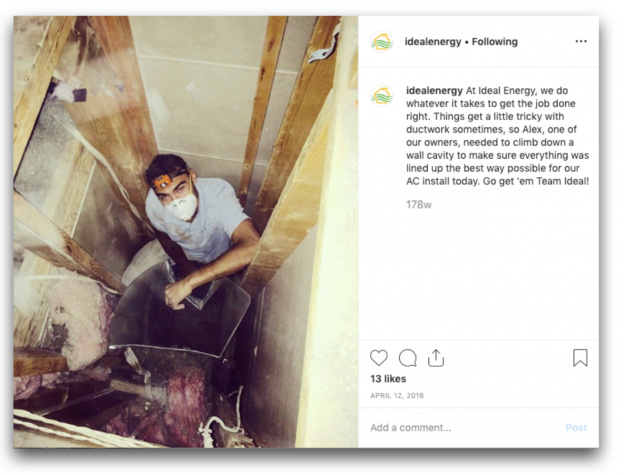 Other Applications for Taking On-the-Job Photos
There are a few other non-marketing reasons you'll want to hang on to a wealth of photos, all cataloged by date and location. We have seen other contractors use CompanyCam to:
Document an entire job for quality assurance

Communicate more effectively between the office and the field

Support workscopes

Document any potential code compliance issues

Aid in settling property damage claims
What We Like About CompanyCam
On the surface, CompanyCam may just seem like another trendy photo app to ignore, like Snapchat. But at the core of CompanyCam are incredibly useful organizational and educational tools for our industries. If each of your field crews have the app downloaded on their smartphones, pictures taken throughout the day are uploaded and organized by project and location — which can be automatically detected via GPS, or manually entered.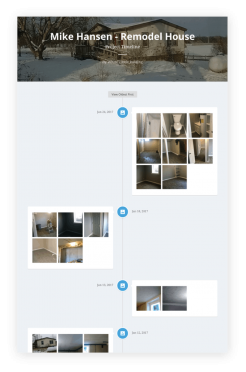 This is just the beginning of what CompanyCam is capable of. From there, depending on your workflow, your field technicians can add multiple types of annotations to each photo as necessary — such as:
Voice recordings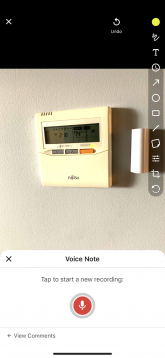 Text, stickers, date and time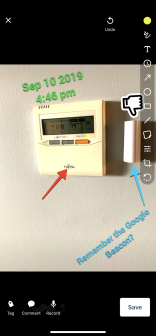 Measuring and diagramming notations via augmented reality tools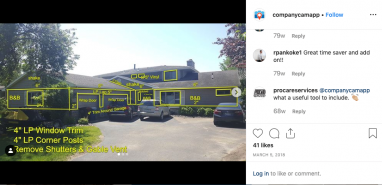 Easy to use, branded before-and-after templates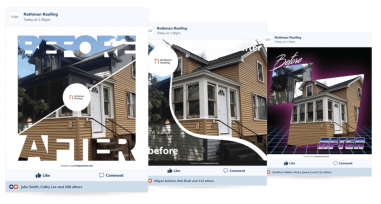 Infotainment: Making Building Science Interesting
Let's get real for a second — building science may be something that fascinates many of us that are already in the industry, but it isn't something the general public would call a razzle-dazzle topic or a hot-button issue. So when it comes to showcasing your building science knowledge in an accessible way through photos, many contractors struggle. Here are some additional ways you can turn what would normally be a boring photo into something educational and informative.
Building Science Fight Club: Utilize Annotations!
Have you followed Building Science Fight Club yet? Architect Christine Williamson has absolutely nailed the infotainment niché on Instagram when it comes to building science. Christine posts expertly annotated photos of her building projects, and takes some hard stances on best practices. Not only are the annotations informative and jam-packed with technical knowledge, but her point of view lends itself to discussion, comments, and sharing within the better building sector.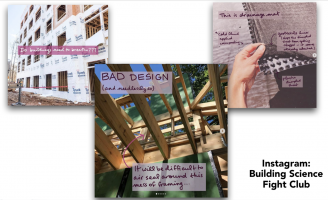 See something ugly? Take a pic!
There is a lot to be said for filling your website with images of nicely polished installs, retrofits, and large projects, but there is also some value in showcasing the building science horrors that your crews see each day. If you see something gross, like this "Duct-o-pus", combine it with Instagram or Facebook caption messaging like "Does your ductwork look like this? It's time to call in the pros!"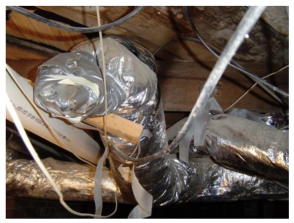 Take the First Step Now
As you can see, actual photography and images can really elevate your brand and set yourself apart from your competition. But who wants the hassle of sorting through random emails or text chains stuffed with unsorted photos from your techs' phones? The convenience and useability of CompanyCam is why we think it's such a useful tool for contractors and businesses in the better building sector. With just one app, you get:
Simplified, Low Risk On-the-Job Image Capture

Images Automatically Organized by Job Site Location

Easy-to-Use Diagramming, Captioning, Circle, and Arrow Tools

Field Teams Capture Everything

Office Staff Approves Images for Use in Marketing

Centralized Location in the Cloud 
Thinking About Joining? Get the Friends of EC Deal!
Want to give CompanyCam a try? Visit companycam.com/energycircle for a special offer exclusively through Energy Circle. You'll get a free 14-day Pro trial and a 10% quarterly rebate.
And, if you're already an Energy Circle client, our marking team will be given a free additional user login for your account. We can monitor activity and new photos as they're taken, making recommendations on how to best incorporate on-site photography into your existing digital marketing strategy.
Looking to escape the Stock Photo Steve-style of online digital marketing? Call or contact us today to find out more ways to strengthen your digital marketing.
1-ON-1 MARKETING BENCHMARK ANALYSIS
Admit it...keeping up with digital marketing can be challenging. Let us help.
We are selective in who we partner with—and we know you are too. Find out with a no-commitment analysis how we can make an impact on your business.