Meet the Office Dogs of Energy Circle
Here at Energy Circle, we enjoy the company of not only a talented team of digital marketers but also a friendly bunch of canine companions. Walk into our office on any given day, and you'll probably be greeted by a rush of fur and a wagging tail.
Having dogs in the workplace has been found to lower stress and boost company morale, and we see no exception with our office dogs. In this blog post, we thought we'd take a moment to introduce you to some of the pups who also "work" here.


Baloo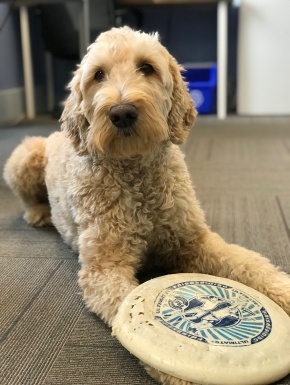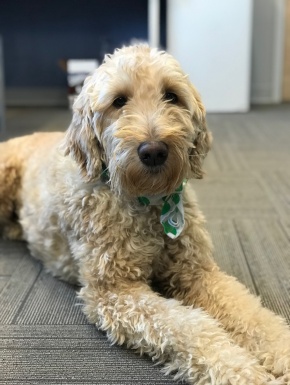 Age: 5 in dog years; 36 in human years
Breed: Goldendoodle
Human companion: Nate Tower
Baloo leaps into the office with an enthusiasm that many of us could only dream of having on a Monday morning. Other dogs envy him for his mile-long eyelashes and ability to walk off-leash in downtown Portland. When he isn't trotting around the office or not-so-discreetly begging Energy Circlers for attention, you can usually find him sunbathing in front of one of the office windows.
As of late, Baloo has been adjusting to life with a tiny human around — which probably explains his fondness for baby socks and dislike of babies who move his water bowl all around the house.


Charlie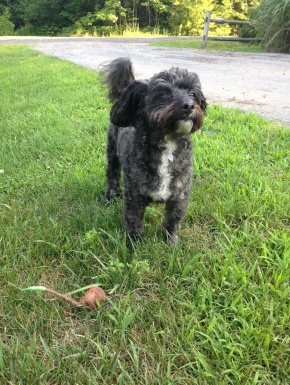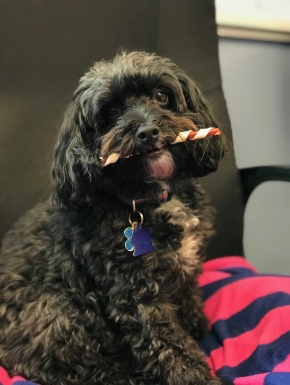 Age: 5 in dog years; 36 in human years
Breed: Morkipoo (Maltese, Yorkie, and Poodle)
Human companion: Dan Chadwick
Often perched on a high table or in someone's lap, Charlie likes to channel the royal dogs of ages past. His fear of being on ground level usually has him contemplating how to jump up to higher surfaces despite having frustratingly short legs.
Charlie has a special fondness for chicken, chasing squirrels, and barking at animals on TV. You may try to pet him when he trots by, but he's usually more interested in tantalizing Baloo.


Theo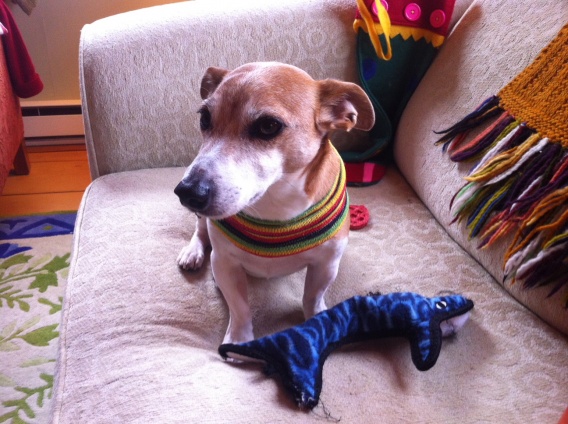 Age: 14 in dog years; 72 in human years
Breed: Jack Russell Terrier
Human companion: Peter Troast
An energetic pup even at 14 years of age, Theo's fondness for trouble has earned him the nickname "Jack Rotten Terrible" from his owner. Puppies, cats, and squirrels are his archrivals. A surgeon in his past life, his favorite activity is performing "squeak-ectomies" on new toys.
But don't let this tough-guy façade fool you — Theo loves to scurry under our feet and is incapable of sleeping at night without touching a human.


Kimber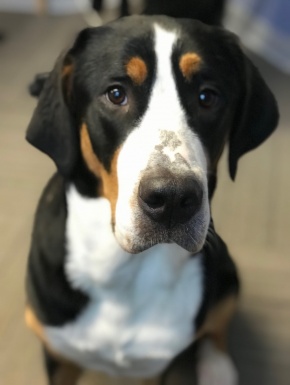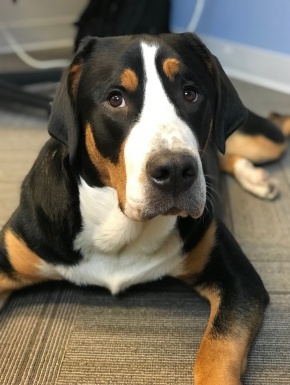 Age: 1.5 in dog years; 20 in human years
Breed: Greater Swiss Mountain Dog
Human companion: Amy Irish's brother Nick
Because Kimber really belongs to the brother of Energy Circler Amy Irish, a visit from Kimber is a rare luxury for Energy Circlers. Kimber is the quintessential mountain dog, with thick, silky fur and a love for laying in front of a fire. Being the youngest pup in the EC office, she is the one letting everyone know when it's time to play — and won't take no for an answer.
Kimber's favorite pastime is playing with her sister Marion, a Rottweiler, and she is especially fond of food. In fact, her least favorite thing on Earth is having to sit in place while food is being put into her bowl.
We are an experienced team of talented and driven digital marketers who love dogs. Contact us today to find out how we can help you grow your business.
SERVING THE ENERGY AND BETTER BUILDING SECTOR
We are selective in who we partner with—and we know you are too. Find out with a no-commitment analysis how we can make an impact on your business.