Oct. 2020 Update: What's New with Google Local Services Ads? (A Lot.)
Google's Local Service Ads allow businesses, like HVAC and better building contractors, to run prominently displayed ads, geo-targeted at their service area, and pay for leads directly. As Google expands the LSA product, adding features like bidding options (yes, you read that correctly! Bidding has come to LSA's), and new service categories, we've got the latest on what's new with LSAs and how best to leverage them.
A Little Local Service Ads History
Google launched Local Service Ads (LSAs) in 2015 with fixed per lead pricing (set by Google) and limited eligibility to certain geographies and service categories. Over the next few years, they slowly and quietly tested the product in specific markets, and by 2018, had begun a more comprehensive rollout—expanding availability to include nearly fifty service verticals, and widespread geographical availability across the country and beyond. Of course, at Energy Circle we've been keeping a close eye on LSAs since the comprehensive roll out began, and tracking their impact on other digital marketing tactics and channels—including SEO and Local SEO, as well as traditional PPC through Google Ads.
In April 2019, we published an update to our original LSA overview which included details about what had changed since the broader rollout began, and what had remained the same. We also shared our analysis and recommendations about how marketers in the home performance, solar, and HVAC industries could best leverage LSAs and incorporate the new ad product into their greater digital marketing mix.
LSAs are still a prominent and influential feature in SERP, and as Google continues to expand the product, it's important for marketers to understand the capabilities and the implications of running Local Service Ads. Today, we'll outline some of those most recent changes, and update our recommendations and predictions around how best to incorporate LSAs into your marketing strategy.
First, Some Frequently Asked Questions (and Answers) About LSAs
As LSAs have become more widespread and prominent in local search results, some details about what they are and how they work have become points of common confusion. For example:
What is the "Google Guarantee" and once I get it, am I automatically signed up for Local Service ads? 
The "Google Guarantee" is a badge that signals a business has passed Google's screening and background check verification process—which is largely done in parallel with signing up to run Local Service Ads. But, getting the Google Guarantee (or Google Screened* more on that later) badge does not automatically mean you're now running LSAs. There are still a few more steps required to finish configuring your LSA account, including setting your budget and geographic targeting criteria, and connecting a payment method, among other things.
If LSAs are a "local search" feature, do I have to have a verified Google My Business profile to run LSAs? And what if I have more than one GMB profile?
A verified GMB profile is not required to run LSAs, but it is strongly recommended. (Even if you're not planning to run LSAs, GMB is a critical element in the digital presence of any service area business, especially HVAC, home performance, and solar contractors).
More importantly though, one of the factors Google considers in determining how well your LSAs will rank in local search results are your Google reviews which are tied to your local GMB profile. Having a well optimized GMB profile associated with each of your (legitimate) individual office locations that contains geographically relevant reviews and rankings from local customers is also one of the most effective tools at our disposal to combat Google's proximity bias. A robust profile of customer reviews on GMB will also help your LSAs get shown more often and improve their lead generation performance. 
Who can run LSAs and where?
LSAs are now available pretty much everywhere across all 50 states, with some small exceptions. For example, at least three other businesses in the area must be running LSAs within the same primary service category in order for ads to be served. What started out as an ad product meant to compete with home services aggregators like Home Advisor or Angie's List has grown to include a variety of service area businesses in almost fifty different verticals including lawyers, designers, plumbers and electricians, contractors and architects, and of course HVAC contractors. There are still some notable verticals (relevant to the better building industry) that are absent from the list of eligible service providers, such as Insulation Contractors, Energy Auditors, and Solar Installers, but we're keeping a very close eye on this too!
New Features: 
As with all of its products, Google is regularly changing and improving Local Service Ads to cover more ground, and ultimately become a more lucrative offering. Here are some of the most notable updates to LSAs we've been following and why they matter to clean energy and better building businesses.
Google Screened vs. Google Guaranteed: The "Google Screened" option was rolled out in a limited capacity in early 2019 and is only available to businesses in specific verticals including law firms, financial services, and real estate. The key difference between Google Screened and Google Guaranteed (besides its availability) is that there is no money-back reimbursement guarantee if a customer submits a claim against a "Google screened" service provider. Google Screened businesses undergo a similar background and license check process as Google Guaranteed businesses, but there is no promise of assured customer satisfaction backed by Google with the "Screened" check like there is with the Guaranteed badge.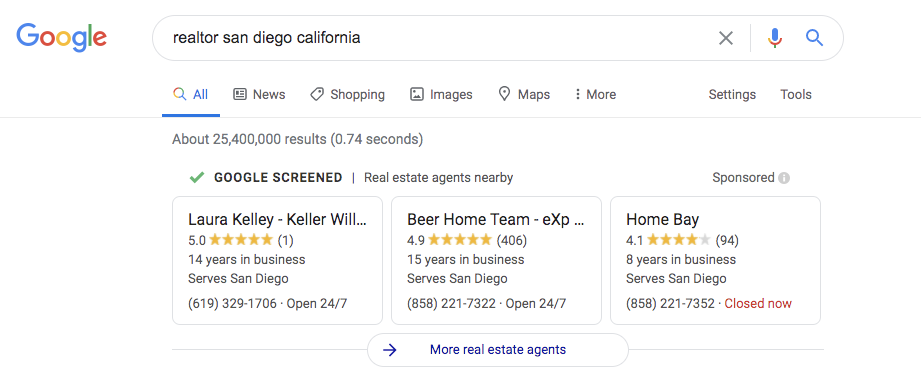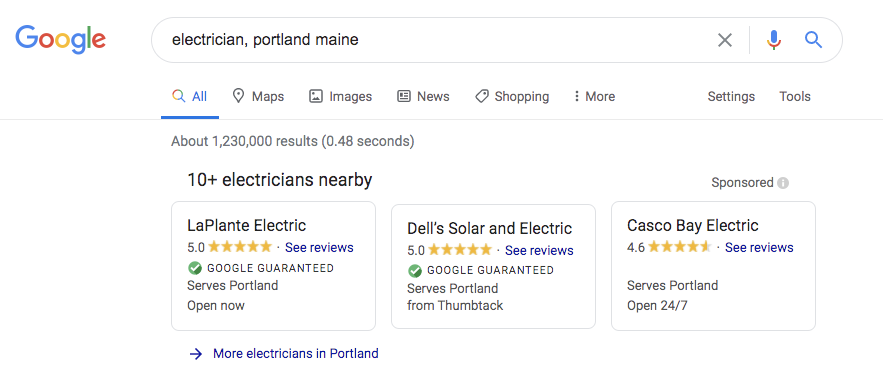 The Google Guaranteed badge icon—a green circle with a white check mark—displays above a row of LSAs or within each individual ad box, and signals to searchers that this service provider is supported by Google's money-back satisfaction guarantee. 
Google Guarantee GMB Profile Upgrade: This is still pretty new as far as changes go— we first heard about it (like with so many Google updates) from a post by Greg Sterling of Search Engine Land. Sterling reported that Google was rolling out an option for businesses to pay a monthly fee to get a Google Guaranteed badge as a feature on their GMB profile, separate from LSAs. For $50 / month, eligible businesses (who have passed all the same background and license checks required for the Guaranteed badge) can display the badge on their profile, and it could potentially also display in Local Pack results and increase the chance of listings being included in Google Assistant voice searches as well. The benefit, in theory, would be that companies can now receive the backing and credibility that comes along with the Google Guarantee—potentially leading to improved click through and conversion rates off of their existing GMB profile —for a fixed monthly price, as opposed to having to invest additional ad spend to run LSAs and pay per lead. 
One Word… Bidding! This is the new feature we at Energy Circle are most interested in—since Google initially rolled out LSAs, one of their defining features was the fact that it was a fixed price product. Companies set a weekly or monthly budget, and Google dolled it out pretty much as they saw fit. In September, we learned that Google was now introducing a bidding option on certain LSA accounts, allowing advertisers more control over how their budget is allocated, and the option to adjust budgets on a more granular basis.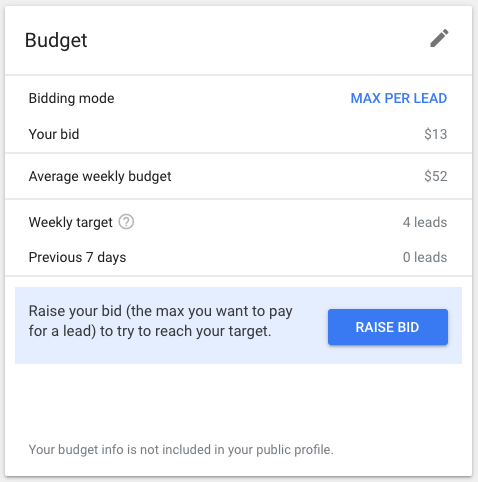 The option to select a different "bidding mode" from the standard fixed budget per week or month, and to specify a maximum bid per lead as well as periodically raise or lower that bid based on performance and outcome, is now popping up across select LSA accounts.
More About LSA Bidding and Why We're Paying Attention!
For eligible LSA accounts, advertisers can select a "bidding mode" which seems similar to setting a campaign objective in Facebook or a bidding optimization strategy in Google Ads. From what we can see, the options are limited to:
Maximize Leads (Which is essentially no different from the standard setting—you set a monthly budget and Google determines your bid and allocation as they see fit.)

Set Max Per Lead (This lets you specify the maximum amount you're willing to pay per lead—still within a set monthly budget, but with a little more granular control over cost efficiency and how aggressive you want to be toward competition.)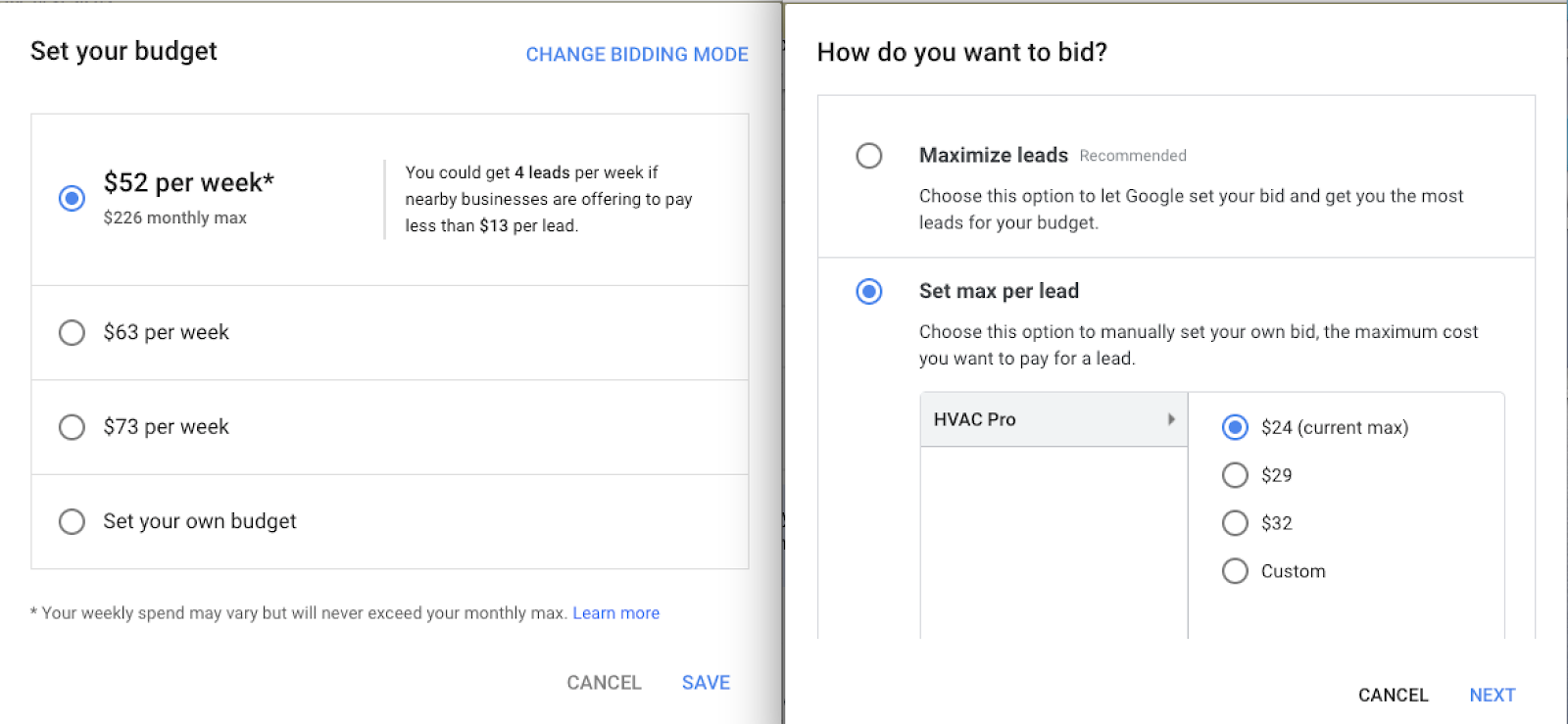 Eligible service businesses running LSAs are beginning to see the option to specify a maximum amount they're willing to bid per lead, as opposed to simply configuring a set weekly and monthly budget for Google to distribute automatically. There is also some indication that Google is offering competitive insights and recommendations for how much businesses should bid per lead, based on their lead gen goals.
When compared to extremely robust, powerful, and granular targeting, bidding and configuration options available with paid search, display, and video ad products through Google Ads, setting a single max bid per lead obviously seems a bit rudimentary. We can hop over to Google Ads and optimize our bids based on demographic, zip code, time of day, device, past behavior or engagement, what keyword was searched, and so much more. So why is the addition of bidding in Google's LSA product such an interesting development? The answer is it's about control, and competition.
Control over Budget: When you're able to specify a maximum amount to spend per lead, you're able to spend your marketing dollars more efficiently, and hopefully get a little more bang for your buck! Over time, you'll gain insight into what a realistic cost per lead should be in order to achieve your unique lead generation goals, and then have the power to be more strategic about how much you bid and how frequently you need to adjust that bid to stay ahead.
Insight into Competition: With additional insight into realistic cost per lead, you'll also gain insight into how strong the competition is for leads in your LSA marketplace. Similar to how we analyze the average cost-per-click (CPC) in Google Ads for paid search and display to better understand the competitive landscape, we can now use data surrounding bidding to better understand the same with LSAs. The higher average CPL it takes you to achieve a satisfactory lead volume, the more your competition is likely also spending on their LSAs to gain ground in the same market. Furthermore, from what we can tell there are no restrictions on how frequently you can adjust your bids, which means you can now decide how aggressive you want to be in outbidding your competition. This is an opportunity to inject a higher level of strategy and optimization than has ever really been necessary before when it came to LSAs.
While bidding is not yet available for all verticals, we are seeing it pop up as an option in LSA accounts for a selection of HVAC Pros, as well as Electricians (which is relevant to those clean energy contractors offering home and total electrification services, obviously, but is also relevant because while "solar contractor" is still not an available primary service category eligible to run LSAs, if electrical services are a legitimate part of your service offering, you can specify "Solar panel services" in your business bio).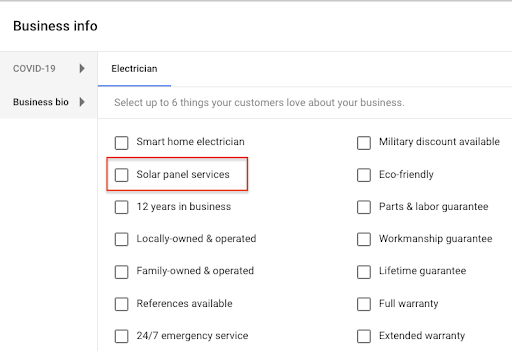 While "Solar Contractor" is still not on the list of eligible service categories for LSAs, those with the primary service category Electrician can specify "solar panel services" in the business bio area of their LSA profile. 
Should I Be Running LSAs?
In a word, probably! But of course, it's slightly more complex than that. Like with many digital marketing strategies and tools, there are pros and cons.
Pros: First and foremost, LSAs, when implemented correctly, can be a very valuable accompaniment to an integrated PPC, GMB, and SEO marketing mix. LSAs complement Google Ads by helping obtain greater dominance in the most prominent SERP positions, and data obtained from Google Ads and GMB performance can help inform your geographic targeting strategy, spend allocation, and offer insights into the competitive landscape that could improve your budget and bidding strategies for LSAs. 
Here are some other benefits to running LSAs:
Earn prominent visibility in organic search results (top of page), and in some cases, a better chance of displaying in the Google local pack and Google voice assistant search results as well.

Gain ability to set a predictable, fixed weekly or monthly budget, and pay only for valid leads (plus, you have the option to dispute charges on leads you consider "invalid").

If your competition is doing it, running LSAs keeps you on a more even keel with other businesses vying for the same customers as you. 

If your competition isn't doing it, running LSAs gives you a possible leg up, increasing the likelihood of you winning business over competitors by dominating more real estate in Google's SERP.

Leverage the credibility associated with the "Google Guarantee" to generate more high quality leads for your business and enjoy the peace of mind of added financial security that comes with the Guarantee's money-back insurance feature. 
Cons: As has always been the case, LSAs offer little flexibility when it comes to things like ad text (you don't get any), and optimization options. They are meant to be a straightforward, DIY solution that takes minimal time and effort to execute. On their own, they may help boost your phone call volume and are probably better than doing nothing. 
That said, there are some other potential drawbacks to LSAs you should consider:
In some places, the LSA market has become pretty saturated, meaning there is less opportunity for your ad to even display in the top bar row. Since it's still a fixed price product in a lot of places and verticals (no option for bidding), advertisers have little recourse (beyond soliciting more and better reviews) to help improve their LSA visibility, if this is the case.

With the introduction of "bidding", it will become more important to have an actual, sophisticated strategy associated with your LSA campaigns. Depending on how strong the competition in your area is, or how ambitious your lead gen goals are, you may want to be more aggressive about adjusting your bids more frequently, and more discerning in evaluating LSA performance and ROI. This will require more effort and time investment on the part of those running the ads.
How Should I Get Started with LSAs?
Among the suite of Google Advertising products, LSAs are still probably one of the more straightforward and easy to implement. But it's worth considering asking for help! If this post has shown anything, it's that there are a lot of new features and implications to consider when it comes to the most effective way to incorporate Local Service Ads into your marketing mix. 
If you're an HVAC professional, it's definitely time to get in the game! "HVAC Pros" is one of the service categories which has been eligible to run LSAs the longest, which means it's likely competitors in your local service area are already running these ads. And now with bidding coming on the scene, that competition is only going to heat up.
If you're a home performance, solar, or better building contractor whose primary service category isn't yet eligible for LSAs, stay in touch! This product is changing quickly and new developments are announced on the regular. Be thinking about your local digital presence now. Is your GMB profile up to date? Is your website optimized for Local SEO with city pages, metadata, and applicable schema? Is your review profile robust and growing? If history tells us anything, it's that Google isn't done making changes to this ad product yet, and you want to be ready when LSAs become available to you!
Need help getting started with LSAs? Contact us about our LSA Setup and Management Services and we'll help you jump start your local lead generation marketing efforts!
SERVING THE ENERGY AND BETTER BUILDING SECTOR
We are selective in who we partner with—and we know you are too. Find out with a no-commitment analysis how we can make an impact on your business.