Optimizing Google's Local Services Ads for Better Lead Gen. Performance with Verified Reviews
Toward the end of 2020, we brought you an update on what was new and coming up with Google's LSA product. If you haven't checked it out yet, give it a read through—all of this information is still relevant. 
Previously on: What's New with Google Local Services Ads?
We answered a few common questions relating to Local Services Ads, including:
What is the Google Guarantee and how does it relate to LSAs?

Do I have to have a Google My Business profile to participate in LSAs?

What types of professionals are eligible to run Local Services Ads? And in what states, cities, and towns are LSAs available?
The most interesting development we focused on in our last update was the introduction of "bidding modes." What was once a strictly fixed-price, pay-per-lead product now had some wiggle room and was beginning to resemble some of Google's other, more sophisticated advertising solutions. Allowing users to specify how much they were willing to pay per lead (as opposed to simply paying the price Google determined) meant putting more control in the hands of advertisers to compete at a more granular level. 
Let's cut right to the chase. We still have a lot of questions about LSAs, and while we don't have all the definitive answers right now, we do want to share our informed predictions and hypotheses based on the data we do have.
Some of our most burning questions around Local Services Ads are:
Is the introduction of bidding options having any significant impact on the lead generation potential for Local Services Ads?

Are we able to gain any new or better insight as to the strength of local competition in the same LSA marketplace now that bid adjustments are taking place?

Does the ability to make frequent or aggressive adjustments to bids also afford us, as advertisers, more control over optimizing LSA account performance?

If bidding is not the path to injecting opportunity for more sophisticated strategy or optimization techniques into managing LSA campaigns, is there a path? Or are LSAs still just Google's "set-it-and-forget-it" solution for advertisers who don't have the budget, time, or capacity to dive into more complicated tactics like Paid Search and Display?
Based on the limited amount of data we have available to analyze, and the short amount of time during which bidding has even been an option, we're not quite ready to draw any hard and fast conclusions about the impact of bidding on LSA performance just yet. We are actively gathering data, and testing strategies and tactics to determine which bidding mode works better in terms of lead volume and budget control, and what advertisers should expect to spend per lead and per month in order to achieve that performance sweet spot. 
Our goal as always, is to let the data inform our conclusions and recommendations. So stay tuned in the coming weeks for our findings and recommendations around bidding strategies for Local Service Ads. 
But wait! There's more! Bidding isn't the only thing we're keeping our eye on when it comes to LSAs!
In Today's Update: Besides Bidding, What Can I Do to Improve LSA Performance?
It's all about verified reviews. Until we're able to better understand the competitive landscape in the LSA marketplace, and what data we should use to inform bid strategies, we can only really follow Google recommendations for how much to bid, and how many leads we should expect to get for our budget. But we know that once that lead comes in, we (as contractors) now have some more options for leveraging it to our advantage, in the form of soliciting positive reviews to build out our review presence online. We have known for a long time that robust, diverse, and specific keyword-rich review profiles are a key ranking factor for Local SEO. Building out reviews on your GMB profile and other review aggregate platforms is one of the most important pieces of an integrated digital marketing strategy. 
We're predicting that it is no different when it comes to LSAs.
Our Preliminary Findings: The Google LSA platform offers a couple of options to help advertisers solicit and aggregate reviews from their customers. Because these methods are managed via the same LSA account from which those customers originated as LSA leads, their reviews are automatically connected to the LSA account, hence "verified" by Google. 
How is this any different from or better than a review submitted via GMB, Yelp, or another aggregate like ReviewBuzz or Customer Lobby? All roads lead to Google. A positive review from a customer who originated as a Google LSA lead benefits everyone. It obviously reflects well on you, the contractor, who delivered quality services and earned the positive feedback. But it also reflects well on Google and their Local Services Ad product which generated that customer lead in the first place. So it makes sense that Google would want reviews from LSA-generated leads to be connected with the LSA platform, which is why they make it easy for advertisers to generate and share custom review links with their customers directly from their LSA account. 
And since Google is making it easy, it's probably safe to assume that soliciting verified reviews from your LSA profile is also Google's preference, meaning it's a legitimate tactic to optimize your LSAs for better performance.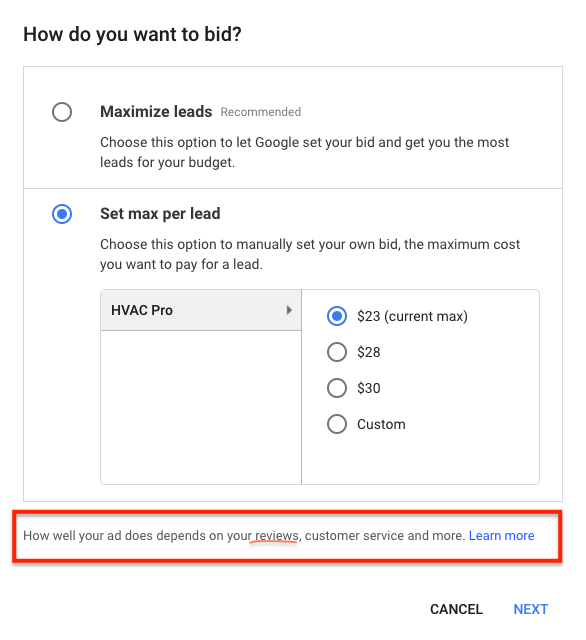 Right now, you have 3 options for soliciting verified reviews through your LSA account:
1. Let Google do it for you. This method requires you to confirm that your customers have opted in to receiving communications from Google directly. The review request communication comes from Google and not from you, so privacy regulations dictate that the recipient must have given permission to receive email communications. This complicates things for obvious reasons. Google doesn't offer a whole lot of guidance as to how you should collect these "opt ins", or if and when you may have to provide evidence that the customer gave their permission. Furthermore, if the lead came from a phone call, you'll have to collect the customer's email address and enter it into the LSA record in order to use this method.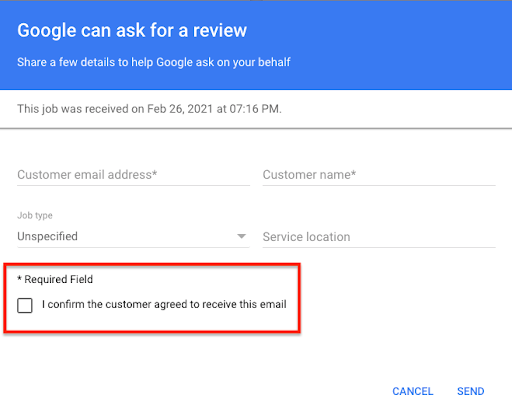 2. Do it yourself. From the Business Verification section of your LSA account dashboard, you can access a custom link to send to your past customers, which will link their review to your LSA account as a verified review. Because this email and request will come from you directly, and not from Google or a third party on your behalf, you do not need to gather opt-in permissions or enter additional customer information in the LSA account record.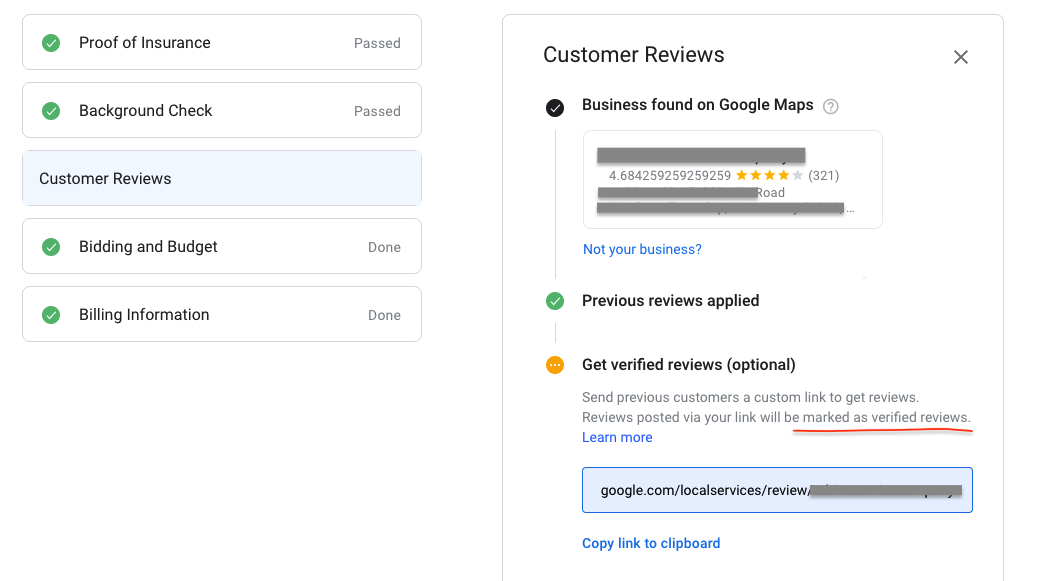 3. Integrate with your CRM. Popular platforms like Service Titan offer integration options to send Google LSA leads directly to your CRM and manage customer information the way you always have without the redundancy of copying info from one place to the other. We still have some research and testing to do to determine if and how this goes the other way. If lead info can be sent from the LSA platform into the CRM, can the same integration automate verified review aggregation as well? We assume so, even if it means some combination of method #2 above and this integration. We're very interested in this solution, and plan to dig a lot deeper into all the opportunities it poses in the coming months!
How Should I Get Started with LSAs?
If you're an HVAC professional, it's definitely time to get in the game! "HVAC Pros" is one of the service categories which has been eligible to run LSAs the longest, which means it's likely that competitors in your local service area are already running these ads. And now, with bidding coming on the scene, that competition is only going to heat up.
If you're a home performance, solar, or better building contractor whose primary service category isn't yet eligible for LSAs, stay in touch! If history tells us anything, it's that Google isn't done making changes to this ad product yet, and you want to be ready when LSAs become available to you. 
Need help getting started with LSAs? Contact us about our LSA Setup and Management Services and we'll help you jump start your local lead generation marketing efforts!
SERVING THE ENERGY AND BETTER BUILDING SECTOR
We are selective in who we partner with—and we know you are too. Find out with a no-commitment analysis how we can make an impact on your business.