What it Takes to Produce High Quality Marketing Video
This isn't the first time we at Energy Circle are talking about the valuable role video plays in an effective digital marketing strategy – especially when it comes to building awareness and consideration in the home performance, HVAC and solar industries (and it won't be the last!) We've produced webinars and blogs discussing the importance of distributing and amplifying your video content across multiple channels in order to broaden its reach and influence. And we often recommend incorporating video marketing as a tactic to improve website UX and to help address marketing challenges in our industry, because of its effectiveness as an engaging educational tool. 
But before we begin the work of distributing and amplifying video content in concert with an integrated digital marketing strategy, though – we need to do one thing: make the dang video! Producing high quality video assets, customized with your brand standards, tailored to your audience, and formatted to comply with all best practices and platform requirements is the first step in the video marketing process. It's also one that is commonly overlooked, or rushed through in order to "get to market". This misstep can lead to your video ultimately falling flat with your audience, missing the opportunity for your clean energy or better building company to leverage video for lead generation. 
We know we need the actual video – but where do we start? What are the key components of high quality marketing video? What tools, equipment, software and resources should you rely on when it comes to video production? Where can you find a good video producer, and how do you know they're good? And probably - the most common question of all - how much does video production cost? 
Great questions – let's dive in!
Know Your Audience… and Platform.
Sometimes, the very best place to start is actually at the end! Before you say "lights, camera, action" ask yourself: 
What's the intended end use for the video? 

Where will it ultimately be placed, and viewed by your target audience? 
There are multiple channels and platforms across which you can now place video, all with different requirements and best practices. 
The platform on which you plan to publish and market your video can impact many factors in the scope of the production project:
Video Length: 
How long should my marketing video be? This question comes up a lot, and like with all other specs - the answer is: "it depends". If you're planning to use video on a social platform, as part of a PPC campaign through YouTube / GoogleAds, or on a streaming channel like Hulu, shorter is usually better – 5 to 60 secs max. You don't have a lot of time to capture a browsing audience's attention, and your video is usually a distraction or even a barrier to the content they really came to that platform to consume. Try and think, "What would keep you from hitting that 'skip ad' button?
However, if you're planning to publish your video on your own website, or post it (organically) to your YouTube channel or Facebook page where your audience can engage with it on a voluntary level, longer durations can be more effective. Anywhere from 15 to 90 seconds - or beyond in some cases. Audience's viewing content on a website or YouTube channel usually got there because they were actively looking for specific information, and are therefore more willing to watch longer format videos. 
Video Output Format: 
The file format, aspect ratio, resolution, size, frame rate, etc. are all "formatting specs" that may vary depending on the platform on which you're planning to load and publish your video. Research the video formatting requirements and specs for your chosen platforms before embarking on a video production project.
Social Media Video Tip: A square aspect ratio (1:1) will take up 78% more scrolling space, and can nearly double the engagement!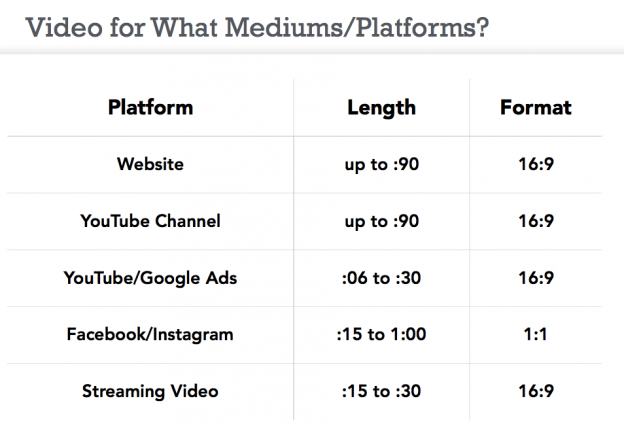 Audio: 
The goal of your video and the platform on which you intend to publish your video will also drive whether or not you include sound, in any form. Background music, voice over, on camera dialogue? When it comes to audio in marketing videos - sometimes less is more. Audio adds a level of complexity to the production process that, while not necessarily overwhelming or even expensive, should be considered carefully as to how much value it's truly adding to the video itself. Could the same effect be achieved with titles or captions? Will the platform on which the video is playing output the audio correctly? Is music enhancing or distracting from the key messages of the video? Audio can often be a critical and valuable component of a good marketing video, as long as it's included with purpose and produced / edited well. 
Accessibility: 
A quick plug for accessibility standards here - because, yes, they apply to video as well. Just like with your website, not everyone can view and engage with video in the same way either. It's important your videos contain properly encoded and formatted closed captions so that people with hearing or visual impairments can consume the content as well. 
Plus, not every distribution channel will include automatic "volume on" capabilities. When your video will be scrolling through Facebook and Instagram feeds, there is no guarantee that viewers will actually hear your video. Enabling closed captions and titles within your video can lead to a boost in reach. 
Interactive Features: 
Another component of the production scope that the selected platform will impact is whether or not you can include interactive features, or companion assets along with your video. This is usually only the case with more involved media placement strategies - like in-app or "native" video ads, or on streaming services like Hulu, Amazon, etc. Some platforms offer the option to make video ads clickable to a destination landing page, or to include banner ads that display alongside the video for a more dominating ad experience. Evaluate all the bells and whistles available to you on the selected platform, and make sure you're making the most of your marketing video placements.
Messaging and Calls-to-Action: 
For marketing videos, it's normally a good practice to include some promotional message or call to action that clearly communicates the goal of the video to your audience. Depending on where the video will be displayed - this could be as simple as a static end frame with text that includes your company's name and phone number. Always make sure, though, that you're leveraging the strengths of the platform to your advantage. If you're placing video ads on Hulu for example, you may have the option to place a series of videos that play throughout the commercial breaks for a single show, allowing you to build a story with your videos that span the length of an entire program or day. 
Also consider how frequently unique viewers are likely to see the same video over the course of a campaign, and craft the messaging and call's to action with that in mind. The more times a viewer sees the same video in a certain period of time, the more brand recall and consideration you're building with that audience which allows you a little more flexibility when it comes to how you talk about the services or products you're marketing. 
The Production Process: Know what to expect
At the end of the day, you run a business, not a movie set. So how long will high quality video production take, and what should you expect? 
The more prep you can do before production begins, the less time it will take to shoot and edit down. If you are partnering with a local video production team, make sure you communicate clear expectations on what you are looking to get out of your video assets. Also, make sure your video editor knows how many versions and lengths you are expecting to be delivered. 
Once you have all of your expectations set, you will need to know how many locations will be required to get the footage you need. The more locations, the longer you can expect the process to take. This is where the use of relevant stock footage can save you time and money. Will your video shoot require any in-person interview footage? Plan for at least half of a day to make sure you are able to capture all the footage you need. 
In short: High quality video production will require at least 1-3 days, plus a week of editing before you see the final product (this can vary, depending on the video production company you choose).
Save Yourself the Re-Shoot: Make sure that all of the shots in your marketing video showcase OSHA compliance! This saves the time it will take to reshoot, and saves you from any OSHA fines. 
Using Your Own Video Resources
Chances are, most of your employees have high definition cameras in their pockets. We get a lot of questions about using smartphone footage for marketing purposes, and the answer we give is "there's no such thing as too much footage!". At the end of the day, if the footage looks good and showcases your services correctly, who cares what it was shot on? We've even put together some tips on how to curate your own on-the-job images for use in your marketing efforts.
But be cautioned, iPhone footage is not a replacement for high quality video production. If you are looking to craft a specific marketing message, and slice and dice it up for use across all your digital marketing channels for lead generation, smartphone footage isn't going to cut it. 
Ready to add video to your digital marketing strategy? Find out how Energy Circle can help. Call 1 (207) 847-3644 or contact us 
SERVING THE ENERGY AND BETTER BUILDING SECTOR
We are selective in who we partner with—and we know you are too. Find out with a no-commitment analysis how we can make an impact on your business.