How a Bad Online Review Can Be a Good Thing for Your Business
"I would give zero stars if I could." "Horrible customer service." "Avoid this company at all costs." "Very disappointed." Any of these phrases sound familiar? Even for companies with exceptional quality management procedures, it is inevitable that one of your crew members will have an off day or the customer will just happen to be in a foul mood.
Few things are more disheartening than heading to your Facebook or Google My Business profile and being greeted by a fuming one-star review. But take a deep breath, because all is not lost. With the right review management approach, that negative review can become a valuable opportunity for your company.
As part of our review management services, we help a lot of our clients turn their negative online reviews into positives for their company. Here are just a few of the ways we've seen negative reviews become a good thing for business.
Stay in the 4.2 to 4.5 range
Did you know that it can actually be detrimental to your business to have a perfect 5.0 star rating on Google, Facebook or Yelp? According to a recent study conducted at Northwestern, customers are the most likely to purchase a product when it is ranked between 4.2 and 4.5 stars online. This is because of what we like to call "distrust of five star perfection." Customers perceive a product or service to be "too good to be true" when reviews are overly positive. With some negative reviews floating in a sea of positive reviews, your business may come across as more authentic and trustworthy.
This, of course, does not mean that you should solicit or, worse, create your own "less-than-five-stars" reviews. But it is a good reminder that one or two blemishes, when handled correctly, could underscore how trustworthy your business really is.
Showcase your customer service
We've said it before, and we'll say it again. A bad online review is a golden opportunity to resolve an issue with one of your customers — and showcase your commitment to providing high quality service in the process. By responding in a helpful way to that one-star review, you're showing other customers that you'll be there for them even on the off chance that they have a bad experience with your company.
Never, never, never pass up the opportunity to respond to an online review. You may even end up converting an angry customer into a lifelong customer.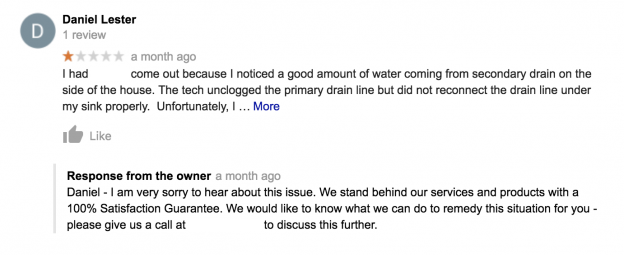 This company could end up turning this disappointed customer into a happy one.
Improve the way you do business
Before you disregard that negative review as just another customer expressing dissatisfaction when nothing would have made them happy, ask yourself — is there something I can learn here?
Negative reviews can have some truth to them, even if only an ounce of it. You might learn that one of your technicians is consistently curt with customers, or that your service quotes aren't matching the final bills that customers receive. Maybe you'll even find out that one of your technicians isn't properly trained to handle certain repairs. Take this opportunity to assess your services and uncover anything you could be doing better.
This would be a good time to review how your business handles confirmed appointments.
Give your customers more informed purchase decisions
According to a recent survey by BrightLocal, 85% of customers trust online reviews as much as they do personal recommendations. So, when people in your service area are looking for a home performance, HVAC or solar contractor, you can bet that many of them are reading your online reviews as part of their research.
People like to weigh the potential advantages and disadvantages before investing in a product or service. Having a mix of mostly positive reviews with some negative reviews can offer them both, helping them make an informed decision to do business with you.
Highlight positive reviews
Negative reviews don't have to diminish your positive reviews. In fact, they could make those positive reviews look even better. This is especially true when your negative reviews are less about your service and more about things like phone call response time.
Negative reviews can actually give your company an air of authenticity. When your company is more trustworthy, so, too, are the positive reviews you've amassed. So, when potential customers see a few negative reviews alongside several positive reviews, they are more likely to factor the good parts of the positive reviews into their purchasing decisions.
"I just got a negative review — now what?"
A negative review can be a valuable opportunity for your company, but only if you take the right approach to review management. Be sure to keep the following guidelines in mind when that rotten review comes your way:
Report the fake reviews
Fake negative online reviews do happen. (Learn how to spot them here.) If you suspect that you've got a fake review on your hands, be sure to flag it and follow the subsequent steps to report it to Google, Facebook, or Yelp.
Respond, respond, respond
Whether it's a fake review or a real one, it's important to respond in a courteous manner. (We show you how here.) This will remind those sifting through your reviews that you're committed to improving a customer's negative experience. It can also put you on the path to resolving the issue offline, which could result in that negative review being taken down (or better, updated as a positive review.)
Not sure what to do about those three one-star reviews from a few years back? It's still a good idea to respond, and to acknowledge the time that has passed as you do so. We also suggest the next tip...
Grow your positive reviews
For a stronger review presence, you can encourage happy customers to leave you positive reviews online. This is especially important if you have an inconsistent review presence across different platforms — such as a 4.8 star rating on Google and a 3.1 rating on Facebook. Having a high rating on Google will only go so far if other platforms are pulling you down.
We discuss best practices for requesting positive reviews at length in this blog post; but one of the most effective methods is to use dedicated review management software. Some software options even allow you to ask a customer for private feedback before asking them to post a review online. That way, you can ask only those who rate you positively to rate you online.
One very thing to keep in mind here: Yelp does not allow companies to solicit reviews. So before you hand out that "leave us a review" card at the end of a project, make sure you aren't violating Yelp's policies in doing so.
Start making negative online reviews work for your home performance, HVAC or solar business. Contact us to learn more.
SERVING THE ENERGY AND BETTER BUILDING SECTOR
We are selective in who we partner with—and we know you are too. Find out with a no-commitment analysis how we can make an impact on your business.