Streaming Advertising, Part 2: Integrating a "Stream" into Your Marketing "River"
According to research from Insivia, online users retain up to 95% of messages relayed by video, compared to only 10% retention when the same messaging is relayed via text. Those searching for your services online will prefer watching a video over reading a page of text—and if you read Part 1 in this series on streaming video, you know that audio and video ads on services like Hulu, Pandora, Spotify, Amazon Prime, and YouTubeTV are seeing big up-ticks in viewership during a pandemic year. But what we haven't covered yet is how streaming advertising fits into an integrated, comprehensive digital marketing strategy for an HVAC, solar, or home performance business. 
Here is what you need to know about how to get the most out of your video and audio advertising strategy, and how your other digital marketing tools can increase the effectiveness of your video campaigns. 
Video Marketing 101: "You Need a Video Strategy Tied to Your Goals"
If you were able to catch our webinar last week about video marketing, you may already recognize one of the takeaways from Energy Circle CEO Peter Troast: "You need a video strategy tied to your goals."
Taking the first step in an endeavor as intimidating as video production is enough to scare many away. But when you align your marketing needs with your video needs, you'd be surprised how much simpler the process becomes, as far as choosing video content, making your videos look up to date with current video marketing standards, and choosing which platforms and channels to advertise on. You are not producing the next cinefile TV series with the hopes of winning a Golden Globe—you are creating videos aimed at educating, informing, promoting, and selling customers in your service area on your business and the benefits of your services. 
Where is there the most opportunity for video to help you achieve your goals? When you look at your own sales funnel, where will this visual medium assist in progressing your leads from their awareness of your brand to signing on the dotted line? Of course, only you can answer that question, but let's look at how video functions at every stage of the traditional funnel. 
Video & Your Sales Funnel
This advertising medium doesn't just integrate into one corner of your marketing toolbox—it's used throughout the entire sales journey. Video serves multiple objectives, including:
| | |
| --- | --- |
| GOAL | EXAMPLE |
| Lead Generation | Promotions, improving conversion, gated content |
| Awareness/Education | Explainers, about us/company story videos, how-to's |
| Audience Building | Custom audience building in Facebook retargeting |
| Search Engine Optimization | Brand SERP domination, keyword rankings, YouTube ranking boost |
| Preference/Trust | "Why Choose Us?", testimonials |
| Closing the Sale | Walk-throughs, quotes, and proposals |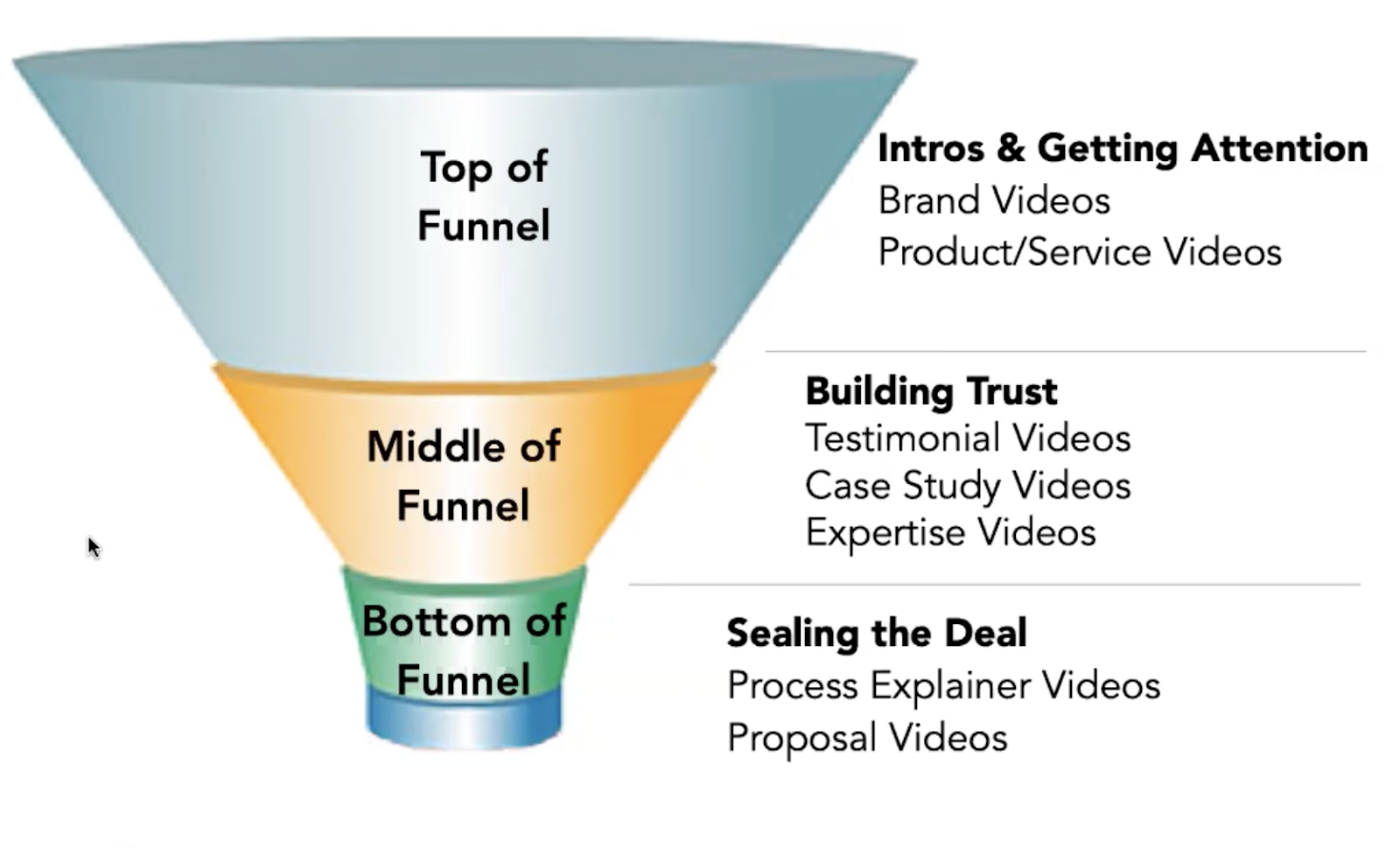 Utilize the Data from Your Other Marketing Tools
Another way to identify areas of opportunity when it comes to video marketing content is to pay attention to the data coming in from your other digital marketing tools. Are you running any successful Google Ads or Facebook campaigns? High-converting creative from your display ads can also help point you in the right direction when it comes to content topics for your streaming and audio ads. Identify photos, graphics, and calls-to-action from PPC campaigns that earned high click-through or conversion rates to understand what visuals and messages resonate with your potential customers. Then, incorporate those same themes into video and audio ads for distribution on streaming channels—thus broadening the reach of tactics you already know to be successful with your target audience and capturing their attention across even more screens and devices with which they regularly engage.
Besides click-through and conversion rates, there are other data points that can help inform your streaming video/audio content and marketing strategies. Paid search data and general SEO benchmarks for your website can offer insight into keywords, phrases, and questions your customers are searching for that lead them to your site. 
For example, your top-performing search term report from Google Ads may reveal that users in your service area are increasingly searching for "rebates on heat pump water heaters." But, while it's earning a significant amount of impressions for your paid search ad campaign focused on rebates, users are not clicking on the ads and continuing through to your website at as high a rate as they should be.
This data suggests that your audience is looking for more information about the rebates available to them than can be communicated in the couple hundred characters of a paid search text ad. Consider generating a longer form ad that offers users more detail and fills in the gaps left by the brevity of a simple text ad. A 20-second audio ad played between songs on their favorite Spotify channel, or a 30-second video spot that runs before the weather report on their local news station's live stream, offers much more opportunity to communicate specifics. These tactics also go a long way toward building awareness and recall—and turning that user from someone who was just looking for any heat pump water heater rebates available to someone who is now looking for heat pump water heater rebates (and services) from your company specifically!
The search and behavior data from your other digital channels—like PPC/Google Ads, Facebook, or your website—is a treasure trove of information about what your target customers are looking for, and more importantly, what they may not be finding from the tactics and channels you're already utilizing. Once you've figured out what might be missing, it's easy to incorporate that missing piece into video or audio creative.
Know Your Channels
When traditional radio and television were in their prime, local advertising did not offer much targeting. You could choose a time of day, allowing you to target similar times as the shows your customers might watch or listen to, and if you knew which shows your ideal customers might watch or when they were commuting, then you knew which networks or local channels to go for.  But largely, it was a guessing game, and the answer to the age-old question of "How can I be sure that TV viewers are actually in the room when my commercial is playing?" was pretty simple: you couldn't.
But in the streaming world, there are many more channels to choose from, each with its own level of specificity when it comes to audience targeting. Plus, you don't have to limit your video and audio ads to one digital advertising platform—you can take one larger piece of content and divide it out into bite-sized messaging chunks, allowing for retargeting and directing the viewer further into the sales funnel throughout multiple channels. Take a look at this spiderweb, showing how one "epic masterpiece" video is edited down into three different messages and used across both video and audio platforms.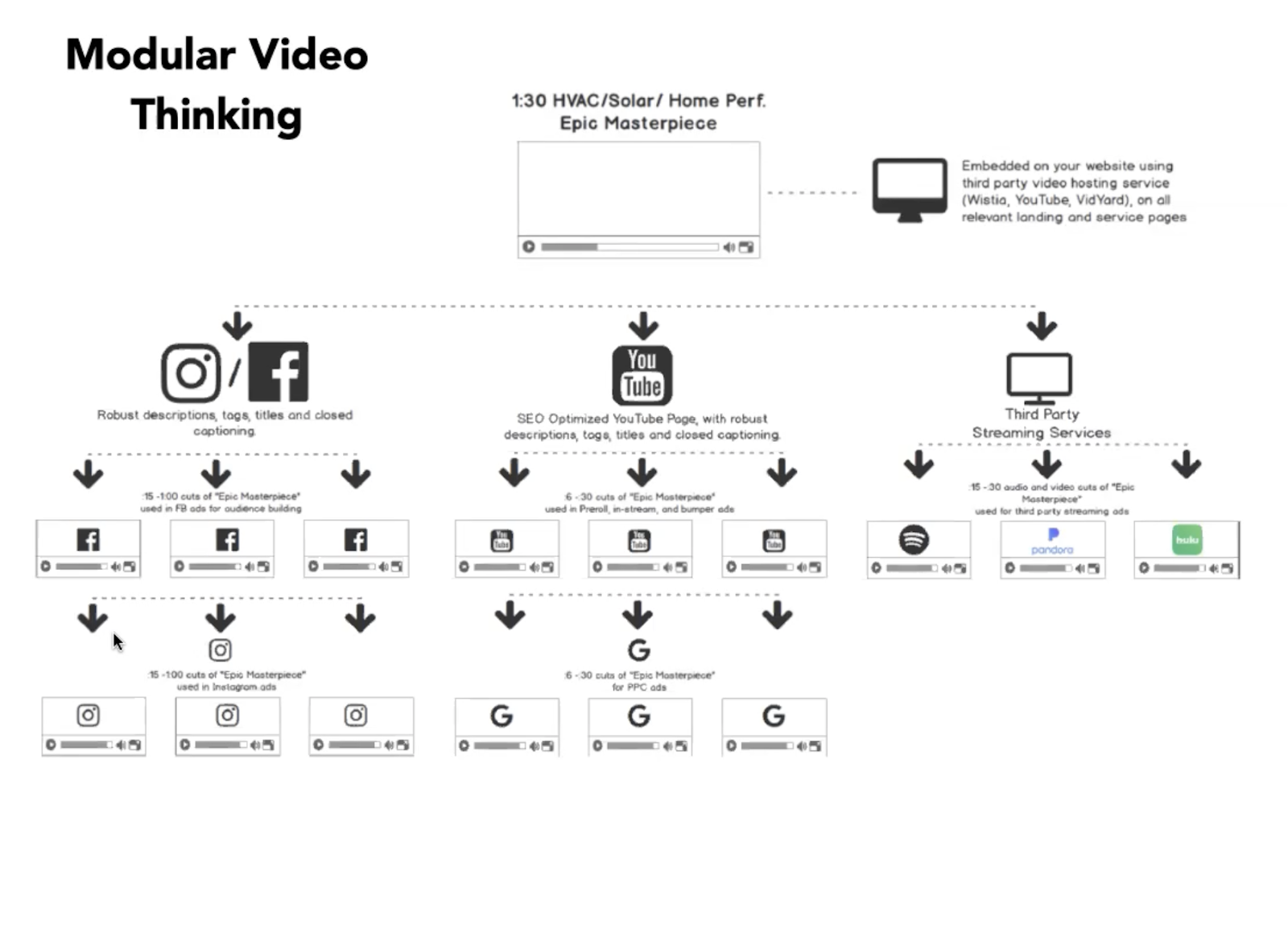 A Rise in Streaming Video Lifts All Ships
We have said it time and time again: The stronger your brand, the stronger your online presence will be (because users know to look for you, which is a strong indicator to "Mother Google"). By integrating your video marketing strategy and streaming ad campaigns with your other marketing objectives, awareness around your brand (and Google's awareness of your brand) are bound to rise. Plus, utilizing relevant ads like explainer videos and how-to's on your own website can increase search traffic to your website, as the experts at Wistia put it so eloquently: 
"Having a video on the page not only helps you get traffic from video-specific search, but it can also increase your relevancy for certain queries, and therefore increase rankings and visibility in universal search, too."
This is good for the overall visibility of your website in search results, and for further qualifying the leads already in your sales purview. 
How Can YOU Integrate Streaming Ads into Your Marketing Strategy?
No one knows your business like you do, and just like many things in the digital marketing world, there will be no one-size-fits-all answer. But what we can say with certainty is that there is ample opportunity to take advantage of the wide range of target audiences through audio and video streaming.
Perhaps you fall into one of the following two categories:
"My HVAC, solar, or home performance business has tried TV advertising before, and we still have the content, but TV was so expensive that I am weary to try ads on streaming services."
The cost of television was so prohibitive, even just a decade ago, that many businesses ended up having to spend large chunks of their budget on expensive production crews before they even put a dollar towards ad spend. If TV advertising has left you feeling burned, but you have video assets, sometimes those assets can be updated with creative editing and by adding new voice-over to refresh the messaging. 
You could then utilize that shined-up creative content as a video or audio ad on Spotify and Pandora for a very reasonable ad spend minimum, and add it all to your next promotion or campaign!
"My HVAC, solar, or home performance company is brand new and I have no video or audio assets whatsoever."
It may feel intimidating to get the digital marketing ball rolling once you have started a new business. With no assets to use, how can you even know where to begin advertising? Fortunately, there are some baby steps you can take now to prepare your business for digital marketing success, and the Energy Circle team is currently working on more resources for those looking to get into video production. Here are a few resources for the here and the now:
Next Time on Part 3 of Our Streaming Advertising Series
Now that we've covered integrating streaming ads into your digital marketing mix, we next need to know what streaming platforms are available to advertise with for solar, home performance, and HVAC companies. In Part 3, we'll be emphasizing how video advertising is an effective marketing tool by digging into some actual video marketing campaign data, and we'll also outline the key differences between the various video marketing platforms, and what sets streaming advertising apart from other forms of video marketing.
Looking to get your streaming advertising strategy off the ground? Contact us or give us a call at 1 (207) 847-3644 to discuss how you can incorporate streaming ads into your marketing plan! 
SERVING THE ENERGY AND BETTER BUILDING SECTOR
We are selective in who we partner with—and we know you are too. Find out with a no-commitment analysis how we can make an impact on your business.