CPC? GSC? MOM? Help! An abbreviated guide to digital marketing terms and acronyms
At Energy Circle, we look at a lot of data and try to break it down so it's digestible for our clients. We want to help show you not only how your site is performing, but also how your various campaigns and initiatives are performing. If you work with the team at Energy Circle, you probably hear marketing terms and acronyms thrown out like a foreign language and we've hopefully been clear in their meaning. Sometimes, however, it's hard to remember exactly what each means.


What follows is a list of terms, acronyms and other digital marketing phrases and what they mean in relation to your HVAC, Home Performance or Solar business.
Analytics and Tracking
GA - Google Analytics. GA code is added to your site either in a standalone script or in GTM (Google Tag Manager) to help track all user activities on your site.
Sessions - A visit to your website when a user is actively engaged with your site. For example, a user visits your site and navigates to 3 other pages on your site. That is 1 session. Sessions are also often referred to as traffic.
New Users - The number of first-time website visitors. Every time a new device or browser loads your page, a unique client ID is associated with the session. This tells Google that you are a unique user. If you return to that page at a later date, Google will know and will not count you as a new user. If you return from a different device or browser, or have cleared the cookies on your computer, Google will count you as a new user in Analytics.
Bounce Rate - The percentage of single-page visits (i.e. visits in which the person left your site from the entrance page without interacting with the page). This number shouldn't be looked at on its own, though. If a paid search ad directs a customer to your AC repair page, and they pick up the phone and call the number on the site and then close the browser, that would equate to a 100% bounce rate. While most people think a 100% bounce rate is bad, because they aren't visiting multiple pages on your site, it's actually good in this sense, as our paid search campaigns drove them to the page they were looking for and they converted — or called you to schedule an appointment.
Landing Page - The first page on your website that a user visited. For organic traffic, the homepage is usually the top visited landing page. For paid search campaigns, the landing pages are set in respect to the search term.
Conversion, Lead or Goal Completion - For EC clients, this is usually a first-time caller or form submission as seen in Google Analytics. While many companies may count leads as only qualified leads, before you have the option to qualify or not qualify, EC measures leads, conversions or goal completions as someone who calls you for the first time or a form submission. They have taken an action to reach out to you.
Conversion Rate or Goal Conversion Rate - The number of goal completions/number of sessions. For EC clients, this is the rate at which the traffic to your site converts to either a first-time caller or form submission.
Impressions - The number of times a paid ad was served. This could be for Facebook, Google or Bing ads. Whether the ad was actually seen by the person or their eyes skipped right over it, an impression is counted if the ad appears on the screen of the end-user.
Reach - The total amount of unique users that your ad reached on Facebook. Unlike impressions, the reach is the size of the actual audience who saw your ad.
Clicks - The number of times a user clicked on a paid ad. This metric is used in both paid search campaigns and Facebook campaigns.
CTR - Click-through-rate (clicks/impressions). This measures the number of clicks related to the number of impressions. The goal would be to have a high CTR, as that indicates that people are interested in whatever they are clicking on. For paid campaigns, a higher CTR can provide benefits in terms of improved quality score and better pricing.
Position - The position of an ad in the search engine results page (the lower number is towards the top of the page). Position 1 would indicate that you are at the very top of the SERP (search engine results page). Our team of PPC specialists works hard to get your ads served in the best placement for the budget you have.
CPL - Cost per lead (or cost per conversion). This is generally referencing the total cost of your paid search campaigns divided by the number of paid search goal completions. It can be calculated further for all digital marketing spend divided by all goal completions.
CPC or PPC - Cost per click or pay per click. When CPC is referenced as a medium in analytics, it is the paid search medium. Outside of analytics, it references how much is paid for each click, as an average. Similarly, pay per click references the channel of paid search, i.e. you are running a PPC (pay per click) campaign.
MOM - Month-over-Month. We often look at data month-over-month to look at comparisons and trends on an ongoing basis.
YOY - Year-over-Year. We also often look at YOY data to show how any given month performed compared to the same period in the prior year.
Software and Tools
Google AdWords - Google's advertising platform. Google AdWords allows advertisers and users to create paid search and display advertising campaigns that may show in both Google search results and the Google Display Network of sites.
Bing Ads - The Bing search engine advertising platform. Running very similarly to Google AdWords, Bing Ads is Bing's paid search advertising platform. Bing is the default search engine on some new computers browsers.
GSC - Google Search Console. GSC helps users monitor and maintain their site's presence in Google search results. This is where sitemap errors, organic search results and other search analytics data appear.
GTM - Google Tag Manager. GTM is a system that allows users to easily update snippets of code and tags within a software after a bit of code is placed on your site. This allows end-users to make minor changes to scripts without involving a developer.
GMB - Google My Business. GMB allows organizations to manage their online presence on Google. This includes both search and maps results that will pull in your business information from your GMB listing. It's important to keep your GMB listing updated and accurate and to take advantage of the many aspects of GMB like reviews, photos, posts, description, questions,categories, etc. The more information you feed to Google about your business, the better Google is going to get at serving your listing to the searching audience.
CRM - Customer Relationship Management tool. The main player in the CRM world is Salesforce. Others include Base and Zoho. These tools allow you to manage your customer database among other marketing and sales tools.
CMS - Content Management System. A CMS is a system running your site where you can log in and make site edits or changes. Energy Circle has built a custom CMS to manage our platform sites.
SERP - Search Engine Results Page. The SERP is the first page that appears after typing in a search query in a search engine.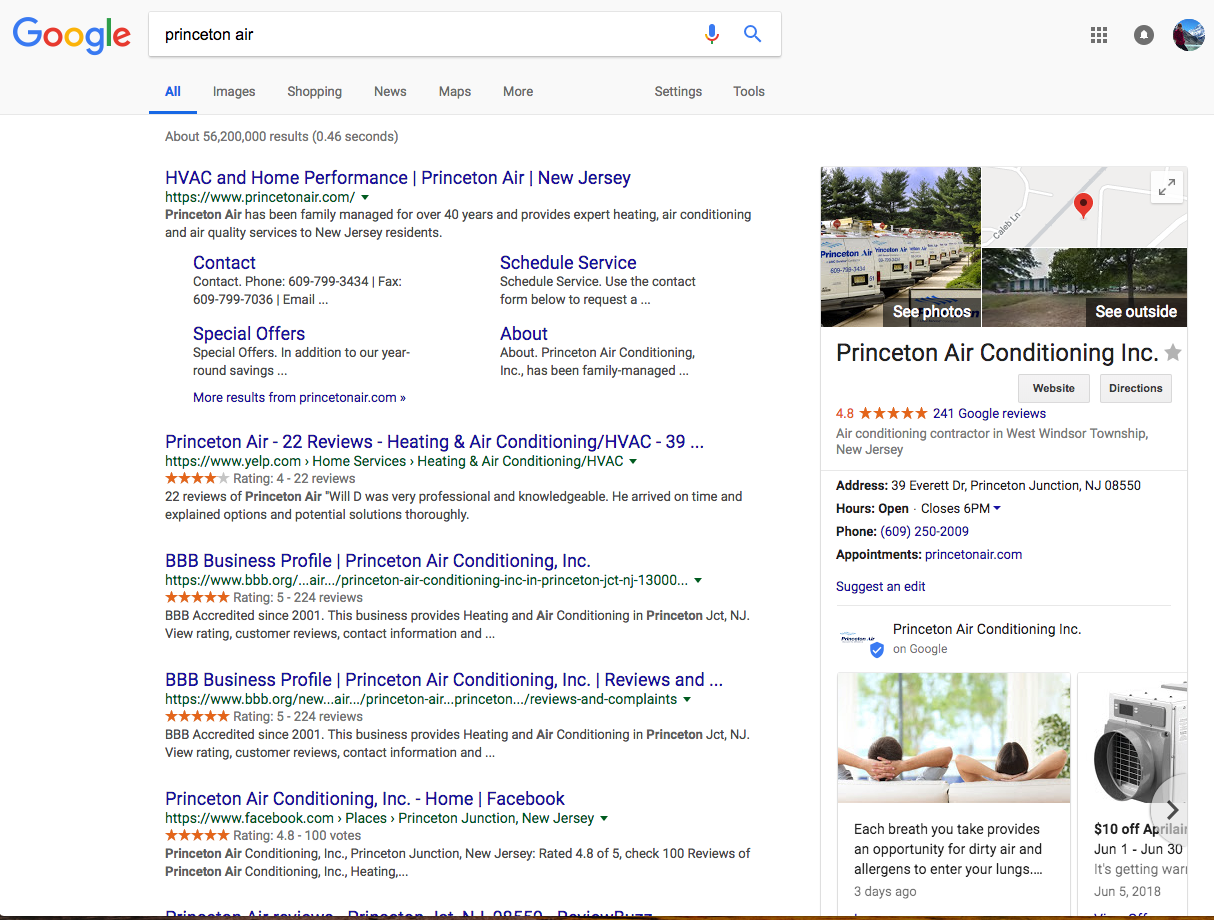 Knowledge Panel - The right side of the SERP that includes the business listing as provided by the search engine. In Google, that would be the GMB listing.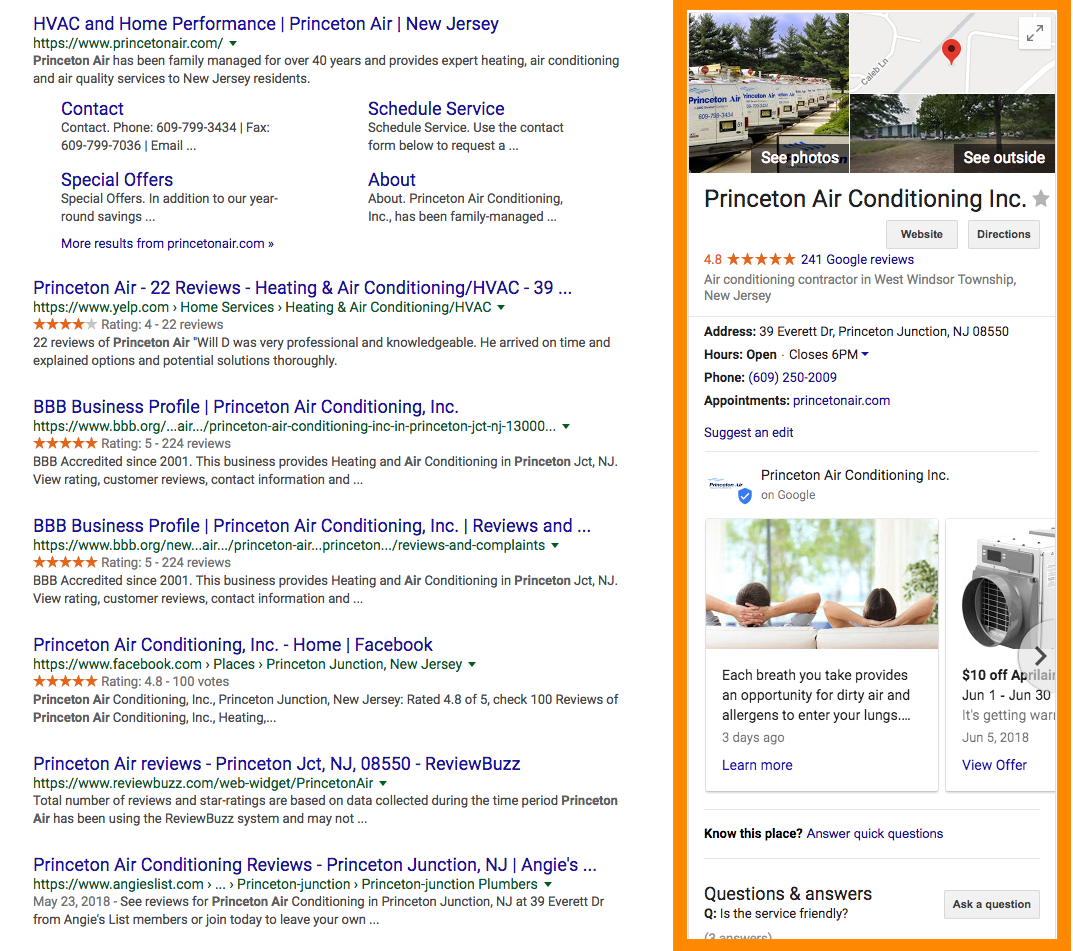 Tactics and Channels
Remarketing or Retargeting - A marketing tactic that involves placing a cookie (or short snippet of code) on the browser of someone who has visited your website and then using that cookie to find that same user on other websites (like facebook) to show them advertisements.
Display Ad - A type of ad that shows on websites or apps that utilizes text, photos, graphics or video. They usually appear in a square or rectangular box or banner at the top, bottom or sides of web pages or apps.
SEO - Search Engine Optimization. SEO is the process of improving organic search results by both technical website optimizations as well as content or copy optimizations.
UX - User Experience. UX is how the end user experiences the platform, app or website. It encompasses both design and development in how the user interacts with and uses the technology.
Responsive Design - A site that renders differently depending on the type of device or screen size. Sites that are responsive or incorporate responsive design will adapt and change based on the size of the screen or the type of device from which a user accesses the site.
While this list is not everything, it is a good start for some of the more frequent terms and acronyms we use in the world of digital marketing. On any given day, you can find the team of account managers and strategists at Energy Circle considering or strategizing around much of this list in regard to how we are driving conversions for our clients.
Interested in learning more about how Energy Circle can help drive leads? Contact us today!
SERVING THE ENERGY AND BETTER BUILDING SECTOR
We are selective in who we partner with—and we know you are too. Find out with a no-commitment analysis how we can make an impact on your business.